Five Reasons to Live Below Your Means
October 2nd, 2012 by Sarah
Ah, money. It's the double-edged sword of society. The more you earn, the higher you climb. On the other hand, high climbers tend to fall with greater catastrophe than their middle-income counterparts. Regardless of your bank balance, living cautiously is good advice for those who value stability. Read on to learn more about the benefits of living below your means.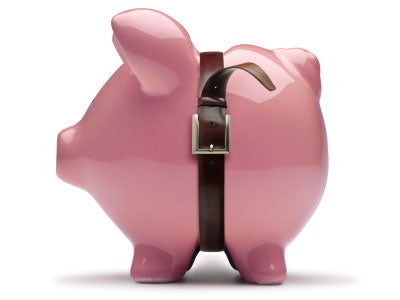 1. Security
Money is a valuable commodity, one you cannot use if you fritter it away. Many consumers don't realize its true value until an emergency arises, e.g., the car breaks down, a job is lost, the house needs expensive repairs, etc. A benefit of living below your means is the security found in an emergency fund. In a pinch, you won't need to rely on credit to make it through the year. Start by saving at least 10 percent of your income for a rainy day. You never know when a downpour is brewing.

2. Options
You're probably thinking, "Wouldn't modest living limit my options?" Sure, you'll likely eat at home more often and thinking twice about careless spending, but limiting yourself now will make way for greater opportunities in the future. Consider the implications in real estate. If you rent, finding a cheaper apartment will allow you save more money for the down payment of a home. Once you buy that home, a lower mortgage means greater options. For example, if Frank can afford to buy a $400,000 home but instead pays only $250,000, he can afford to make a change in his career that may involve a pay cut. Spending to the brink means boxing yourself in and limiting your options, two avenues to avoid at all costs.

3. Retirement
The average person requires at least 80 percent of their last income for each year of retirement. Translation? If you earn $100,000 per year and retire at age 65, you will need at least $1.6 million to survive to age 85. Keep in mind, this number does not cover medical insurance, vacation, and other discretionary spending. If there was ever a reason to live below your means, this is it. Talk to a financial planner to learn more about how to save for retirement. Your Golden Years will thank you.
4. Value and Responsibility
Your grandparents probably preached about the value of a dollar when you were a kid, which is a message that bears repeating. Reckless spending diminishes your capacity to understand how far a dollar will go. For example, is the current cost of milk $2.00 or $4.50 per gallon? Your current lifestyle may not require you to know, but a sudden change in circumstance could tighten your purse strings quickly. Stop spending money as if you have it. Learn the value of a dollar by spending less. Your financial education is worth more when it is earned.
4. Credit Repair
Credit repair is among the top reasons to live cautiously and avoid past mistakes. From debt reduction to emergency savings, living below your means will help you accomplish the goals required to raise your credit score and begin with a clean slate. Reducing credit dependency will also lower your credit utilization ratio, a defining factor that helps lenders decide your risk and interest rates. The bottom line: Living well means buying responsibly, not sacrificing responsibility to buy stuff. Allow your long-term goals to steer your financial path.
Tags: Credit Repair