Having earned, not purchased, 20,000 new Facebook fans, our credit repair specialists pledge to continue the fight against industry misinformation using Social Media.
In June 2013, Lexington Law's Facebook page broke the 20,000 fan mark for the first time and they saw more than 10,000 people "talking about" their brand. Such a milestone sets them apart from competitors and indicates how effective word of mouth has been for their exemplary credit repair services.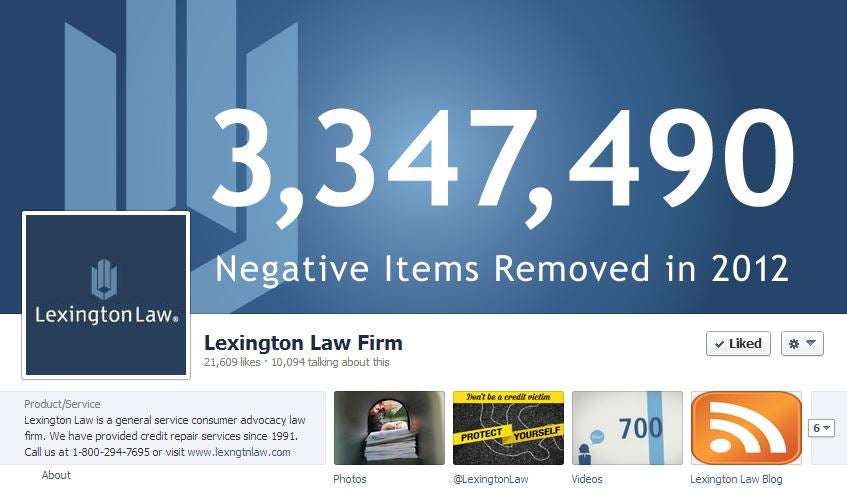 Over the last year, Lexington Law has provided unparalleled access to their thought leaders via social media. The result has been an overwhelming level of user engagement, which grew their fan base organically through the spread of positive reviews and fans sharing their posts. With an "engagement rate" of 46%, their Facebook page sees users Like, Comment, or Share almost twice as often on their posts than some of the nation's top rated consumer retail pages.
"This is a great opportunity for us to stop and thank our fans," says Natalie Pino, Integrated Marketing Strategist. "Watching them share our posts with their friends is the deepest compliment we could receive on social media and we greatly appreciate it. It's hard to believe that about a year ago we only had 700 Likes, and now we have 20,000. We've had so much fun working directly with everyone on a daily basis to share our blog and industry content, weekly tips from our firm, and our quizzes. There will be many more of those to come in the near future."
Lexington Law believes in building a social media fan base organically, instead of buying Likes. This demonstrates a true understanding of proper protocol. "True engagement means understanding your audience, learning what help they need most and then providing it in the form of expert advice," says Natalie. According to a recent article in Business to Community, Facebook is designed for providing posts that inspire real engagement.
During the past 12 months, Lexington Law has been a part of its fans' lives during some of their most memorable moments, such as "10 Questions to Ask Before Marriage", "How a credit fix can help divorcees purchase homes" and "3 Sneaky Holiday Costs You Need to Know About!".
Two of the most engaging posts from this past year include: 
 Credit Tip Tuesday: "Consumers may think they've paid promptly, but they're sometimes shocked when accounts are suddenly listed as charged-off. Typically, this occurs when a health insurer has unexpectedly denied a claim related to an emergency room visit."
 Headline: "GREAT NEWS — Beginning TODAY, Prospective Employers Must Inform You if They Check Your Credit Reports"
Learning about credit repair and protecting oneself from misinformation doesn't have to be difficult and confusing. That's one fact that Lexington Law's experts continue to prove. Through their blog posts, Facebook updates, and TweetChats (#LexChat) they have demonstrated how knowledge in the right hands can benefit thousands of people.
It continues to be Lexington Law's goal to help their clients fix their credit situation and help them on the road toward their dream purchase. They are one of the only credit repair services that strive not to have repeat business – Lexington Law wants to empower its clients to sustainable credit success. Lexington Law looks forward to entertaining and educating their next 20,000 Facebook fans. Visit Lexington Law's Facebook page to learn more: https://www.facebook.com/LexingtonLawFirm