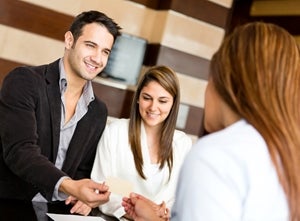 Opening new lines of credit and having the opportunity to rebuild your credit score can be difficult — especially when you already have a low credit score. However, there are some options available to you. By signing up for the right cards and practicing responsible finances, you can move forward with your financial situation. 
Prepare before you apply
When you are preparing to apply for a new line of credit with a low score, The Simple Dollar indicated you should follow a few rules and tips to increase your chances of approval. 
Obtain a copy of your credit report so you know precisely how low your score is. Credit Karma indicated a score of 549 or lower is considered poor credit.
Identify what issues are bringing your score down, so you can begin building it right back up. You may want to recruit the help of a credit repair service, such as Lexington Law Firm, if you have any inaccurate items on your report that are bringing your score down.
When applying for cards, avoid applying for the best rewards or cash-back cards. These typically require a higher credit score.
Know what to apply for
Cards with no annual fee that also offer credit-building benefits are optimal. You should also search for a card that does not have a setup or processing fee.
When you open a new line of credit, ensure that you stay on top of all payments. By using your credit responsibly right away, you can work toward accessing credit cards with more attractive perks and features. Think of this first card as a stepping-stone. Master the financial responsibility at this level, and you can advance to a more flexible and rewarding option.
Before you apply for a credit card — and you are worried about your credit score lowering the chance of approval — consider contacting Lexington Law Firm to discuss your credit repair needs.