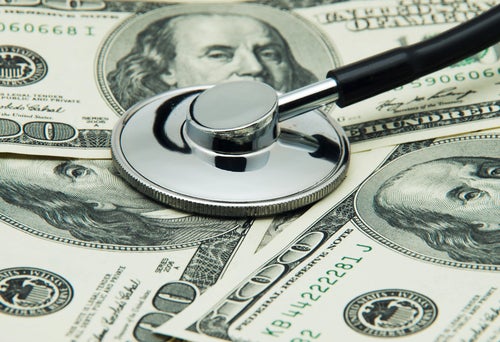 "An apple a day keeps the doctor away," but sometimes an apple won't suffice. When it comes time to see the doctor, medical bills usually follow. Unpaid medical bills could land on your credit report as collections and may negatively impact your credit score.

About half (52 percent) of collections items that appear on consumer credit reports arise from medical debts. That means about 43 million Americans have medical debt on their credit reports, and about a third of those people have good credit aside from the medical debt. The problem with medical debt is that it is often a poor indicator of a consumer's creditworthiness. An individual with responsible credit habits and an otherwise pristine credit history could encounter an unexpected medical event that drowns them in bills and damages their credit.
Generally, medical bills appear on credit reports as collection accounts after they have been charged off and sold to a collection agency. Collections and other negative items impact payment history, which accounts for the largest chunk of a consumer's credit score. However, there are a few things you should know about how medical items differ from other items on your credit report.
Paid Medical Bills Won't Affect Your FICO 9 Credit Score
FICO's newest scoring model, FICO 9, was released in the fall of 2014. Among other things, FICO 9 does not take into account paid medical bills when calculating a FICO score. This change is meant to ensure that medical collections have a weaker impact on scores, proportionate to the credit risk they carry. Lenders using the FICO 9 scoring model will therefore have access to a more predictive score.
Outstanding Medical Debt Will Count for Less Under FICO 9
The FICO 9 scoring model does not weigh unpaid medical collections as heavily as previously. This differentiation between medical debt and other types of debt could mean a rise in credit score for consumers that only have medical debt on their credit reports—a median score increase of about 25 points, according to FICO. Before FICO 9, medical debt was treated the same as other types of debt. This meant that consumers who racked up credit card debt saw the same negative impact on their scores as consumers who met with unexpected medical events. By assigning less weight to outstanding medical debt, FICO 9 should provide a more predictive credit score.
The FICO 9 scoring model certainly addresses many concerns with medical debts on credit reports, but not all lenders are using FICO 9. Some lenders are still using previous scoring models and may continue doing so for years to come, as they are under no obligation to use the newest scoring model.
Credit Bureaus Will Wait 180 Days Before Adding Medical Debt to Your Reports
Earlier this year, New York State Attorney General Eric Schneiderman announced a settlement with the three major credit reporting agencies—Equifax, Experian, and TransUnion. Among other things, the settlement requires the credit bureaus to allow a 180-day waiting period before reporting medical debt on a consumer's credit report. This waiting period is meant to allow time for insurance delays or disputes to be resolved before a negative item appears on a consumer's credit report.
Credit Bureaus Will Take Medical Debt Off Your Reports as Soon as the Insurance Company Pays It
Another part of the New York State Attorney General settlement also requires the credit bureaus to remove all medical debts from consumers' credit reports as soon as insurance pays them. Most negative items ordinarily remain on credit reports even after the debt has been paid, but this change will allow medical debts to disappear from credit reports after the debts have been paid.
The Attorney General settlement was announced in March 2015. The credit bureaus will implement the terms of the settlement gradually, with most changes occurring within six to 39 months of March 2015. (Sources:
Generally, the new FICO 9 scoring model and the Attorney General settlement mean good news for consumers. However, the changes will be implemented gradually and it may even be years before most lenders are using FICO 9. In the meantime, keep in mind that prevention is the best approach. Do your best to pay medical bills on time. It is much easier to prevent a negative item from appearing on your credit report than to try to get it removed.
You can also carry on the conversation on our social media platforms. Like and follow us on Facebook and leave us a tweet on Twitter.
—
Cynthia Thaxton is an associate attorney for Lexington Law Firm. She attended The College of William and Mary in Williamsburg, Virginia and earned a bachelor's degree in International Relations and a minor in Arabic and graduated summa cum laude.
After graduating from college, she worked in Abu Dhabi as a paralegal for two years. Cynthia then returned to Virginia to attend law school at George Mason University School of Law, where she served as Senior Articles Editor of the George Mason Law Review and graduated cum laude. While in law school, she was a law clerk at the State Department's Office of the Legal Adviser.
Cynthia has experience in corporate law, international transactions, real estate, HOA law and creditors' rights and she is admitted to practice law in Utah. In her spare time, she enjoys skiing with her husband, running, and going on hikes with her Labrador retriever, Shep.