Credit repair can be a harsh process, especially when you are making an aggressive effort to change. The pains of tightening your budget, paying off debts, and facing past mistakes are unavoidable, but worthwhile. But what if your efforts seem fruitless? Are you making strides without seeing results? If you feel like credit repair has become a pointless exercise, read on to learn more about some common roadblocks. What you find will shed some light on how to change your strategy.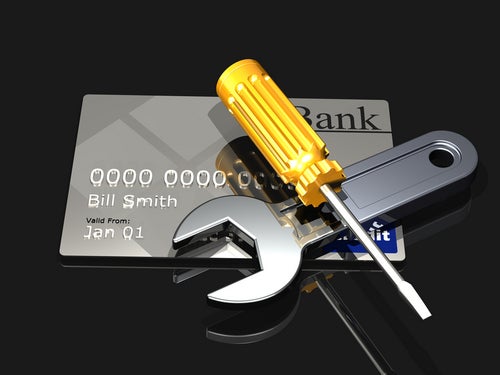 Frustrating roadblocks include:
Taking the frugal route (and failing). You've taken an active interest in credit repair and are trying to cut back on expenses, and yet every step feels like a mistake. It hardly seems fair that good intentions end with bad results. Consider the following example:

Jake and Katie recently bought a house. In order to save money, they plan to pack their 3-bedroom apartment and move themselves using a U-Haul truck. Unfortunately, their intentions did not provide the best deal. The cost of a two-day truck rental combined with mileage fees, gas, boxes, packing tape, dolly and blanket rentals, etc. totaled $985, well over the price quoted by a local moving service. Not only are Jake and Katie exhausted, they also lost valuable cash.

Jake and Katie's neighbors had similar good intentions with bad results:

Jim and Reagan enrolled in a PPO insurance plan when Jim began his new job this year. They chose the PPO over the HMO plan because the monthly premiums were lower and they had more control when choosing physicians. The deductible was higher ($5,000 per year), but they are young, healthy, and not worried about medical problems. Fast-forward six months into the future, when Jim is recovering from a serious car accident. Jim is on long-term disability and only receiving 70 percent of his paycheck. Jim and Reagan have paid more than $5,000 in out-of-pocket medical expenses because they failed to read the fine print of the PPO agreement:  Only certain medical expenses are counted towards the $5,000 deductible limit. The couple is terrified that their savings will run out before Jim is able to return to work.
What to do:
If these examples sound familiar, don't give up just yet. When it comes to successful credit repair and savings, it's best to plan for the worst-case scenario. Like Jake and Katie, the average consumer assumes that a do-it-yourself project is the most cost-effective option. Rule #1 in smart savings: Never make assumptions when cold, hard math is on your side.  The same is true for Jim and Reagan. Although they were saving money each month by paying lower insurance premiums, preemptive calculations would have warned against a plan with a higher deductible. The bottom line: It's never fun to assume the worst, but it's better than living it. Take out your calculator and make the right choices.
Lining up future debt to replace existing bills.  During a recent conversation, Maria, a mother-of-four, I was stunned to hear her perspective regarding credit. She and her husband have lived with consumer debt for over five years. Nearing a much-awaited payoff day, Maria exclaimed, "I can't wait until we pay off the last credit card. We'll finally be able to open a Lowe's account and replace the carpet with hardwood flooring."
I was confused by her logic. After years of debilitating debt, she seemed eager to focus on another expensive purchase, keeping her family in a financially weak situation. I later learned that most of their existing debt was due to medical expenses, unforeseen home repairs, and helping a family member in need. Until now, the family couldn't afford to buy things they wanted; they were too overwhelmed by day-to-day expenses.
What to do:
Sure, you want the perfect car, home, advanced education, etc., but admitting defeat by charging your expenses is not the only option. Maria was eager to keep using her credit as an open-ended bank account. Why? She has never lived any other way. The cost of raising a family has altered her perspective; she believes that credit is the only way to buy what she wants. If you are of a similar mindset, step back and consider the alternatives. For example, Maria's family could:
Wait until they have saved enough cash to install the hardwood floors
Cut costs by installing the flooring themselves or by choosing laminate instead of real wood
Buy materials in shifts, allowing them to install one room at a time without relying on a line of credit
When faced with a decision like Maria's ask yourself, "What is more important? My family's financial safety, or the things I have been longing to buy?" The answer is obvious.
Taking missteps to improve your credit.When it comes to credit repair, starting fresh is difficult without the proper information. Some common mistakes include:

You struggled to pay your Visa bill in the past, so you decide to close your account and start over with a MasterCard
You were denied a loan due to lack of credit history, so you open every store card available in order to bulk up your file
A lack of savings forced you into debt, and now you save every penny in a liquid account, allowing to access it as soon as possible
What to do:
Credit repair isn't intuitive; it's an acquired skill that only continued knowledge can provide. If you are serious about making a fresh start, education is the first step. Ask for help, browse the archives of our blog, attend a personal finance seminar, and keep your budget lean and up-to-date. Your efforts may be earnest, but you won't succeed without some savvy in your corner.