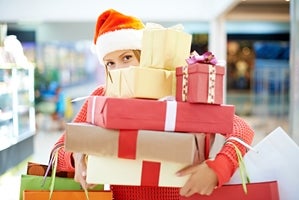 When the holidays roll around, spending a great deal of money becomes commonplace among most households. While giving gifts to the ones you love and traveling to spend time with them is important, you shouldn't forget about the health of your credit score.
Protect against identity theft 
Identity theft can lead to substantial issues with your credit score. U.S. News & World Report noted that consumers should be especially cautious during the holiday season as instances of this type of crime have the potential to increase. "It's the season to take advantage of people. They're distracted," said Jason Glassberg, co-founder of Casaba Security, according to U.S. News & World Report.
Lexington Law provides a list of tips to minimize a security breach risk during the holiday season, which can be found here.
When shopping for presents or tickets, make sure to double check the websites or mobile apps being used. Ensuring it is a legitimate site with a "lock" symbol on the left side of the URL during checkout confirms security.
In addition, it is critical that you regularly monitor your account statements. Combing through your statements and confirming charges will protect you against thieves. Oftentimes these criminals will steal small amounts of money throughout an extended period of time to avoid being caught or noticed by the victim.
U.S. News & World Report also cautions against sharing personal information on social media. Dates of birth, pets' names and mothers' maiden names often double as passwords for financial accounts. Criminals may be able to hack into accounts when armed with this type of information.
Avoid signing up for store credit cards 
While it might be tempting to sign up for a store credit card and save some cash during the holiday season, don't sign up, suggested eLend. The steep fees and high interest rates will impact your credit score a great deal. In the event that you decided to sign up for a credit card with a store, pay the balance off right away and in full if possible.
If you are looking for ways to save a little money during the holidays, look instead for store and online sales throughout the holiday season.
Figure out your budget ahead of time 
Spending money on others during this joyous season might make you happy now, but if you get caught up in the idea of a perfect gift, you might risk spending too much without realizing it. Dictate a budget for each gift you plan to buy and adjust your current spending habits to accommodate the new outflow of cash. By doing this you can avoid charging things to a credit card, which may leave you with a flawed credit score.
According to Lexington Law, it is important to avoid maxing out your credit cards. Try to limit yourself to only using 30 percent of your total credit limit. So, if your credit limit is $10,000, then charge no more than $3,000 to your card.
By setting a budget, you can avoid overusing credit cards and keep your score healthy.
Keep credit cards organized 
If you must use credit cards, knowing when payments are due and when interest kicks in is critical to ensuring your credit history conveys that you are a responsible borrower. Before shopping, write down the limit of each credit card, when payments are due and how high the interest is on each card.
Keep this in a place you can easily, quickly and regularly reference throughout the holidays.
Inquire about price protection 
During the holiday season there are often a high number of sales. With certain credit cards you can receive a refund of up to a predetermined amount if an item you purchased goes on sale. This is especially helpful when you invest in more expensive items, and being able to pay off a lower amount quicker will keep your credit score higher, noted U.S. News & World Report.
In addition to price protection, you can reach out to your credit card company to ask about protections from theft.
These experts help guide the individual through what can be an overwhelming process, from filing an affidavit and cancelling accounts, to notifying the major credit reporting agencies," says Carolyn Balfany, senior vice president of U.S. product delivery at MasterCard, according to U.S. News & World Report.
If you notice suspicious activity on your bank statements or your card becomes lost or stolen, do not hesitate to call and freeze your credit and cancel your cards. By freezing credit you ensure criminals cannot use your personal information to open a new line of credit, which can hurt your score tremendously.
The holidays are a great time of year, but they are not an excuse to let your credit score slip. Stay on top of your finances and protect yourself against a poor score this season.