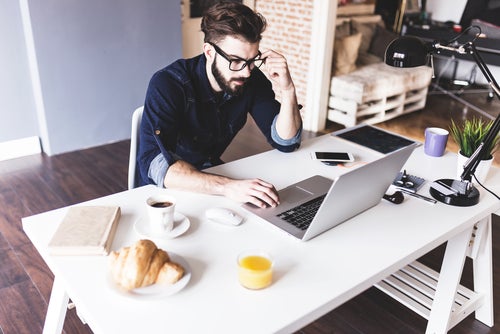 Telecommuting is a fast-growing trend in America's workforce. By 2020, it's estimated that at least 40% of employees will work from home at least part-time. In addition to benefitting from comfort and convenience, remote employment has the power to repair your credit as well. Emergency savings is a vital part of financial stability. Maintaining three-to-six months of savings allows you to:
Avoid relying on credit during a crisis
Recover from recent injury or employment loss without fear lost income and credit damage
Protect your credit score, current insurance rates and credit card interest rates
Although saving is difficult in an expensive world, telecommuting makes it easier by cutting a myriad of work-related expenses. If you are considering the work-from-home route, consider bulking up your savings in the process.
The following example is based on annual averages, with a U.S. household earning $53,657.
Working from home success isn't popular based on convenience alone. You'll also save a significant amount on:
Commuting expenses: $2,600. Citi's ThankYou Premier Commuter Index revealed that Americans spend a significant amount of money simply commuting to and from work. Fuel, parking, bus or train fare, vehicle wear and tear, etc. are all factors in the price. Residents in major cities also spend as much as $16 round-trip each day.
$3,900. While costs vary drastically by state, the average household spends nearly $1,000 per month on daycare expenses. Although WFH professionals still require childcare, most save hundreds each month by streamlining their business hours and cutting back on commute times. Let's break it down: Suppose you pay a babysitter $15 per hour. You commute a total of one hour each day, five hours per week, or 260 hours per year. Working from home could save you $3,900 in commute time alone.
Lost wages due to illness or mandatory errands like doctor appointments, parent-teacher conferences, etc. The average WFH job is flexible, allowing employees to work around their schedules without missing the opportunity to earn.
Coffee: $1,000. According to an Accounting Principals survey, workers aren't shy about spending for their caffeine habits.
Dining out: $2,000. A quick bite for lunch can take a huge bite from your paycheck. The same survey estimated a $2,000 loss on lunch expenses each year.
Utilities: $288. A homeowner spends roughly $2,880 on household utilities each year. Employees who telecommute can write off a portion of these expenses based on the percentage of square footage used as a home office. For example, suppose you have a 100 square-foot office in a 1,000 square-foot apartment. 10 percent of your utility expenses — or $288 in this case — is a qualified deduction. Talk to an accountant about the other types of deductions working from home can help you earn.
Office supplies and other expenses. Sole-proprietors and other telecommuting business owners can write off everything from laptops to paper clips, allowing you to save on items and equipment you would have purchased anyway. Talk to your accountant about which expenses qualify for deduction.
Business attire: $900. The Bureau of Labor Statistics estimates a household clothing budget of $1,786 in 2014. Working from home means ditching the business attire in favor of casual and cost-effective clothing. A remote working arrangement could easily cut your annual clothing budget in half.
Bonuses: $1,600. Employers save money on office space, supplies and other overhead costs by hiring a virtual workforce. Many pass these savings on by offering higher salaries and bonuses to telecommuting employees. The result is more money in the bank, and more opportunity to save for short and long-term goals. This example provides a 3% raise based on the rate of inflation, money you can save immediately as a remote employee.
Opportunity: limitless. Like most work-from-home professionals, earning potential isn't limited by a 9-5 schedule. Flexible hours mean more time to pursue other opportunities that allow you to earn extra cash, save for retirement, pursue education, etc.
Potential minimum savings: $12,288 per year.
Even an estimate of savings is sure to turn your head. If telecommuting is an option, don't miss an opportunity to reap the rewards. Parlay your home business into a long-term savings plan. The result will improve your future and protect your credit score.
Related Articles:
Should You Have a Big Emergency Savings Fund?
How Do Job Benefits Affect Credit Health?