1. Talk for free.
Don't spend your cell phone minutes talking to family and friends during the holiday season. Talk for free via Skype or Google Voice.
2. Snag free shipping.
If you are flying home for the holidays, the cost of bringing gifts along is sure to be outrageous. Skip baggage check and take advantage of retailers' free shipping options. Send those Christmas gift purchases to your final destination. As a bonus, ask about free giftwrapping to cut back on last-minute stress. The result is sure to provide a carefree and money-saving experience.
3. Protect your credit accounts.
'Tis the season of identity theft, and it's easy to overlook a fraudulent charge in a sea of Christmas purchases. Protect yourself by reviewing your credit card statement carefully this month. If you spot a fraudulent item, contact your creditor ASAP.
4. Pay down your credit card balances.
Don't forget about your credit repair goals during the holidays! Summon your willpower and keep paying down your existing credit card balances. This strategy will prevent you from being swallowed by end-of-the year debt.

5. Shop smart
For Christmas gifts this year shop smart. Score discounts by visiting Gift Card Granny, allowing you to save up to 35 percent off already activated gift cards. If you hate searching for coupon codes, install the Honey app for Google Chrome to apply instant online savings at checkout. Maintaining good credit requires good savings—don't miss an opportunity to get yours!
6. Apply for new credit with caution.
Department stores offer savings at checkout if you sign up for a store card, e.g., "Would you like to save 10 percent off your purchase today?" Field these questions with caution. Saving money on gifts might seem tempting, but signing up for another line of credit could throw your overall credit stability off balance, threatening your credit score in the process.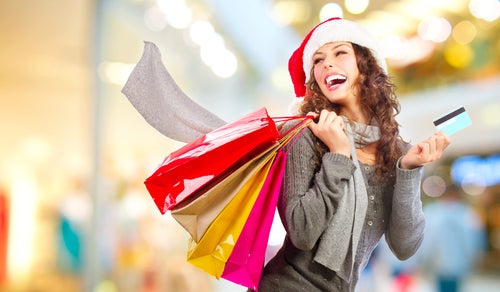 7. Focus on credit utilization.
Your credit cards are probably getting a workout this holiday season. Keep credit utilization in mind as you shop for gifts. For healthy credit, the amount you owe vs. your total credit limit should never exceed 25 percent. Learn more here.

8. Don't share your ZIP code or email address.
Many retailers ask customers to provide their ZIP code at checkout. Don't give into this request too easily. While the practice is used for marketing purposes, it also allows your information to be stored in a database, putting you at a greater risk for identity theft. Add a layer of protection to your holiday shopping this year: don't share personal information.

9. Don't provide your Social Security Number.
Retailers don't need your SSN to validate your shopping needs. Read more about who needs your SSN—and who doesn't.

10. Read your contracts.
The holidays are a great time to score discounts on electronics, appliances and even cars. Before taking the plunge, be sure to read the fine print carefully. A bad warranty could lead to hidden costs down the road, a no-no in credit health. Don't be fooled by a Scrooge deal!

11. Think before cosigning.
Many families like to split the cost of gifts each year, e.g., a new washer and dryer for Mom and Dad from you and your siblings. Think before adding cosigning to your holiday tradition. Vouching for your siblings or other family members could have an unwanted effect on your credit score.

12. Give yourself the gift of credit repair.
Thinking of treating yourself? Why not choose the gift of a better financial life? Consider signing up for credit repair services to help you take charge of your credit in 2014. A better credit score could save you hundreds or even thousands of dollars in interest rates and premiums. Happy Holidays!