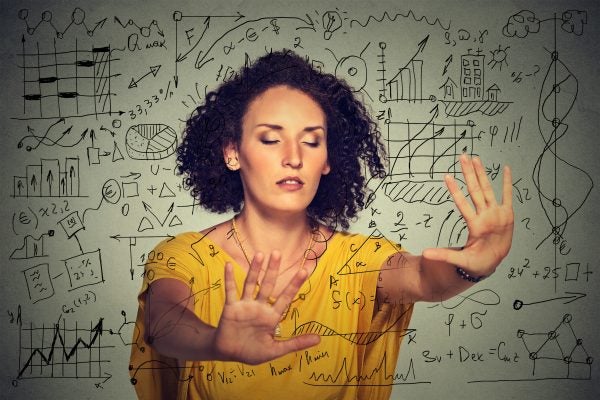 Debt is an avoidable presence in nearly every American household, and yet, few are honest with themselves about how drastic their burdens have become. According to an analysis by NerdWallet:
"Consumers vastly underestimate or underreport how much debt they have. In fact, as of 2013, actual lender-reported credit card debt was 155% greater than borrower-reported balances."
So, is it possible that you are one of the many debt-deniers? Perhaps so if you:
Charge without thinking.Offering your credit card for every purchase is an easy fix, complete with a variety of justifications:

"I need the airline miles."
"I use this card for everything."
"I never carry cash."

While these statements may be true, they don't account for the importance of credit health. Thankfully, a well-laid plan will help you charge without worry or rationalization.

The fix: Easy credit card use begins with one difficult step: budgeting. Creating safeguards for credit use is the best way to stick to a financial plan and avoid overwhelming debt. Assign expenses to each credit card and a maximum monthly spending limit. Use a tracking app like Mint to help you stay focused throughout the month. Download our free budgeting template along the way.

Avoid credit card statements.You opted for paperless statements ages ago and you avoid looking directly at your balance when it's time to pay the bill. Sound familiar? Passivity and credit strength don't mix.

The fix: Avoiding the truth about spending won't erase your debt, and it's important to understand the facts about your balance. Summon your strength and look at your credit card statements and interest rates. Talk to a professional about how to manage your debts, negotiate better terms and begin to save money. Relieving your credit of undue burdens will strengthen your score and open doors for financial opportunities in the future.

Have no idea how debt affects credit.

Debt is the cornerstone of credit. When used as a tool, borrowed funds can help you establish a credit history, payment history, increase account diversity and illustrate an understanding of debt utilization. The sum of these factors equals elite credit status. On the other hand, mismanaged debt can lead to loss of income, lawsuits, judgments, bankruptcy, decades of credit repair and financial hardship.The fix: The difference between these two scenarios is enveloped by simple daily choices like spending wisely, paying bills on time and planning for the future. Use our resources to educate yourself about how debt and credit health are related. Click here to learn about the Five Factors of scoring and keep searching in our vast library of credit topics. Our professionals are here to help, but true success begins with a lifestyle. Commit to a new perspective. Choose education over denial.