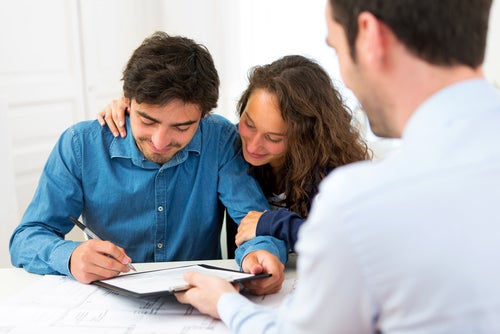 When you shop around for loans, each lender you reach out to will want to pull your credit report to make sure you are a worthy candidate. Lenders use your credit score — in addition to a few other factors — to determine whether they want to work with you and what rates they are willing to offer. Every time a lender looks at your score, something called an inquiry will show up on your credit report. While these authorized inquiries have the potential to lower your score, they are not as worrisome as you might think. If you shop for a loan in a timely manner, inquiries should hardly affect your score at all.
How much weight do inquiries carry on a credit report?
The first thing to keep in mind is that only authorized inquiries can affect your score. You will not be penalized when businesses look you up to decide if they want to offer you their product or service. In addition, your score does not change when you pull your own report.
According to the Mortgage Reports, there are four main types of inquiries that could lower your score: credit card applications, mortgage/refinancing loans, auto loans and store credit cards or consumer loans. Even these inquiries, however, only make up about 10 percent of your score, with home and auto loans being the least likely to cause a drop. Credit card inquiries are more harmful to your score because you have the power to open as many cards as you qualify for, placing you at greater risk of debt. When shopping for a mortgage or auto loan, on the other hand, you are only going to end up with one, so multiple inquiries don't pose as large a risk.
How to make sure loan shopping won't hurt your score
According to FICO, its credit-scoring model is designed to account for the multiple inquiries you make when loan shopping. First off, a loan inquiry won't be factored into your credit score until 30 days after the inquiry was made. Therefore, if you do all of your shopping within the 30-day period, no lender will see a lowered score.
In addition, FICO will group all of your inquiries for one type of loan into one inquiry if they were made within a certain time period. Its older scoring model defined that time period as 14 days, and its newer model defines it as 45. Each lender gets to select which scoring model to use, so the more efficient you can be, the better.  
The Consumer Financial Protection Bureau explained that bundling only works for inquiries regarding the same type of loan. If during a 14- or 45-day period, you made 5 inquiries regarding an auto loan and 6 regarding a home loan, it will show up as two inquiries on your credit report.
If you have a good credit score, these inquiries are generally nothing to worry about. The CFPB emphasized that the benefits of finding the right loan far outweigh the costs of losing a few points. Even someone with a relatively low score is only at risk of losing about 5 points from an inquiry. FICO said those who have long credit histories and many accounts on their report are less likely to see repercussions from an inquiry.
Still, it pays to be careful, as the more inquiries you rack up, the more likely it is lenders will see you as a risk. Make sure to shop efficiently for loans so you can keep the number of inquiries on your report as low as possible.