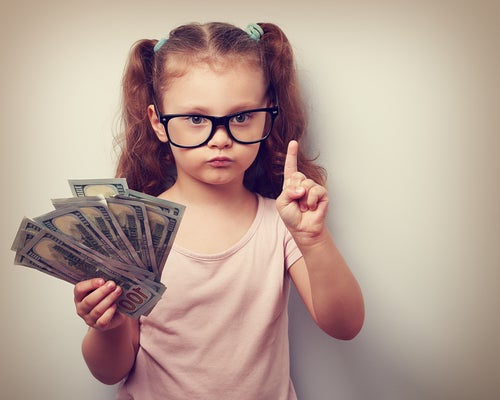 It's never too early to learn about money. During a child's pre-college education, he or she learns a number of skills that may help him or her in a future career, but little focus is given to teaching kids how to manage money. Learning how to manage money and how credit works is an invaluable benefit to a child growing up in 2015.
Here are five tips on how you can help your children learn how to manage their finances starting today:
1. Pay kids for chores or give them an allowance
It's difficult for kids to learn how to manage money if they don't have money. Even young children can benefit from receiving small sums of money that give them the chance to make financial decisions. Rather than handing them money each week or after a chore, consider keeping a running balance sheet that allows the child to see how much money they have earned, and how much they have in savings. Allow them to "withdraw" money as needed from you. Visualizing debits and credits and a running balance will help kids see where their money is going.
2. Take time to explain to your kids how your credit card works
How many times have your kids seen you pull a plastic rectangle from your purse or wallet, pass it through another plastic device, and suddenly you've paid? It's important that kids understand what's happening behind the scenes when you pay with a credit card. Use a trip to a restaurant as a teaching opportunity. Explain about the bank lending you money, you borrowing money, and what happens if you don't pay it off on time. Americans carry a lot of consumer debt, and understanding credit early on could prevent unnecessary heartache later.
3. Set up a savings account with a local bank for your kids
Money sitting in a piggy bank may teach kids the value of saving, but it misses an important teaching point–interest. By setting up a savings account for your older kids, you give them a chance to see the monthly effects of saving. When kids see their bank statements, they get to see the impact of lending their money to others. Saving doesn't just protect your money for the future — it earns you more money.
4. Review your kids' finances with them
Once your kids get older and have accounts of their own, take time to review their accounts with them. Help them learn how to analyze trends in their savings, and to compare how much they save to how much they spend. Not only will your kids learn how to analyze their own financial decisions, they'll learn that analyzing their financial situation is important. Too many people wait to question their money habits until problems have already happened. Teach your kids to plan now.
5. Allow your kids opportunities to seeyour good financial habits
Many kids learn best by seeing others first. There's no better way than to learn by example than from your own parents. Tell your kids about paying off your credit card each month. Talk about what kinds of purchases are worth taking on debt. Discuss what percentage of your earnings you try to set aside each month. Let your kids see times where you decide to not make a purchase because it's too expensive. The more your kids see, the more they'll learn.
—
Daniel Woolston is an associate attorney for Lexington Law Firm. Hewas born in Houston, Texas and raised in Sugarland, Texas. He received his B.S. in Political Science at Brigham Young University and his Juris Doctorate at Arizona State University.
A former prosecutor, Daniel has conducted numerous jury trials and hundreds of other court hearings. He has experience in legal writing, research, and general oral and written advocacy. Daniel especially enjoys being a voice for those that are often forgotten in the legal system. He is licensed to practice in Arizona. He is located in the Phoenix, Arizona office.