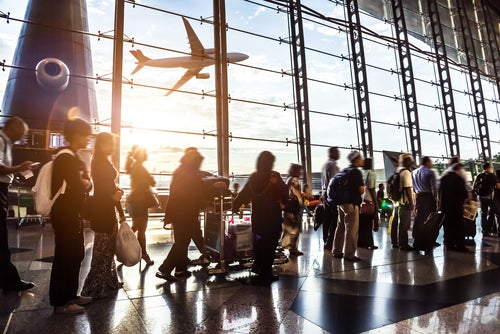 Traveling is a necessity for some and a passion for others. The ability to hop on a plane and explore new places is a luxury, one that can hurt your credit without caution. Adopt a few best practices on your journey to ensure safety and avoid credit damage.
Carry necessary items only. Carrying sensitive information while traveling puts you at greater risk for identity theft and financial woes.

Identification. While you need a driver's license and/or passport to board a plane, leave your birth certificate and Social Security card at home, or better yet, in a safety deposit box at the bank.
Funds. Likewise, it's a good idea to ditch debit cards in favor of credit during your travels. While a stolen debit card can wipe out your savings, fraudulent credit charges are usually voided by lenders and will not affect your financial safety.
Computers. If you plan to tote a computer or tablet, bring it as a carry-on item. Checked gadgets are subject to TSA searches and employee handling. Although TSA strives to employ honest workers, don't bet your financial stability on their hiring practices.

Set a spending limit. In addition to flying, traveling usually means staying in a hotel, renting a car, dining out, shopping, etc. These costs add up quickly and may leave you regretting the consequences of a vacation spending spree. Relying on your credit cards for these purchases can lead to maxed out limits, high utilization, increased interest rates, debt and credit damage. Lessen the blow by:

Booking strategically. Airline data suggests booking your flight one to four months before your desired travel time. It's also wise to choose an airline that allows complimentary carry-ons and a free first-checked bag.
Cooking your food. When it comes to accommodations, consider an extended stay hotel room with a kitchen, allowing you to cook a portion of your meals. Shopping rather than dining out will help you save big on the essentials.
Curbing your spending. Overspending is easy in a new place, so take time beforehand to consult your budget and set a spending limit. Travel costs should never take precedence over stability.

Pay your bills ahead of time. Overlooking monthly payments is a big no in the world of credit health. Payment history accounts for 35 percent of your score, and you can't afford to let your responsibilities fall by the wayside. Opt for timely payments ahead of your wanderlust.
The bottom line: Travel can be a welcomed diversion from everyday life, but it shouldn't derail your credit. Enjoy your time away by taking steps to safeguard your identity and finances.
Related Articles:
6 Credit Points to Consider Before Traveling Abroad
3 Tips to Protect Your Credit While Traveling
Opening new credit cards for travel — how does it impact my credit score?