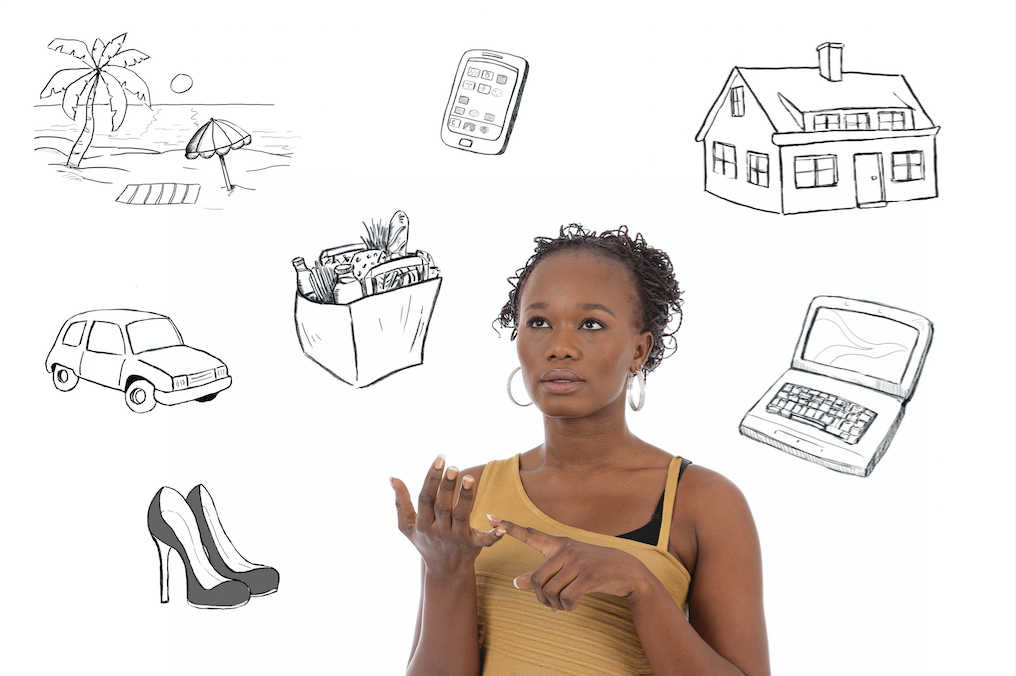 Spending money is complicated; at least, that's what our brains tell us. According to a Capital One Bank survey, 54% of Americans feel happy when they save money, and yet, 25% struggle to keep up with their monthly bills. Feeling motivated to save is tough when your wants and needs are at war, and let's be honest: You aren't likely to afford a home or save for retirement by kicking a Starbucks habit. Big changes require bigger savings. The good news is, there are a few painless ways to accomplish your goals.
Track Spending: It's difficult to cut expenses without a plan. Creating a budget is the fastest way to gauge financial strength and learn how to save. Download your free budget template
Embrace Eco-Friendly Living: Saving money doesn't always require a lifestyle change. In fact, it's possible to cut costs and help the environment with a few basic steps. "Get a home energy audit conducted on your house through your energy provider; most do them for free," David Bakke, financial blogger and owner of Money Crashers said. "Also, only run full loads of laundry and dishes."
Take your efforts further by investing in a smart thermostat and Energy Star products that provide eco-friendly designs, monthly bill savings and even product rebates for mindful consumers.
Negotiate Revolving Expenses: The average American household spent $103 per month on cable in 2015 according to a survey conducted by Leichtman Research Group. Even if you aren't willing to cut the cable cord, there's still room to cut costs. "You won't get a discount without asking," Andrew Marshall, a San Diego-based financial planner said. "Call your cable company, your phone provider and other companies with bills you want to pay less for and ask for a discount.  I recently had $80 taken off my monthly cable bill for being a longtime customer."
Other experts suggest leveraging the competitive marketplace to slash fees in addition to your monthly bill. "There are so many TV alternatives; having a station that only has one program on at a time almost feels archaic. Ditch it," Michael Newcomer, vice president of Retirement Advisory Consultants said. "Some carriers even eliminate taxes and fees, making it easy to budget phone and internet prices every month."
The lesson: Everything is negotiable. Contact your service providers and communicate your budgetary needs.
Clear Away Clutter: Financial dissonance can be as stressful as physical clutter. According to Phil Risher, the voice of Young Adult Survival Guide who paid off $30,000 in student loans in 12 months, there are a few ways to spring clean your spending. "As you question your expenses, ask yourself: Why do I have it? Does this fit with my goals in life? Will this change my life if I get rid of it?" Judging expenses based on emotional value could ease the pain of cutting back. Consider changing your perspective as you redefine necessity.
Read the Fine Print: Automated bill pay has made life more convenient, but it has also created a risk of abuse. Mobile apps like FeeBelly sniff out hidden fees associated with paying off loans early, buying a plane ticket, transferring money and other transactions. Once identified, you may be able to have them waived or choose another provider who doesn't impose the same costs.Similarly, other apps like Prosper Daily take the mindlessness out of spending by illustrating costs by frequency. "It highlights your recurring purchases," said Jared Franklin, product manager for the financial tech company, Blispay. "It's a good way to see a bunch of those annual $20-30 services you pay for, but don't use much. I identified a few services this way that I cut ties with."
Saving money isn't always easy, but it doesn't need to be painful. Take advantage of creative saving opportunities as they arise. The result can help you plan for emergencies, invest for the future and focus on credit health.
Carry on the conversation on our social media platforms. Like and follow us on Facebook and leave us a tweet on Twitter.