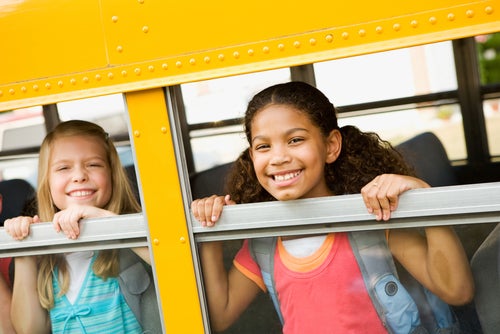 It's no secret that kids are expensive, and that can be especially true during back-to-school time. While you may be excited about their return to class, the additional costs of education could cost you more than a few dollars — and credit score points. Dipping into savings or relying on credit cards for back-to-school shopping can leave you vulnerable to unforeseen costs, high debt and accruing interest.
You can approach the 2016-2017 school year with caution by looking for savings in the following five areas.
Tuition
Private school tuition is undoubtedly steep, but these two ways may help temper the burden on your family.
Administrative Work: Schools are often short-staffed and in need of someone to help with administrative tasks, assisting teachers, etc. Ask the principal if there is a part-time opening. If so, negotiate terms to allow your children to attend school for a lower rate.
Personal Expertise: Consider your professional skills and look for need within your child's school. For example, if you are a construction foreman, consider asking the administration to create a class that helps kids learn about building and improving the school in some way. Barter in trade: your services for a discount on your kids' yearly tuition.
Supplies
The average family spent $630 on school supplies — clothes, backpacks, electronics, pens/pencils, etc. — last year. These expenses seem inevitable, but there are ways to save.
Shop in Bulk: Big box stores are great if you have kids who burn through paper and pencils. Buying in bulk can help you save money throughout the year. Consider shopping for electronics like computers and tablets in the same stores, as many provide deep discounts for their stock.
Wait For Fall Sales: Retailers bank on parents flooding their doors for back-to-school clothing. While it's nice to have new threads on the first day of school, your brood probably has enough in their closet to survive until Labor Day and beyond. Consider waiting for a sale before buying new clothes. A little patience could save you hundreds of dollars.
Food
At $5 a day, buying lunch for two kids will cost you $200 a month. Save money and your kids' metabolisms by cooking large meals at home and sending leftovers for lunch. Why sacrifice $1,800 a year on sub-par meals?
Transportation
Shuttling to and from school can get complicated with multiple kids, and it's not easy on the car budget, either. If the bus isn't an option, consider forming a parent carpool group to save you time and money.
Extracurricular Activities
It's not unusual for parents to spend a lot of money on after-school activities. While you may feel inclined to give your offspring every opportunity, you shouldn't sacrifice financial strength in the process. Set limits by:
Creating a Ranking System: Choosing every activity isn't an option for most families, so ask your kids to rank their interests, choosing one or two items that make the cut.
Considering Hidden Costs: While piano lessons and basketball may cost the same on paper, the latter is full of hidden fees: uniforms, training camps, travelling, lodging, etc. Ask your kids' coaches for a detailed list of expenses before agreeing to sign up.
Allowing Your Kids to Pitch In: Tweens and teens can work for the things they prize. Help establish their work ethic by sharing the extracurricular budget and asking them to contribute. A paper route, babysitting gig or other part-time job is a great way for your kids to contribute to household expenses and take ownership of their extracurricular needs. It's a win-win.