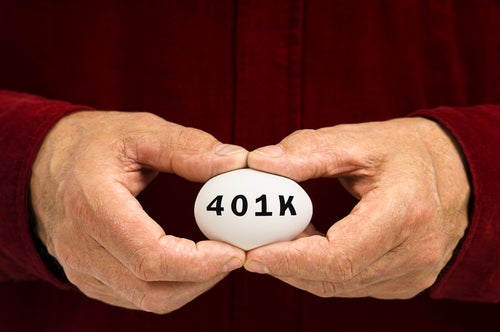 In the world of credit repair, there are a few basic principles:
Don't neglect your finances
Don't mistake a credit line for a bank account
Never dip into your retirement savings
When you consider the latter principle, the idea of dipping into your 401(k) plan seems insane, right? That's what I thought until a recent conversation with a financial planner led me to rethink my position. Despite its inherent risks, there are times when borrowing from your retirement plan can be beneficial. Read on to learn the dos and don'ts of 401(k) borrowing.
First things first: A 401(k) should not be a credit repair vehicle or an emergency savings account. Borrowing from your 401(k) is not always a good idea. In fact, dipping into your retirement savings without careful consideration is a no-no. Not only are you risking your financial security, the need for future credit repair is practically inevitable. If you're thinking of using retirement spending to pay down debt or offset an unforeseen expense, stop right there and find another option.
On the other hand, if you are thinking of obtaining a loan for home remodel or other voluntary project, this type of borrowing could benefit you. Consider the following example:
Marcus and Amy Smith want to spend $20,000 to update their kitchen. Although their credit scores are good, Marcus is worried that obtaining another loan could overload their credit reports. The Smiths speak to their financial planner who suggests borrowing against their 401(k) for the following reasons:
• They have other options.
The Smiths are financially secure and capable of obtaining and paying for a traditional home improvement loan. They can afford to take on new debt.
• They are years from retirement.
The Smiths are in their late 20's, allowing them plenty of time to recoup the money they use and keep saving for retirement according to their plans.
• The terms are the similar.
Just like a traditional loan, a 401(k) loan comes with terms, conditions, and a payment plan. Rather than spending 15 years repaying a bank, they'll spend 15 years repaying themselves for the amount they borrow. They are also free to make extra payments, allowing them to repay the money in shorter timeframe.
• The interest rates are lower.
In general, borrowing from your 401(k) results in lower interest rates and better terms and conditions. While the average home improvement loan will cost them 6.25 percent in interest, borrowing from their 401(k) comes with a 4.25 percent rate, resulting in lower monthly payments. As a bonus, the interest they pay is deposited into their account along with the principal amount borrowed. Translation: The Smiths will not lose money by paying interest. In fact, they will repay themselves.
• A 401(k) loan will not affect their credit reports.
By using their 401(k), the Smiths are becoming their own lenders, borrowing from money they already have. As a result, there is no need for a credit inquiry or any impact on their credit reports. This revelation is a huge relief to Marcus, who was worried about overloading their reports with too much installment debt.
When it comes to borrowing, one size does not fit all. Despite your knee-jerk hesitations, 401(k) borrowing offers an alternative to traditional lending that many people overlook. Before taking the plunge, talk to your financial advisor to understand your options and make the best decision. You may be surprised by the road-less-travelled.