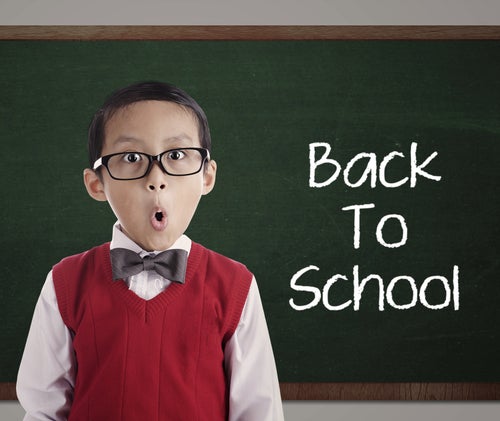 It's that time again. A new school year is rapidly approaching, which means it's time for some back-to-school shopping. During a recent conversation with a mother-of-three, I was shocked to find that she'll need to shell out at least $275.00 to cover all her kids required expenses—not including new clothes. While your kids' school list may be a little kinder, the expense is still likely to affect your budget. If you are working on credit repair, it could also dampen your goals related to debt reduction and savings. Lessen the strain by keeping the tips below in mind. Don't let the classroom bell signal the end of your credit repair motivation.
1. Don't buy everything in one trip.
Unless you plan to overstock your home (e.g., 500 pens for $39.99), there's no need to buy all your kids' supplies at once. Spreading out your shopping trips will help you work the expenses into your budget without too much strain—a must when it comes to credit repair. Consider the following strategy:
Buy essentials before school begins, i.e., backpacks, books, pencils, paper, etc.
Delay buying items that you know are not needed right away. For example, if your fourth grader is taking music lessons in October, give yourself a few weeks before you buy the obligatory recorder.
Ask about payment plans for sports-related expenses.
Take advantage of end-of-the season sales when buying new clothing. Most stores offer discounts around Labor Day. Does your state offer a tax-free shopping weekend? Click here to find out.
Shop online. No kid wants the off-brand crayons or the "geeky" backpack. That said, it doesn't mean you should sacrifice your budget to appease them. Look for online deals to save some cash. Couponcabin.com and Befrugal.com are just a couple of the many resources available.
2. Say "no" to buying lunch.
Good luck spending less than $5.00 a day on your kid's cafeteria lunch. You're likely to spend more than $1,400 per child for an average school year. It won't be for healthy food, either. The average hot lunch at a public school features choices like pizza, hamburgers, French fries, and every type of soda. Your kids may complain, but it's worth it to make them bring lunch from home. You'll:
Have control over what they eat, allowing you to teach them how to make healthy choices
Budget the food bought for lunch, allowing you to reduce the cost and save money
Redistribute your savings into credit repair (e.g., debt reduction), emergency savings, the kids' college funds, etc.)
Why give your kids the cash to eat junk? Protect their health and put your money to better use.
3. Host a garage sale or a swap.
Serious credit repair requires a strict plan, one that is easily derailed by the holidays, an unforeseen trip, and yes, back-to-school shopping. Why not remove your budget from the equation? Earn some extra cash by holding a garage sale or hosting a clothing swap with other families in your neighborhood. Apply the money you earn to your kids' school needs and keep your credit repair goals out of harm's way. A de-cluttered house and savings? You can't lose.