With the holidays approaching, you're probably daydreaming about warm and cozy nights of family dinners, gifts and memories. We look forward to the same events in our home with one exception: the warmth. That's right, our house is heated to a balmy 67 degrees most of the time, and while we make exceptions for guest comfort, we try to keep the dial turned down. Why, you ask? Read on to learn our reasoning.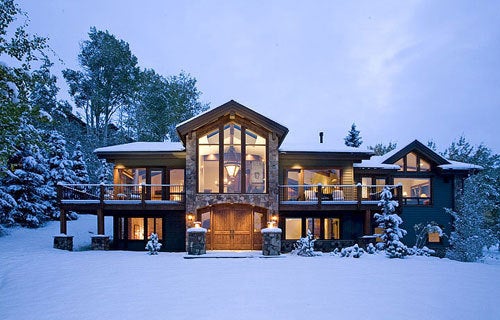 So, why is our home a cold one?
1. Overheating is wasteful. Yes, mornings are a little chilly, but so is a $200 monthly electric bill. Overheating our home is bad for the environment and our budget. Why pay $200 when $75 is an option? An extra $125 a month could pay for a multitude of necessities, including:
Other utility bills
An extra credit card payment
A week of groceries
A month of cable or cell service
Student loan debt
An investment, e.g., IRA contribution
Holiday gifts
Emergency savings
The list is endless. Reducing waste can save you hundreds this winter. Why overlook an opportunity?
2. We own socks and sweaters. And fleece pajamas and more blankets than any one family should accumulate. We literally have heat nicely folded in our closet drawers. Sure, there are times when it's a little too cold for us, but it's nothing a down blanket, oversized sweater or wool socks won't fix. If you're looking for cozy, look no further than your own wardrobe.
3. It's healthier. Cooler temperatures have been proven to boost metabolism, promote weight loss and healthy fat storage, and encourage better sleeping patterns. These factors will help us fight off colds and flus this winter and gain the sleep we need to function at work. There are times when financial health and personal health are linked. Don't miss an opportunity to care for both.
4. We don't use the whole house. The average family has a few underappreciated rooms, e.g., formal dining, guest room, etc., and we're no exception. Thanks to an ongoing remodel, our home's usage is limited to 6 of 13 rooms. Why pay to heat the entire house? Close the vents in unused spaces and allow your heating to travel where it's needed most.
5. People adapt. We adopted the low temperature mantra seven years ago in a small Chicago apartment. When affordability was the primary concern, I'll admit we struggled during that first frigid and snowy winter. That said, years of practice have allowed us to adjust. Currently, a room heated to 72 degrees has my family asking, "Is it hot in here?" People adapt, and you can too. Not only do we prefer lower temperatures now, our commitment to savings has allowed us other freedoms along the way. Consider your own financial motivations and reduce your utility reliance. A small change could lead to large rewards this season.