The holidays are just around the corner, and the spirit of giving is in full swing. According to a survey conducted by the American Research Group, Inc., the average household will spend $854 on gifts this year, a 32 percent increase from 2011. For those of you with kids, the pressure to buy, buy, buy may be getting to you. How many presents is enough? Five? Fifteen? Will my daughter be heckled at school if she doesn't get the latest jeans? Will my son be disappointed if he doesn't get the new iPhone 5?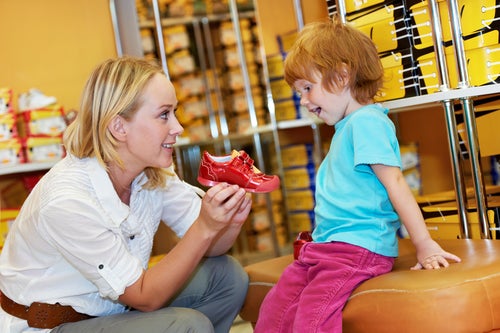 It's difficult to keep up with the media storm crashing around our offspring. Kids are inundated with internet ads, TV commercials, celebrity trends, etc., all of which seem to promote the same thing: "You need more stuff."
Sure, you'd love to give your kids everything their little consumerist heart's desire, but consider the lasting implications. While they may feel immediate satisfaction in getting what they want, but the habit of blind expectation is a dangerous one. Keep the following life lessons as you delve into spending this holiday season. What better time to instill a lasting impression?
1. Set an example.
Children learn from their parents' behavior. "It all starts with you," says Jacoba Urist, an NBC News and Forbes contributor who covers financial and legal parenting news.
"If you don't have a healthy relationship with money and spending, as the parent in the home, your kid probably won't learn great habits either. For example, if you spend a lot of your time talking about shopping, racking up credit card debts, obsessing about online sales, teens and preteens see that. They model their behavior on yours and think that 'retail therapy' really is a form of therapy—and that buying something can fill certain voids."
If you've struggled with credit repair, holiday shopping is a great time to set a better example. Take your kids along this year and allow them to see you practice some moderation. Help them understand the value of money by searching for the best deal, clipping coupons, and demonstrating the relationship between budgeting and gifting. Explaining the logistics behind holiday cheer will help to create a positive and reasonable perspective.
2. Be open about your finances (and your mistakes).
When talking about moderation, it is important to illustrate your faults as well as your achievements. Sure, you adhere to a strict budget, but do your kids understand why?
"The more personal you can be and the more you can share your faults, the better," Urist said. "Kids at that age really relate to honesty from their parents."
Be open about your holiday spending strategy and your household expenses as a whole. Explain how credit health affects consumer interest rates, insurance premiums, and the ability to stretch your dollar further. If a holiday splurge isn't in the cards this year, be honest about that too.
3. Remember the fun.
Not every lesson requires a "bah humbug" approach. Part of enjoying the holidays is giving and receiving gifts, and your kids should be free to enjoy the process.
"Sometimes buying something is just, well, buying something," Urist said. "Preteens and teens are old enough to get this concept—sometimes a bottle of nail polish is just a bottle of nail polish. Not every transaction needs to be a belabored lesson in financial values and consumerism. Let your kids have a chance to be kids at the mall too."
The bottom line: Developing a good relationship with money is about managing the negatives and celebrating the positives. Begin your kids' financial education by instilling a mindful and metered approach to money. Learning these lessons is important at every age.