Depending on your perspective, travel is either a welcome distraction or an inevitable reality. Either way, a hotel stay is part of the deal. Days and weeks add up quickly when you're paying in 24-hour increments. Don't allow high hotel prices to eat into your savings. Use the strategies below to reclaim cash and improve your stay.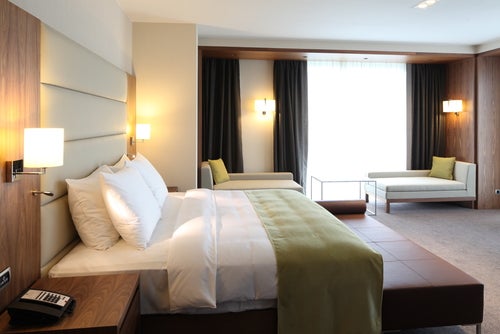 Ready for a bon voyage? Begin by:
1. Joining the rewards program. The average hotel rewards their guests with perks in order to retain business. If you frequent a particular chain, join their rewards program to take advantage of their discounts which may include:
Free nights
Free Wi-Fi
Complimentary room upgrades
Discounted room service or continental breakfasts
Why miss the opportunity to save? Do some research to learn more about what your hotel has to offer.
2. Consulting the pricing schedule. Peak travel dates (e.g., holidays and summers) come with high prices, but what about the rest of the year? If possible, consult a pricing schedule before choosing your vacation days. For example, the Allegro Hotel in Chicago provides a calendar of availability and rates. A September 1 stay costs $136 while a September 5 stay is $264. Contact the hotel to book your dates and ask them to honor the lowest available price. You've got nothing to lose.  
3. Talking to your concierge. Think twice before rushing through the check-in process. A friendly conversation with the concierge could result in money-saving deals. Consider the following example:
Cash and Lynn travel to Portland, Oregon for a short vacation. During their hotel check-in, Lynn makes idle conversation with the concierge. She mentions that they've been driving for five hours and are relieved to be away from the car. Speaking of which, she asks where they should park their car overnight and if there is a grocery store nearby ("We are in desperate need of some wine.")The concierge is friendly and wants the couple to enjoy their vacation. She offers to valet park their car at no charge and upgrades their room to a suite. She also sends a bottle of wine to their room with a note that reads, "This drink is on us. Enjoy!"
A simple conversation saved Cash and Lynn more than $350. Take a lesson from their experience and communicate your needs. Hotels thrive on customer retention, and most are willing to work for your satisfaction. Strike up a conversation and see what happens.
4. Remembering the extras. Taxes, surcharges and fees: these are the budget-busting extras. Whether booking online or by phone, be sure the price is all-inclusive. Don't allow surprises to blindside your savings.
5. Skipping the minibar. You don't need a math degree to calculate the rip-off prices in the minibar. Shame on you for spending $4.25 for a Snickers! Skip the convenience charges by packing snacks in your luggage or visiting a grocery store before checking in. Remember your saving goals before splurging on unnecessary items.