The Polar Vortex is coming to an end, or so we think. Despite the rising temperatures, we still have months of winter to endure, and sub-zero temperatures could easily return. Keep the following tips in mind as you wait out the bad weather. They will safeguard your bank account against unnecessary costs, income loss and even jail time.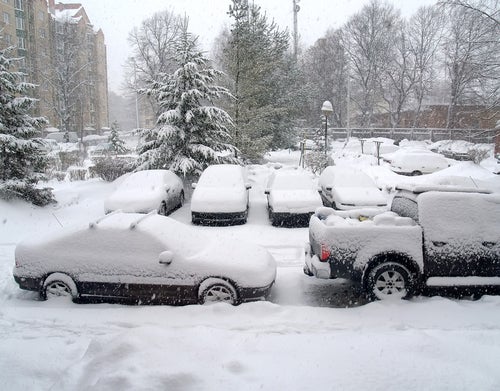 1. Heat your home efficiently.
An inefficient heating system is an expensive one when it comes to paying for gas and electricity. If you live in an area with mild or warm climates, be sure to verify that the temperature in your home matches the number on the thermostat. An unused system may require maintenance to cope with sub-zero temperatures. For those with working heaters, go the extra mile by weatherproofing drafty windows (use the tutorial here) to keep your utility costs low.
2. Be careful with your car.
The road isn't the only hazardous place for your car during the winter. When the weather is cold enough, be aware of these problems:
An older battery, i.e., four years or older is likely to stall or even fail in below-zero temperatures. Jump-starting it could cause bigger problems as well.
A gas line will freeze if your fuel drops below the half-full mark. Keep your tank in fighting form during the bitter days.
Tires are likely to lose their buoyancy in average winter temperatures, so it's especially important to keep them inflated in below-zero weather to avoid unnecessary damage.
Your parking break may freeze in cold weather. Forgo this safety measure until temperatures improve.
Salt and sand may be good for icy roads, but they are notorious for causing wear and tear on vehicles. Consider taking your car for a steam wash and sealing the undercarriage (i.e., the brake and fuel lines) to prevent rust and corrosion.
3. Talk to your boss about working from home.
Your boss is likely to show attendance leniency when the temperatures dip below zero. That said, a day off work isn't much comfort if you are paid on an hourly basis. Keep your income steady by asking your boss about work-from-home options. Many companies consider remote employment on an individual basis. If the work is piling up, your boss will appreciate the initiative. Do yourself a favor and ask. You've got nothing to lose.
4. Don't forget about your animals.
Don't forget about the safety of your pets and other animals when bad weather hits. Leaving them exposed to the elements could severely injure or even kill them. In addition to being cruel, you're likely to find yourself faced with a hefty fine or even arrest if your neighbors notice negligence. Take responsibility for your animals by following ASPCA guidelines and keeping them inside. Call your local animal shelter if you notice strays in need of help. If you have livestock or horses, follow FEMA's guidelines to keep them safe and healthy as well. Every creature deserves compassion.
5. Create a daycare contingency plan.
If you have kids and a full-time job, the stress of winter isn't limited to bad weather. Finding childcare to cover snow days can be costly, especially if you don't normally rely on friends and family. Consider creating a contingency plan with your fellow parents to ease the situation. Gather a group from your child's class and create a rotating snow day schedule that allows some parents to work while others take on babysitting duties. Consider the following example:
John, Clare, Jim and Amy all have full-time jobs and children in the same third grade class. They live in rural Indiana which is known for its harsh winter weather and frequent snow days. Each adult commits to babysit during snow days on a rotating basis, allowing the other three to work and leave their child with a trusted person. While they must all sacrifice vacation leave, their plan is more economical than employing a babysitter for the entire winter.
Whatever your situation, it's important to make budget-friendly decisions in harsh weather. Arm yourself with common sense solutions.