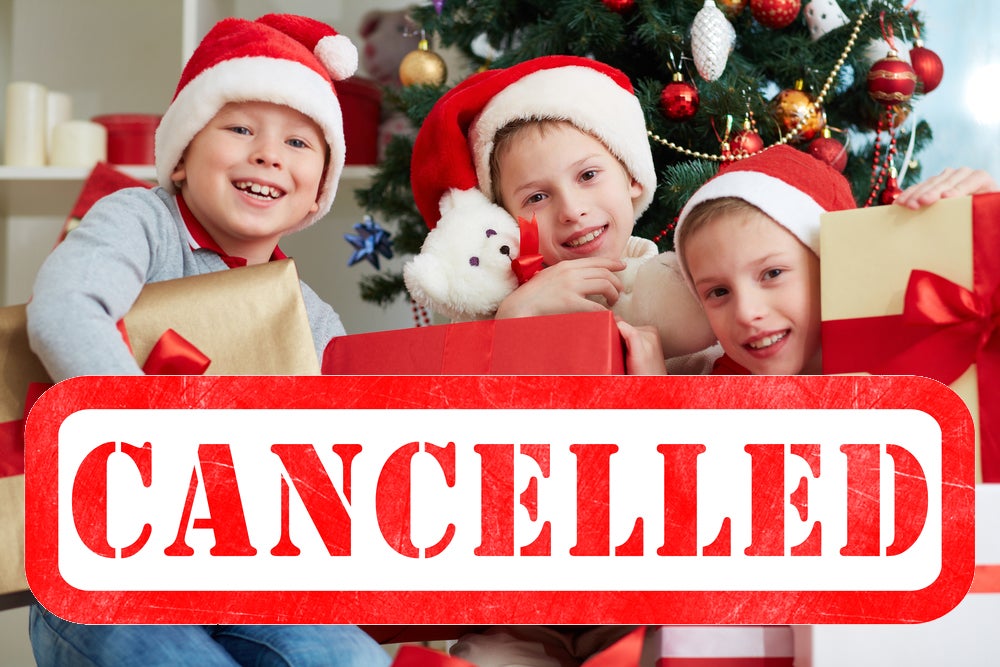 One mom is canceling Christmas this year. Discouraged by her sons' bad behavior and sense of entitlement, Lisa Henderson decided to teach their children a lesson by refusing to buy them gifts. Instead, the family will use their time and money to help others in the community. Henderson's blog post has gone viral and sparked support from parents who understand her plight. Regardless of your kids' behavior this season, there are a few important lessons every parent can teach. Consider the following tips below. Don't miss an opportunity to help your family become more mindful and responsible.
Lesson #1: Gifts aren't automatic. Children who expect gifts are more likely to take them for granted. If you've cultivated an air of entitlement, now is the time to change your message. Explain that gifts are a luxury, not a right. Take a lesson from the Hendersons and hold your kids to a higher standard. Teach them the concept of cause and effect and how it relates to their behavior. For example, if your preteen daughter throws tantrums in the weeks before Christmas, does she still get a laptop? Does your son's failing math grade still yield an Xbox 1? Ask yourself these questions and focus on your parenting decisions. The result will provide clarity for the entire family.
Lesson #2: "Santa" has a budget too. Whether it's Santa or you who provides the gifts, the concept of budgeting is still important. The average family will spend nearly $800 on gifts this year, a large sum by any standard. Set an example for your kids by upholding insight and restraint this year. Whether it's "Mom and Dad won't go overboard for holiday gifts," or "Santa has billions of kids to think of," remind them of the bigger picture. Maintain your priorities.
Lesson #3: Experiences are valuable. Rather than focusing on the gift count, remind your kids to focus on holiday experiences instead. Baking cookies, playing in the snow, caroling, volunteering and decorating are all part of the season's fun. Encourage your family to find satisfaction in actions rather than things, e.g., "What you do is more important than what you have."

Lesson #4: Giving is worthwhile. Empathy is a valuable asset. Children who understand the needs and struggles of others are more mindful of their own actions and resources. Translation: A giving child is a well-rounded child. Change their attitude by exposing them to a new holiday experience. Consider volunteering at a local shelter or visiting a group home to distribute gifts. If you're strapped for time, ask your kids to choose their favorite charity and help them donate a portion of your holiday budget to a worthy cause. The bottom line: 'Tis the season for giving. Allow receiving to take a backseat this year.