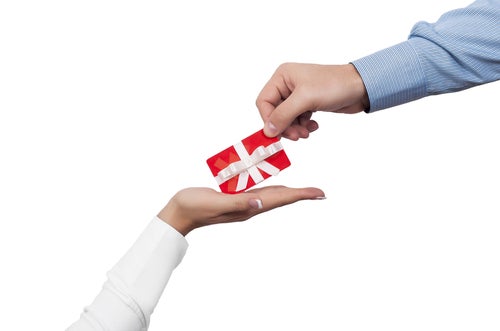 The Polar Vortex has returned, squashing any remaining memories of the warm and festive holidays. Despite the bitter season, you may still have some unused Christmas funds. Gift cards can linger in a drawer for several reasons: you don't like the attached store, you hate shopping or you simply forget to use them. Whatever the reason, there are plenty of credit-savvy ways to make the most of your money. Use your gift card for:
1. Cash. Unwanted gift cards can pad your bank account with unexpected funds. Consider selling your cards online through sites like GiftCardGranny.com. Offer a small discount and scoop up the remainder of your balance. Use them to pay down debt or add to your emergency fund. Why allow good money to expire? Get creative and put it to better use.

2. Bills. There's nothing better than a Visa, MasterCard or American Express gift. Receiving a sum of money through a large credit provider allows you to choose where and how you spend your money. Why not spend it on something important? Pay off a loan, utility bill or other expense that accepts these providers as a valid payment source. Use the money you would have spent on these expenses to invest in stocks or your retirement plan. The results will boost your credit and help you save. It's a win-win.

3. Transferable brands. You may not like Pottery Barn, but what about Williams-Sonoma? Many gift cards are transferable to brands owned by the same parent company. Do some research to find an alternative that fits your needs.

4. Improvements. A value-laden gift is one that keeps giving. Consider your generic gift card to Lowe's or Home Depot as an opportunity to improve your current investments. Research ways to increase your home's appeal. A do-it-yourself attitude will strengthen your selling power and provide greater profits.

5. A re-gift. Do you need to buy a birthday gift or attend a housewarming party? Keep your savings in the bank and use your gift card to foot the bill. The recipient won't know (or care) where the money came from.
The bottom line: Gift cards are nice, but they aren't always practical. Inject some common sense into your free cash this year. Don't allow your balances to expire by next Christmas.