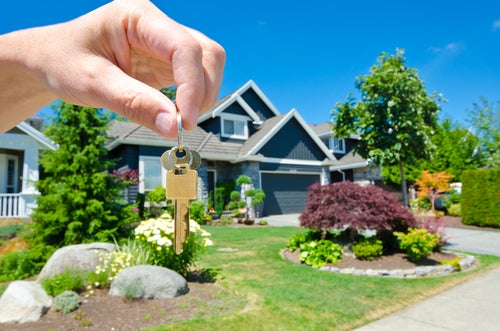 The housing crash has left many would-be buyers in a state of flux. While many worry about losing their nest egg on a bad investment, others have trouble qualifying for a mortgage at all. Despite the downturn, analysts predict a steady rise in housing prices and profits over the next decade. If you are in a position to buy or are hoping to sell, the path to profits begins long before posting the "For Sale" sign. Read on to learn more about how to be smart during every phase of homeownership. The result will offer the best chance at earning a profit.
Secure a stellar deal.
Profits are directly linked to your initial investment—from the down-payment amount and purchase price to the mortgage interest rate. Consider the following example:
Mark and Stella Finway are interested in buying a four-bedroom home in Cleveland, Ohio. The asking price is $179,000, and they have been preapproved for a 30-year fixed mortgage at 4.64 percent.
Let's assume they take the passive route. Mark and Stella:
Agree to pay the asking price of $179,000
Decide to put 10 percent down ($17,900)
Agree to pay $3,354 in closing costs
Do not challenge the interest rate
Final investment:
Out-of-pocket expenses: $21,254
Monthly mortgage payment (excluding insurance and taxes): $748
Resale price needed to break even: $182,354
Now let's inject some assertiveness into Mark and Stella's personalities. The Cleveland market is still depressed and their realtor predicts a low appraisal price. The Finways use this information to negotiate with the sellers who are anxious to close the deal. Their credit scores are also 742 and 763, leading Stella to believe that they should try to secure a better interest rate. In the revised agreement, they:
Agree to pay $154,000 for the home
Decide to put 10 percent down ($15,400)
Convince the sellers to pay their closing costs
Lock in an interest rate of 4.35 percent
Final investment:
Out-of-pocket expenses: $15,400
Monthly mortgage payment (excluding insurance and taxes): $603
Resale price needed to break even:  $154,000
Ingenuity paid off for the Finways. Their negotiations saved $5,854 in up-front costs and will save them $1,740 per year in mortgage costs. The lower home price will also allow them to earn a higher profit as the market rebounds, giving them the upper hand when they decide to sell. When it comes to profit, don't discount the importance of savvy buying.
Embrace the do-it-yourself mindset.
Losing money on real estate is a tough pill to swallow, especially if you've invested big bucks into remodeling. Homeowners know the cost of turning a house into a home, but unlike the Finways, few consider the long-term ramifications of spending too much:
After saving some money on the price of their home, the Finways are excited to remodel. They plan to install 1,500 square feet of hardwood on the first floor. They find solid red oak on sale for $3.69 per square foot. Their final price (including underlayment) is $7,035. After speaking with a contractor, they are shocked to learn that hiring a professional floor installer will cost an additional $14,000, tripling their budget. Mark is concerned about losing money if they decide to sell their home, wondering if they will recoup the initial $21,035 investment. Stella does some research and learns that there are several online and local resources for do-it-yourself floor installers. The Finways decide to spend an additional $1,000 on tools and supplies to tackle the job themselves, reducing their investment to $8,035, allowing them to save $13,000 in installation costs.
Original resale price needed to break even:  $154,000
New resale price needed to break even: $162,035
The Finways' decision was a sound one. Overspending on home improvement projects often results in a net loss during resale. On the other hand, the Mark and Stella's money-saving approach could actually help them earn a profit when it's time to sell. Take a lesson from them and learn more about improvements that will add value to your home. 
Don't use a realtor.
The average family will seek the help of realtor to sell their home, brushing off the possibility of doing it themselves. This position is sometimes valid if you don't have the knowledge or time to represent yourself during the process. In other cases, utilizing your resources could alleviate pressure by eliminating costs from your bottom line. Let's look into the future and check on the Finways:
Mark and Stella have lived in their home for 12 years and are ready to sell. The market is stronger in Cleveland and similar homes in the neighborhood have sold for at least $270,000. The Finways have made multiple improvements to their home over the years and have kept track of their expenses. In their estimation, they must sell their home for a minimum of $185,000 to break even on their initial investment and renovations. Although they are poised to earn an $85,000 profit on the resale, they worry how seller fees and closing costs will impact their bottom line.
In general, home sellers must pay the following at closing:Loan payoff costs, including a pre-payment penalty (if applicable)Commission to real estate agents and/or brokersTitle insuranceTransfer taxesNotary feesAttorney fees (if applicable)The total sum is about 8 percent of the home's resale price, with a whopping 6 percent accounting for real estate agents' fees for the buyers and sellers. If the Finways' hire an agent and agree to pay the buyers' closing costs, they'll lose nearly $22,000 in profit. Luckily, they have discovered how to avoid this situation. They decide to:
Earn a real estate license. Stella earns her real estate license five years before they decide to sell. While it did take time and cost about $2,000, she is now capable of representing her family during the resale.
Lean on their lawyer. Regardless of Stella's credentials, the Finways can lean on their lawyer during closing. He has the power to assist in filing the necessary documents accurately and legally. He also agrees to represent them for hundreds—not thousands—of dollars.
The bottom line: Earning a profit on your home takes time, detail and careful planning. Despite the potential pitfalls, it is possible to transcend the "break even" point and transform your home into a solid investment. Step lightly into your decisions.