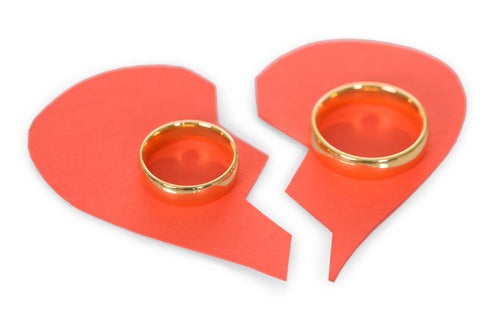 Many individuals find that their finances and credit are in shambles after going through a divorce. While the act of getting divorced doesn't directly impact your credit, it could have indirect effects that damage your credit.
Courts issue divorce decrees to finalize a divorce. Divorce decrees generally divide a couple's debts and obligations and assign responsibility to one spouse or the other. But if your ex-spouse fails to pay a certain loan or account as ordered, the divorce decree won't help if the account is still shared by both parties. If the debt is joint, each party is responsible for the debt — regardless of the divorce decree. The creditor can still go after each party for payment. This is because the financial institution that issued the loan, or the creditor that each party is responsible to pay, is not a party to the divorce decree. The divorce decree does not break the contract you signed to pay your creditors.
Not only can creditors try to collect from both parties of a joint account, they can place negative marks on the credit reports of both users of the account for missed payments. Negative marks for late or missed payments are part of your payment history, which accounts for the largest chunk of a FICO credit score. A negative mark can stay on your credit for up to seven years. That's why it is better to make a payment now on a joint account (even if your ex-spouse is responsible to pay under the divorce decree) rather than suffer the consequences of a seven-year negative mark on your credit score. You can always try to collect the money in court later from your ex-spouse.
To avoid a possible credit crisis, here are a few steps you can take to protect your credit in a divorce.
Identify all joint accounts and remove one name from the account. This could include credit card accounts, utility bills, car payments, and mortgages, among other things. The party responsible for paying should be the only party whose name appears on the account. If your name is on an account, you are responsible to pay it. This may require a refinance for a mortgage, but ensuring that accounts are no longer joint will prevent damage to your credit in the long run.
Make payments if you are still on the account, even if you're not supposed to pay. If an account is joint and it looks like your ex-spouse cannot make the payment on time or at all, make the payment yourself (even if the divorce decree says you're not responsible). You can try to collect the money from your ex-spouse later. It is better to prevent a negative mark on your credit than to try to remedy the situation after the negative mark has appeared.
Sign up for a credit monitoring service to avoid identity theft. Armed with your social security number, date of birth, and mother's maiden name, an ex-spouse could open new accounts and accumulate debt in your name. To avoid this scenario, sign up for a credit monitoring service that will alert you to any new accounts or unusual activity. Also, change your passwords if your ex-spouse has online access to your accounts.
Going through a divorce is stressful. If your name remains on a joint account and a payment is missed or late, a negative mark could remain on your credit for up to seven years. Take charge of your credit and make sure that your name is removed from all accounts that you are not responsible for paying. That way, you can try to avoid further stress.
—
Cynthia Thaxton is an associate attorney for Lexington Law Firm. She attended The College of William and Mary in Williamsburg, Virginia and earned a bachelor's degree in International Relations and a minor in Arabic and graduated summa cum laude.
After graduating from college, she worked in Abu Dhabi as a paralegal for two years. Cynthia then returned to Virginia to attend law school at George Mason University School of Law, where she served as Senior Articles Editor of the George Mason Law Review and graduated cum laude. While in law school, she was a law clerk at the State Department's Office of the Legal Adviser.
Cynthia has experience in corporate law, international transactions, real estate, HOA law and creditors' rights and she is admitted to practice law in Utah. In her spare time, she enjoys skiing with her husband, running, and going on hikes with her Labrador retriever, Shep.