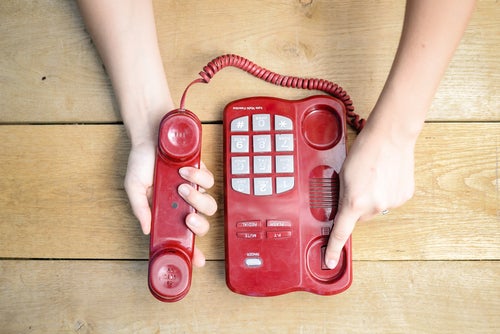 No one likes receiving a phone call from a debt collector — the calls always seem to come at the wrong time, and the debt collectors can be insistent. Even though you owe the debt, you don't have to put up with these calls.
Writing a Letter
Under the Fair Debt Collection Practices Act (FDCPA), you are protected from having debt collectors contact you in unusual times, before 8:00 a.m. or after 9:00 p.m. You can also send them a cease-and-desist letter requesting they don't contact you further. It is important to note that just because a debt collector stops calling you does not mean the debt has been removed. Here is an example of what a potential cease-and-desist letter could look like.
Your Name
Your Address
Re: Account XXXX-XXXX
To Whom It May Concern:
I request that you cease all communication with me over the account #XXXX-XXXX. Under the Fair Debt Collection Practices Act Section 805(c), it is my right to do this.
Sincerely,
Your Name
It's a good idea to send the letter via certified mail with a return receipt requested.
There are exceptions to the ceasing of contact; after a cease-and-desist letter, the collection agency is still allowed to contact you to:
Advise you that they are ceasing collection activities on this account.
Inform you of any remedies the collection agency is legally able to take.
Notify you the company intends to take legal action, such as filing a lawsuit.
To help ensure your request is followed, you want it to be in writing and not a phone call. Not only will that document be put into your files so the employees at the collection agency know about it (instead of just one person you spoke to on the phone), but it will be written proof of your request should you need it in court.
Things That Stopping Phone Calls Will Not Prevent
Once your letter is completed and the calls stop, it's not time to celebrate. Sure, this is probably good for your stress levels and peace of mind, but you should know that stopping the calls is only a Band-Aid. The following things can still happen:
Your debt can be sold to another collection agency.
If the collection agency chooses, they can sell or transfer your account to another collection agency to try their luck at getting you to pay. You will have to send another letter to the new collection agency if this happens.
The debt doesn't go away.
Despite the fact that you are not being contacted anymore, the debt still exists.
You can still be sued over the debt.
Collection agencies often file lawsuits to collect on debts. If they sue you, they will notify you in writing, which is legal, even after a cease-and-desist letter.