The information provided on this website does not, and is not intended to, act as legal, financial or credit advice. See Lexington Law's editorial disclosure for more information.
Welcome to the new normal.
Shelter-in-place orders brought on by the pandemic caused unemployment to skyrocket as businesses struggled to cope.
According to Pew Research Center, the unemployment rate shot up nearly nine percentage points in three months, rising from 3.8 percent in February to 13.0 percent in May. This three-month spike was greater than the rise seen in the entire two years of the Great Recession, from late 2007 to early 2010.
The U.S. government issued stimulus checks to families to help keep the economy alive and supplement lost income as an addition to unemployment assistance—but was the one-time effort enough?
We surveyed 3,000 Americans to get a better idea of their thoughts on how to aid those who have lost income due to the pandemic. Here, we'll dive into the results.
Key Findings
Nearly two-thirds of respondents agreed with the statement that "more needs to be done to help those who have lost income due to the pandemic."
Despite this, 67 percent wouldn't consider donating a second stimulus check (were it to be issued) to help those who have lost income to the pandemic.
Instead, respondents said a second stimulus check would most likely go toward bills, savings, mortgages and credit card debt.
Americans in Agreement: Let's Help Those Who Have Lost Income
When asked if they agreed with the statement that "more needs to be done to help those who have lost income due to the pandemic," 68 percent responded "yes." Women were slightly more likely to respond "yes" at 70 percent, compared to 66 percent of men.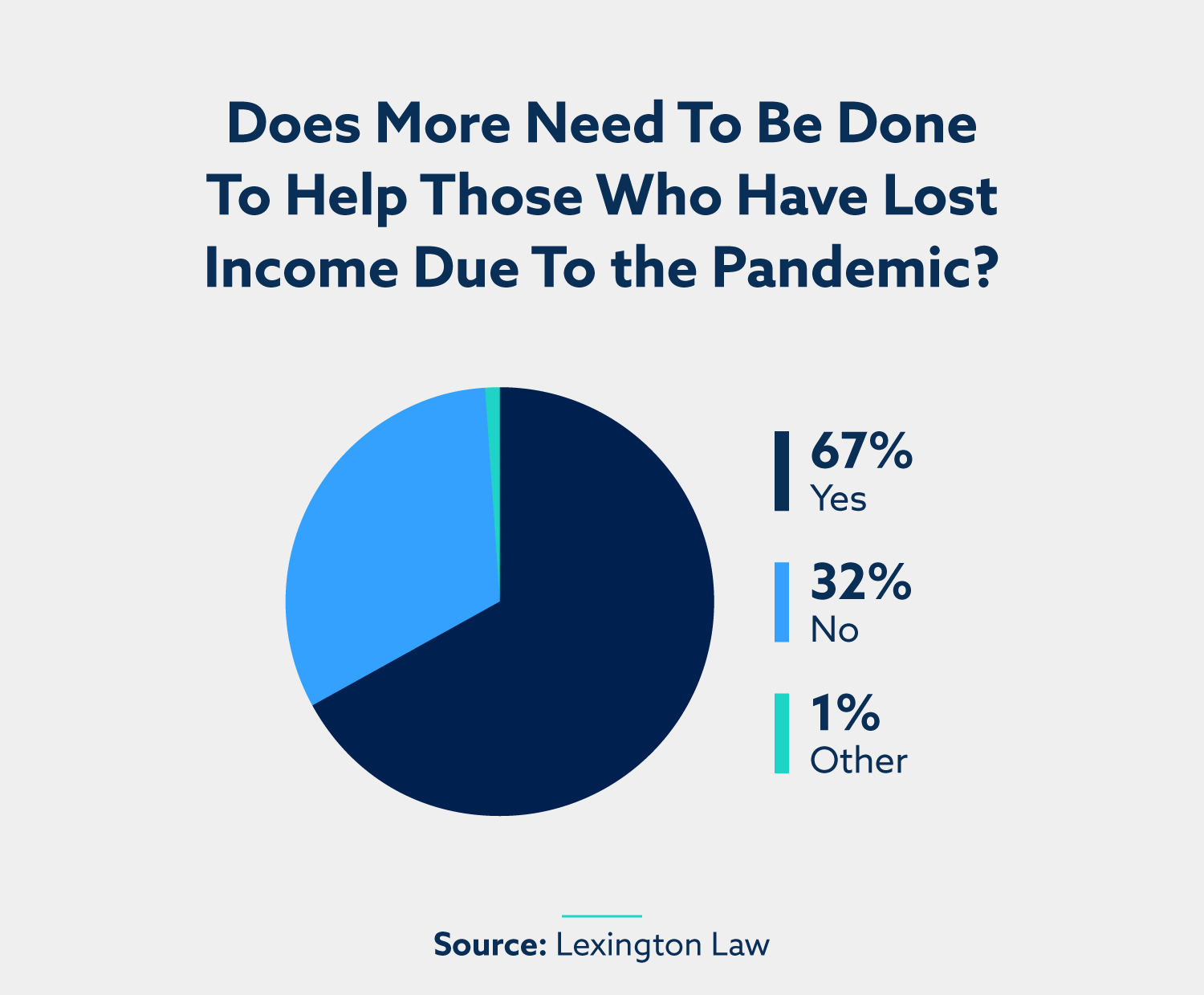 But when it comes to financial aid for millions of Americans, the solution isn't always so simple. How can a nation ensure its citizens are adequately taken care of in a way that makes fiscal sense? Does the burden fall on individuals to make personal contributions?
To find out, we asked if respondents would be willing to donate a second stimulus check—should one be issued—to those who have lost income due to the pandemic.
Donating Second Stimulus Checks Not the Solution
Despite the majority of respondents agreeing that Americans need more aid during this time, 67 percent would not consider donating a potential second stimulus check to those who have lost income.
This is likely because the pandemic has resulted in many Americans becoming financially strapped already, whether due to unemployment, furloughs, reduced wages or other factors.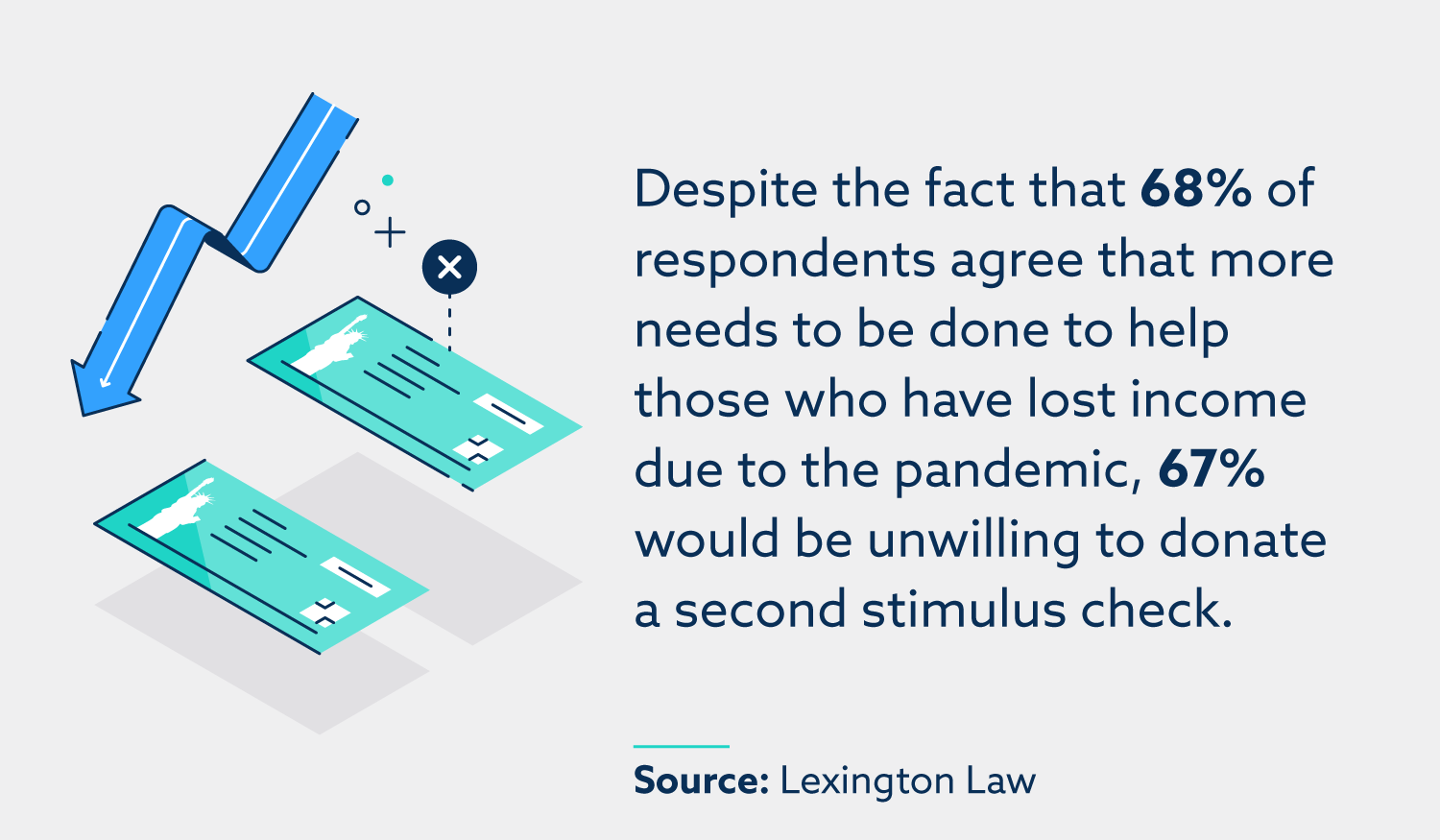 It's worth noting that while Americans aren't prepared to donate their second stimulus check, our survey didn't confirm whether they would be willing to donate at all. Perhaps smaller, more bite-sized donations would better suit peoples' current financial capabilities.
So How Would Respondents Spend a Second Stimulus Check?
When it comes to spending a second stimulus check, respondents were much more likely to use their check for more pressing matters. Utilities and bills were the most popular choices, selected by 30 percent of respondents.
Interestingly, 20 percent of respondents said they would use the check to pay down credit card debt. This is perhaps part of a larger trend of shrinking consumer debt during the pandemic. CNN reported that consumer debt shrank by approximately $100 billion from February to July in 2020. With consumers having less discretionary income or just wanting to tighten up their finances during this crisis, it makes sense that they would be swiping their cards less frequently.
According to Experian, the decrease in consumer debt has had a positive impact on credit health. The average VantageScore has increased by five points and credit utilization has decreased from 30 percent to 25 percent, falling into the recommended utilization range.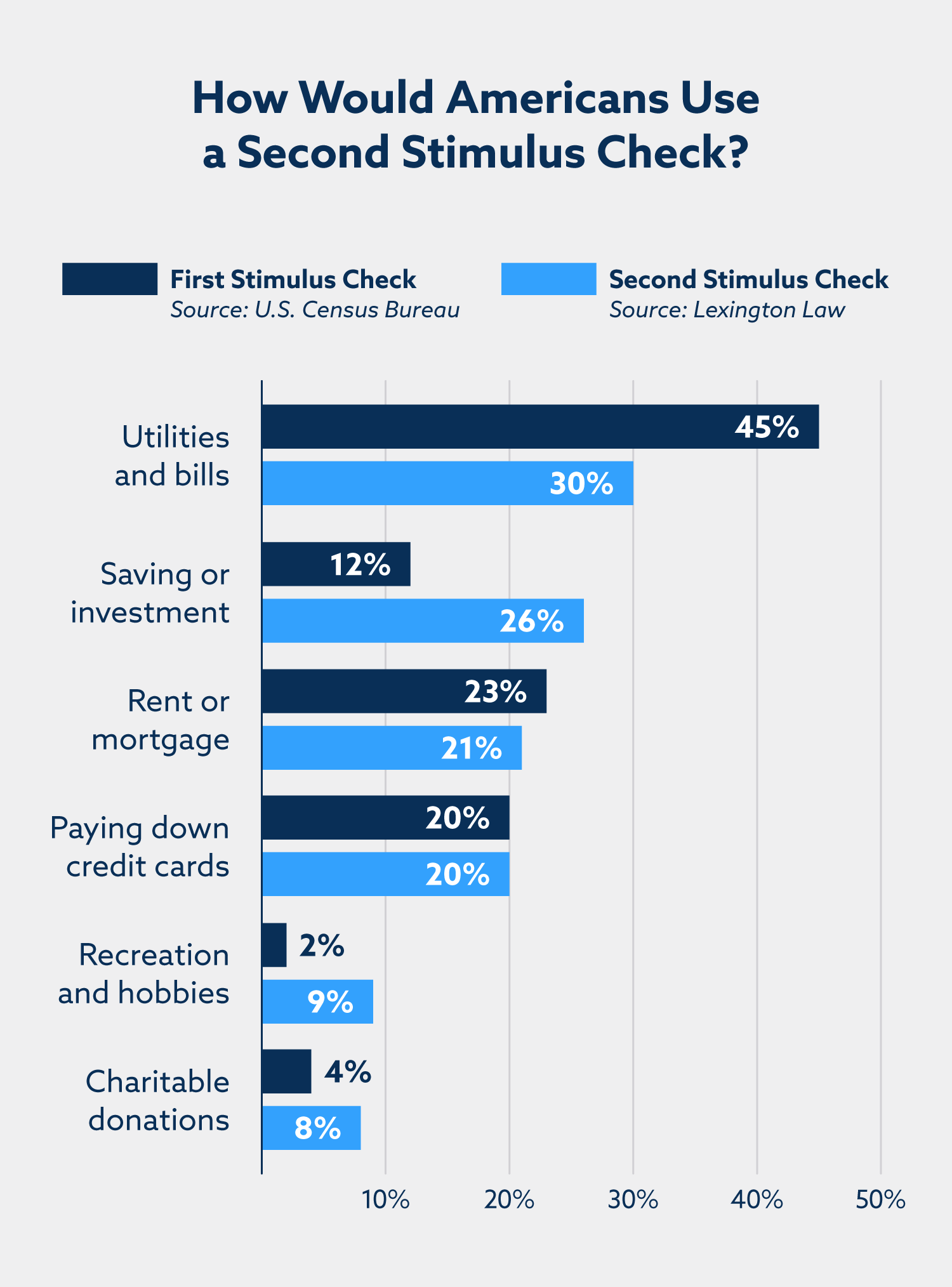 For the latest updates on the status of the second round of stimulus checks, visit CNET's page.
Take Care of Yourself First—Physically and Financially
Despite uncertain times, the fact that consumer debt and credit scores have improved is an encouraging sign to anyone looking to improve their financial health. When you're revisiting your budget during these times, remember to prioritize making on-time debt payments to keep your credit healthy.
If you've had a more difficult time making payments in recent months, or if your credit score has seen a temporary dip, don't give up. There's still potential for another stimulus check to be approved, and no matter what happens, you might be able to take steps now to improve your credit score.
It's also important to continue to monitor your credit report for false or inaccurate items. When coupled with financial hardship, these can wreak unnecessary havoc on your credit score. We can help with that.
Methodology
This study was conducted for Lexington Law using Google Consumer Surveys and interpreted by Siege Media. The sample consisted of no less than 1,000 completed responses per question. Post-stratification weighting has been applied to ensure an accurate and reliable representation of the total population. This survey was conducted in September 2020.
---

Reviewed by Cynthia Thaxton, Lexington Law Firm Attorney. Written by Lexington Law.
Cynthia Thaxton has been with Lexington Law Firm since 2014. She attended The College of William and Mary in Williamsburg, Virginia where she graduated summa cum laude with a degree in International Relations and a minor in Arabic. Cynthia then attended law school at George Mason University School of Law, where she served as Senior Articles Editor of the George Mason Law Review and graduated cum laude. Cynthia is licensed to practice law in Utah and North Carolina.
Note: Articles have only been reviewed by the indicated attorney, not written by them. The information provided on this website does not, and is not intended to, act as legal, financial or credit advice; instead, it is for general informational purposes only. Use of, and access to, this website or any of the links or resources contained within the site do not create an attorney-client or fiduciary relationship between the reader, user, or browser and website owner, authors, reviewers, contributors, contributing firms, or their respective agents or employers.