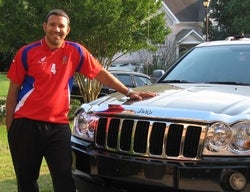 Christopher Bruce improved his credit score and financed a new SUV
Trying to cope with the demise of the sub-prime loan industry, mortgage brokers and auto lenders are finding it necessary to do more than simply match consumers up with loans. They have found it necessary to also help consumers qualify for today's loans by helping them work through their credit woes.
Many of these lenders, like Wanda Bell, a Georgia auto financier, have begun working with Lexington Law through our Financial Services Affiliate program to enlist customers in one of our credit repair services.
"When I came to Lexington Law I did not realize the opportunity to help people; this job is a blessing." said Ball. "When I sign someone up and they are hugging me and thanking me – it is amazing for someone to get their life and credit back together."
Click here for more about how Lexington Law is helping lenders or visit www.fsprogram.com to learn more about the Financial Services Affiliate program.