Credit Scores: The Ultimate Proof of Personal Responsibility
By: Ryan Running
The term 'credit score' has an extremely negative connotation in U.S. society. People hear the phrase and cringe, thinking of credit horror stories, uneducated financial decisions, and doomed future plans. Though credit scores may seem a random indication of trustworthiness, I believe a credit score is a valuable tool for any lending agency and can be used as proof to demonstrate personal responsibility.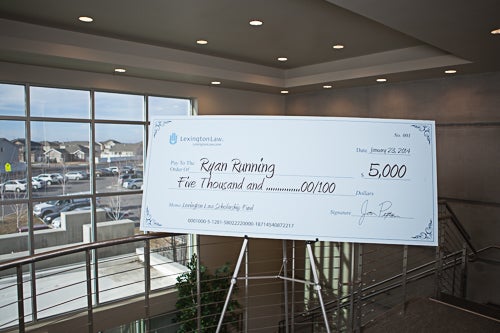 Through the use of credit scores, lenders have access to the information they need in order to make informed decisions about their clients. Those who treat a credit score as a nuisance have fewer options, higher interest rates, and may even be shut out altogether from lending agencies.
It's no question that little three-digit figure holds massive power over my fiscal future. I refuse to allow poor financial decisions to restrain my future plans. I desire to approach a lender with confidence, knowing I will always receive the service I require.
I was first introduced to the concept of a credit score in my high school's personal finance class. Because I didn't have a consistent income during school, I looked for small ways to improve that score from the ground up. My bank's financial advisor said that having an overdraft protection line of credit was a simple way to build credit, so I opened a checking account and religiously ensured I would never have an overdraft violation to blemish my credit.
Since then, I've begun to grow my credit score in various ways during college in hopes to prepare myself for future financial freedom and limitless opportunities.
For example, many believe credit cards are the root of financial ruin, but with the correct level of moderation and self-control, they are one of the easiest ways to increase a credit score.
I applied for a credit card my sophomore year in college. I didn't wish for a credit card with a large limit because I didn't want to let myself get carried away, spending money I did not actually possess. I found a low interest rate, no annual fee student card and began to build my credit by using the card for small, regular expenses. I set up multiple reminders to ensure I remember to make payments on time and check the balance frequently to guarantee I stay well below my credit limit.
In addition, this summer I chose to purchase my own vehicle. After months of research, I found the used model that best fit my financial and personal situation. Once the owner agreed on a fair price, I was faced with the decision of payment. Should I pay cash with the money I had saved over years of hard work? Or was it smarter to take out a loan and slowly pay off the car?
It wasn't an easy decision. I decided to pay in full with cash, even though it eliminated over half my savings. For my situation, it was better to eliminate the risk of hurting my credit score than to take the chance of raising it by a few digits. I never want to put myself in a situation where I can't complete a loan requirement, ruin my credit score, and limit future options.
Credit scores are important through college, but I believe they are even more important after graduation. The amount of individuals that live above their means in the U.S. truly concerns me. News stories of family bankruptcy, dozens of maxed out credit cards, and debt collectors inspire me to constantly keep my savings, spending, and loan status under close scrutiny.
Five years after graduating, I plan to purchase a house with a value of $225,000. I will also need a large family vehicle, and may desire other expensive possessions. In order to make these large purchases I will rely heavily on my distinguished credit score. To keep my credit score at a constant increase, I have plans for 2014 and beyond.
To aid in my own financial analysis, I plan to regularly request and monitor my credit reports from each credit bureau every six months. By checking up on myself via these statements, continuing to use my credit card smartly, and paying bills on time, I am confident my credit score will continue to slowly but surely rise.
Furthermore, I plan to start a detailed, savings-oriented budget in 2014. My number one rule is –and always will be– I must spend less than I make. My strategy will revolve around budgeting my income well, and I plan to never get behind as I pay off loans.
We are unquestionably the owners of our own financial destinies. A credit score can only have damaging power over an individual if he/she does not exercise steady planning, moderation, self-discipline, and effective risk management. Through our goal-oriented actions, we are the masters of our financial success.