Credit
"As I got older, I realized you need credit more than you need cash."
- Amanda T., Lexington Law Client
Your credit score has five main contributors
Lexington Law focuses on two of these factors - your payment history and new credit - which make up 45% of your overall score.
Learn more with a FREE credit consultation
What is a "good" credit score?
Credit scores are generally separated into five buckets of quality—poor, fair, good, very good and exceptional. Scores between 670 and 739 are considered 'good.'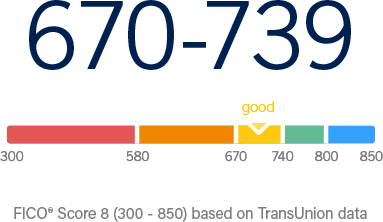 How credit repair works
If questionable negative items are hurting your credit, removing them can improve your score. Here's how we do it.
What is your credit costing you?
Answer these three questions to find out.
40 points could cost you as much as
$65,189

on your loan

* The 30-year fixed mortgage APRs are estimated based on the following assumptions. FICO® scores between 620 and 850 (500 and 619) assume a Loan Amount of $150,000, 1.0 (0.0) points, a Single Family - Owner Occupied Property Type and an 80% (60-80%) Loan-to-Value Ratio

We've helped thousands improve their credit scores. See if we can help you too.
×
Get a FREE Consultation
free TransUnion report summary
free audit on all of your accounts
free FICO score and evaluation
Leaders in credit repair for a reason
What score do I need to...
Without a credit score of at least 620 you are unlikely to qualify for a home loan, and even then, you may find it difficult to get approved. Scores of 700 or higher are ideal for securing low interest rates and moderate monthly payments.
Even with a score as low as 500 you may be approved for a car loan, but the interest rate will be in double digits. Raising your score to at least 660 will likely allow for single digit interest rates and significantly lower monthly payments.
Personal loans vary greatly based on the amount being asked and your credit score. As such, you may be able to get approved for a smaller loan even with a low score. For optimal rates, you'll want a score of 700 or higher.
Not sure how your score measures up?
Call Lexington Law today and get a:
FREE
personalized
credit consultation
FREE
TransUnion
FICO® Score
FREE
TransUnion
report summary
Learning Paths
A closer look at every aspect of credit