Powerful Credit Score Improvement
A 30-day late payment can pull credit scores down by 60 to 110 points. Not surprisingly, when it comes to improving credit scores, nothing has proven more effective than the removal of questionable negative items from credit reports. Through work to remove these items, many past clients have seen dramatic improvements to their credit scores.
While each individual client experience will vary, past clients have seen an average credit score increase of 45 points over the course of one year. Though your results may be more or less than average, consider how this type of increase would impact your ability to qualify for mortgage loans, auto loans, and credit cards at lower interest rates.
Client Results
Settlement Accepted
38,005
Results Are In
Items removed in 2014




7,000,000

Q2 2015 removals




2,279,880

Q2 2015
Monthly removals


759,960
Questions
Can your negative items be removed?

Absolutely, so long as you have the grounds to request their removal. You have the right to question any credit information you feel to be inaccurate, unverifiable, misleading, untimely, unclear, ambiguous, or incomplete.

Further consumer rights also allow you to contact your creditors directly and request (or demand) that damaging information be removed from your reports.

What is "accurate?"

Accurate is 100% free from error, and is in no way unclear, ambiguous, untimely, incomplete, or misleading. In short, accurate is fair.

The black-and-white nature of a credit listing doesn't always tell a fair story. Courts have ruled that even though some credit listings may be technically accurate, they are not truly accurate based on circumstance.

What is "verifiable?"

Verifiable simply means that credit information can be verified with the source. If a creditor is unwilling, unable, or unavailable to verify that a credit item is accurate and timely, it must be removed.

Who decides if your items are questionable?

You do. You alone can decide whether a credit item should be questioned or not. Only you know whether an item is not only accurate, but fair.

Our firm does not advise that any consumer, client or not, abuse their right to fair credit by disputing an item in bad faith (knowing it to be 100% accurate and timely.)

Can anything be done to remove accurate items?

If you feel a negative credit item is 100% accurate and timely, you do not have the grounds to question this item with bureaus. Only the passage of time can assure bureau removal.

However, just because an item cannot be questioned with credit bureaus does not mean it cannot be removed from your credit reports.

As the originating source of credit report information, your creditors may revise or remove furnished information whenever they see fit. In that regard, you have a number of rights when it comes to dealing with your creditors which can be leveraged to work toward a favorable credit solution.

Savings at Sign Up!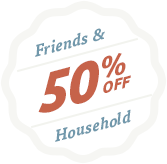 Family Discount