The information provided on this website does not, and is not intended to, act as legal, financial or credit advice. See Lexington Law's editorial disclosure for more information.
Some credit cards come with checks. Called convenience checks, they work a lot like the checks that come with your bank account—with a few notable exceptions. Convenience checks typically have a lot more strings attached, for example. Learn more about convenience checks below so you can decide if you should use yours or not.
What Is a Convenience Check?
A credit card convenience check is a check issued by your credit card company. It's tied to a credit card account in the same way regular checks are tied to a checking account. When you write a convenience check, you're actually writing against your credit card limit just as if you "swiped" the credit card.
For example, if you have a credit card limit of $1,000 and you write a convenience check for $300, you'll have a credit card balance of $300 and an available limit of $700 after the check clears. In effect, writing the check is similar to using your credit card to make a purchase—you create credit card debt for yourself that might come with fees and interest.
Your credit card issuer often sends convenience checks when they're making you an offer of some kind. It might be that you're a new credit card account customer and you get a few convenience checks to encourage you to start spending on your account.
In other cases, you might receive convenience checks as part of an offer for limited lower interest rates on qualified purchases. And in some cases, you can request convenience checks from your credit card company if you intend to use your card credit limit to make a large purchase.
What Are Convenience Checks Typically Used for?
It might seem silly to write a check when you can just swipe your card; however, convenience checks make it easier to pay for large-ticket items or transfer money between credit cards. Convenience checks can be used for a variety of purposes, including:
Purchases. You can use a convenience check to pay for goods or services almost anywhere checks are accepted.
Cash advances. You can write a convenience check to yourself and cash it to get a cash advance on your credit card.
Balance transfers. You can write a check to pay off another credit card, effectively transferring the balance to your new credit card account.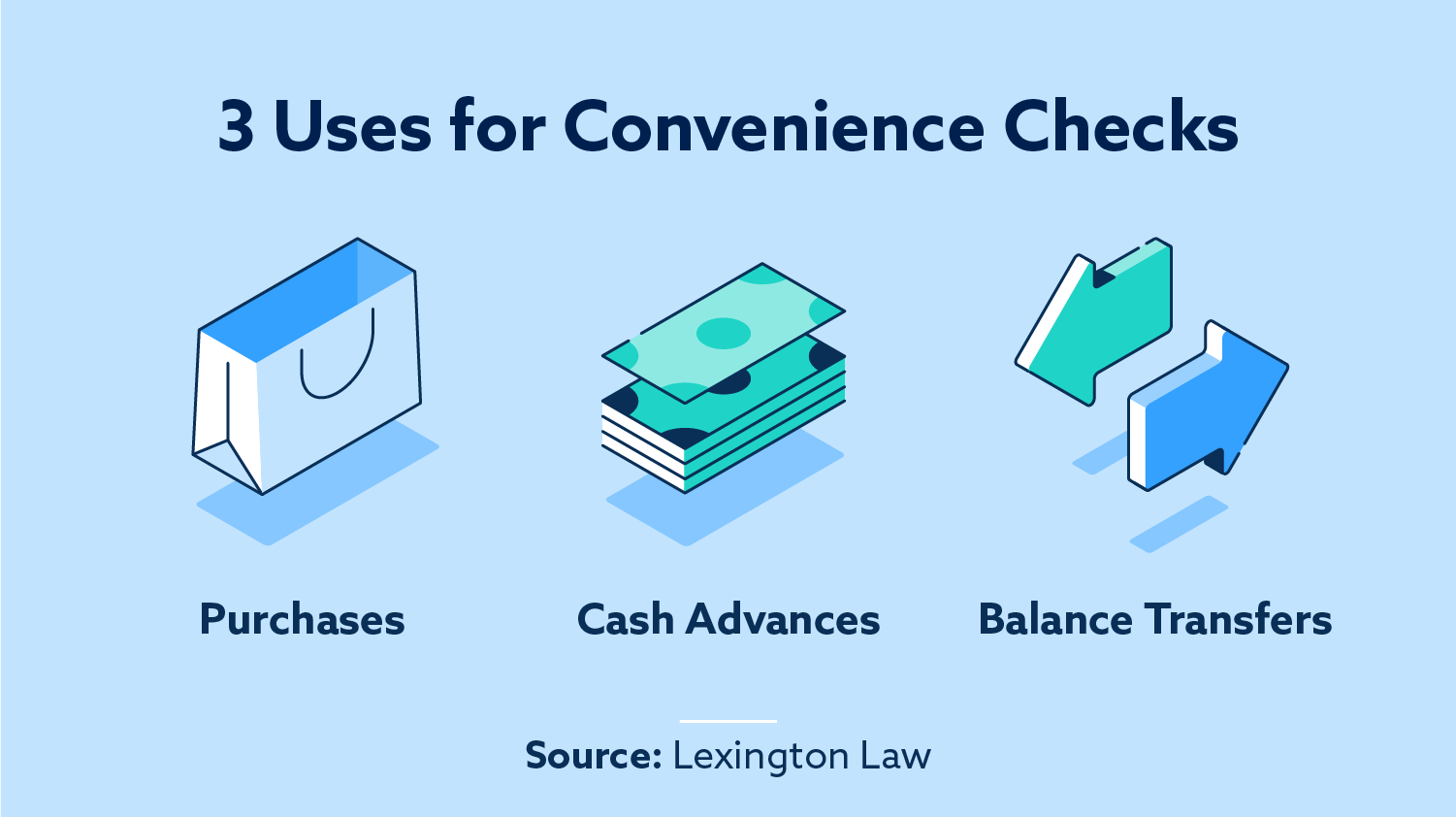 Where Can You Cash a Convenience Check?
Generally, you can cash a convenience check anywhere you can cash a regular check. That includes your own bank and check-cashing services. As with any personal check, banks and other service providers might limit the dollar amount you can cash.
Your bank might allow you to deposit a convenience check in a large amount when it won't let you cash one immediately. In these cases, the total amount deposited might not be available in your account for a few business days. That's because the bank is waiting to ensure that the check clears.
4 Drawbacks of Convenience Checks
While convenience checks are exactly what they sound like—a convenient way to access some of your available credit—they do have some drawbacks. Some of the biggest disadvantages of using convenience checks are summarized below.
1. Transaction Fees
The checks might come with transaction fees that increase the cost of the purchase you're making. Read all of the information that comes with your convenience checks or review your credit card terms of service before you use the checks. It's important to know how much the check might cost you so that you can make an educated financial decision.
2. Time Restraints
Your convenience checks might come with a deadline for using them. Read all the information that comes with the checks so you know if they expire on a certain date. You don't want to plan on using your convenience checks only to find out that they don't work.
3. Limited Terms
Many convenience check offers include a limited low-interest rate period. For example, you might receive checks from your credit card company with an offer for 0% APR for 12 months on any balance you carry with the checks. That can be a great way to make a big purchase on credit without paying extra in interest; however, you have to ensure that you can pay the total amount off within the promotional period. If you don't, you could be looking at debt with a hefty interest rate that makes it harder to pay off the debt incurred via the convenience check.
4. Impact on Your Credit Score
Don't forget that using your convenience checks does drive up your credit card balance. That can increase your credit utilization ratio.
Credit utilization refers to how much of your available balance you've used. If you have a $10,000 credit card limit and you write convenience checks totaling $6,000, you've used 60% of your balance. Credit utilization accounts for roughly 30% of your credit rating, so using convenience checks in this manner is likely to have a negative impact.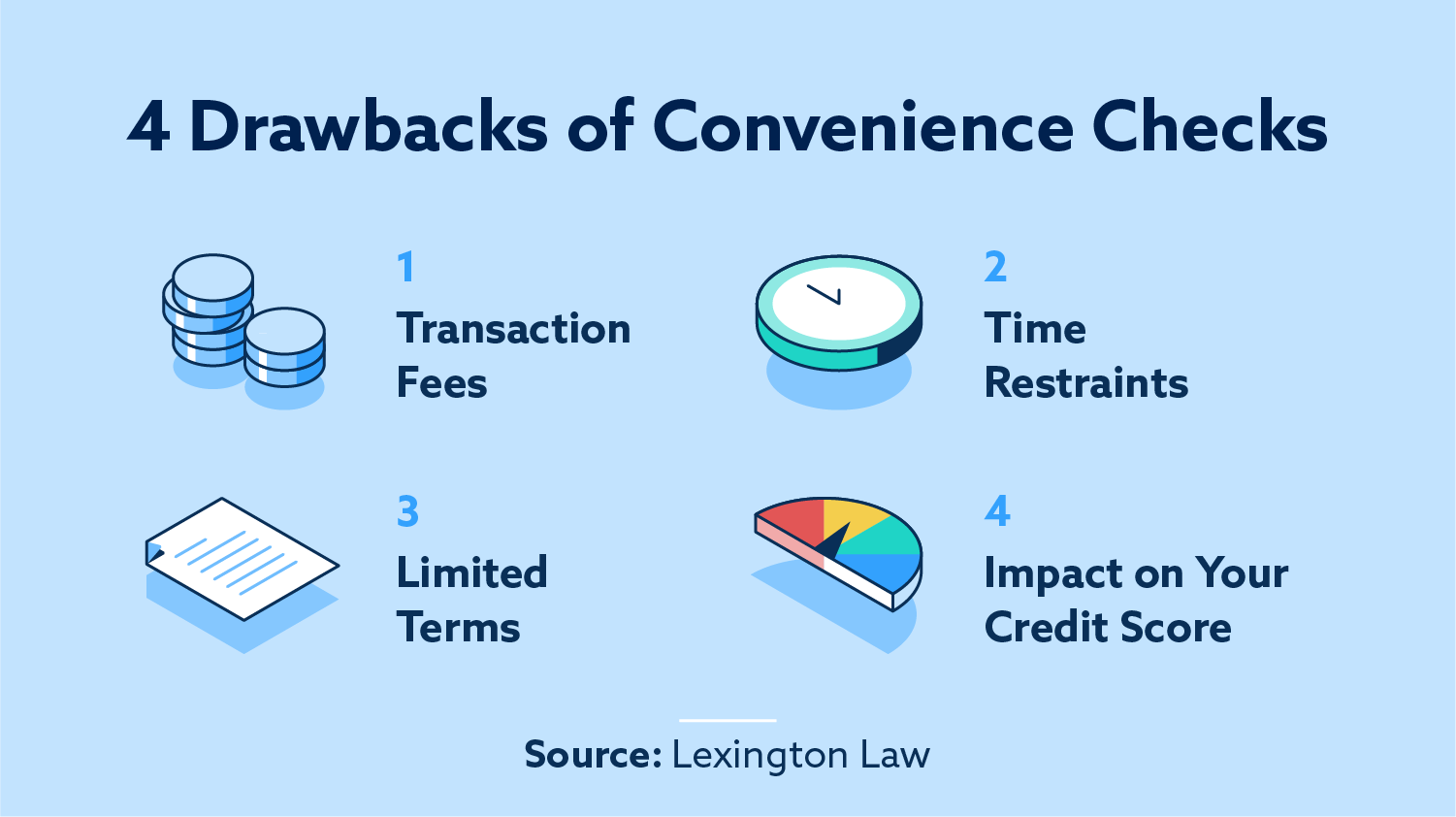 Is It Ever a Good Idea to Use a Convenience Check?
The decision to use convenience checks—and the manner of use if you decide to do so, —is a personal matter. In some cases, convenience checks can be a positive tool to help you transfer high-interest credit card balances to pay down debt faster or make a large credit purchase at a low-interest rate.
To benefit the most, though, you have to manage your credit card account responsibly—which includes the use of convenience checks.
What Should You Do With Unused Convenience Checks?
You may not use all the convenience checks a credit card company sends you. But if you simply toss them in the trash whole, you open the door to the possibility of identity theft. Someone could easily write one of those checks in your name, effectively stealing from you. They might also be able to use the check to collect personal information about you to help them steal your identity.
To best protect yourself against identity theft, write "void" across unused convenience checks and then shred them. You should also be able to call your credit card issuer and ask that they stop sending you checks. In addition, make sure to regularly review your credit report and look for potential signs of fraud or other inaccurate information.
---

Reviewed by Kenton Arbon, an Associate Attorney at Lexington Law Firm. Written by Lexington Law.
Kenton Arbon is an Associate Attorney in the Arizona office. Mr. Arbon was born in Bakersfield, California, and grew up in the Northwest. He earned his B.A. in Business Administration, Human Resources Management, while working as an Oregon State Trooper. His interest in the law lead him to relocate to Arizona, attend law school, and graduate from Arizona State College of Law in 2017. Since graduating from law school, Mr. Arbon has worked in multiple compliance domains including anti-money laundering, Medicare Part D, contracts, and debt negotiation. Mr. Arbon is licensed to practice law in Arizona. He is located in the Phoenix office.
Note: Articles have only been reviewed by the indicated attorney, not written by them. The information provided on this website does not, and is not intended to, act as legal, financial or credit advice; instead, it is for general informational purposes only. Use of, and access to, this website or any of the links or resources contained within the site do not create an attorney-client or fiduciary relationship between the reader, user, or browser and website owner, authors, reviewers, contributors, contributing firms, or their respective agents or employers.