Credit scores naturally fluctuate from month to month depending on your usage, payments and transactions. For the most part, your credit score is directly tied to your actions. Occasionally there will be errors on your report that were out of your control, such as with hard inquiries and unwarranted lines of credit. If you notice a sudden decline in your credit score, even if only by a few points, you may be suffering from the effect of an unwarranted credit inquiry.

Credit inquiries occur when a lender requests your full credit history from one of the credit reporting agencies. These inquiries into your credit history can affect your credit score negatively and will stay on your report for up to two-years.
Inquiries stay on your record for so long because they reflect how many times you have applied for credit. Lenders use how many times you have applied for credit to judge whether you should be approved for lending.
In certain circumstances an unapproved inquiry can be removed from your credit report by sending a credit inquiry removal letter to the credit reporting agency or by disputing online.
The difference between hard and soft inquiries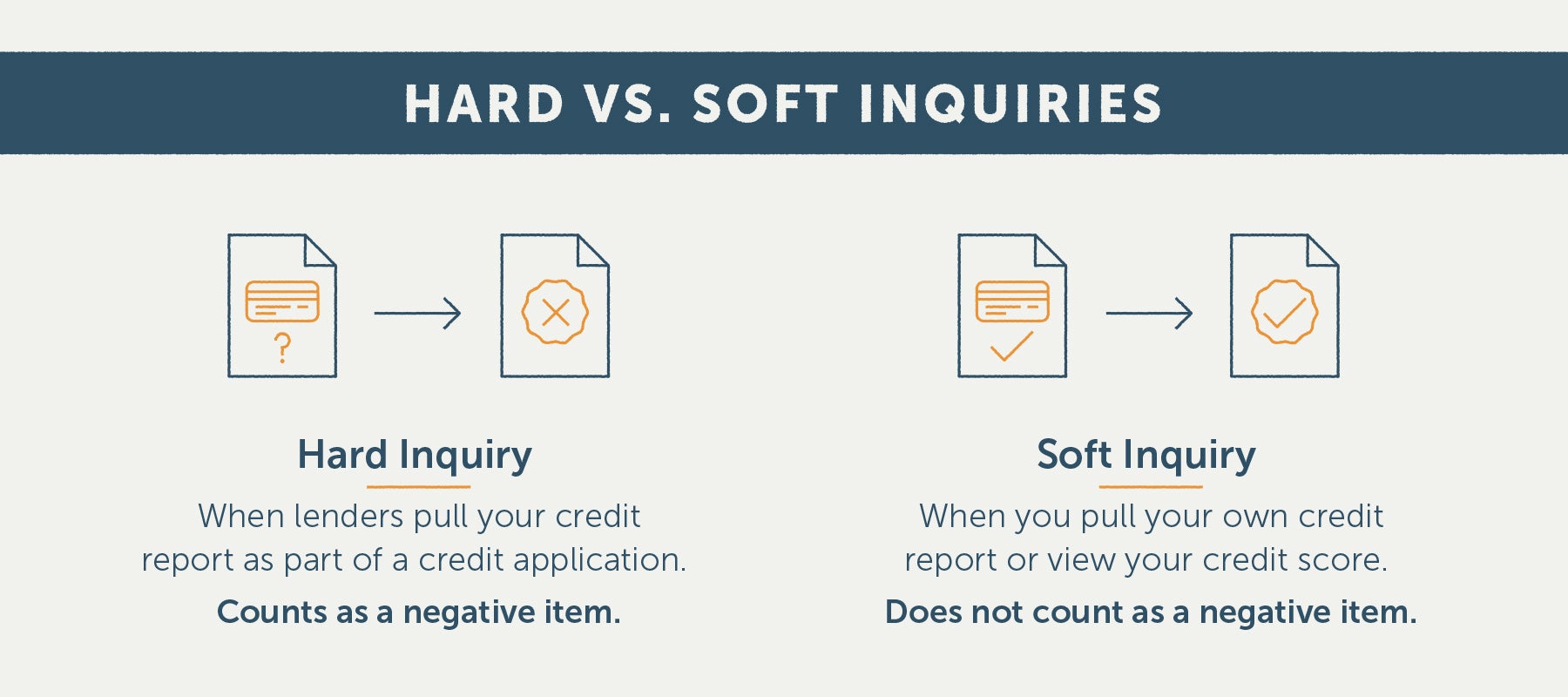 Although there is no difference between the data provided in a hard and soft inquiry, they do not affect your credit the same way. A common misconception is that checking your own credit history will negatively affect your score, however, this is not the case. When you check your own credit history, it is considered a soft inquiry and will not show on your credit report or affect your score.
Hard inquiries, by contrast, are completed when a lender pulls your credit report. A lender may pull your credit history while going through an application for a new loan, credit card or any line of credit. Additionally, banks and property managers may pull your credit while setting up accounts or determining approval for an apartment.
Occasionally, a hard credit report can be pulled without your knowledge, approval or without your full understanding. Hard inquiries that were pulled without your request can legally be removed from your credit report due to the fair credit reporting act.
How do credit inquiries affect your credit score?
Hard inquiries count as a minor negative entries and account for 10 percent of your credit score. Although the exact effect on your credit score will vary depending on your credit history and current standing you can expect to see a one to five point drop to your overall credit score.
Although the exact drop to your credit score will vary, you can expect to see large drops in your score when these inquiries start to add up. Occasionally lenders will either pull your credit by mistake, pull your credit multiple times or pull your credit without your knowledge whatsoever.
Can you remove inquiries from your credit report?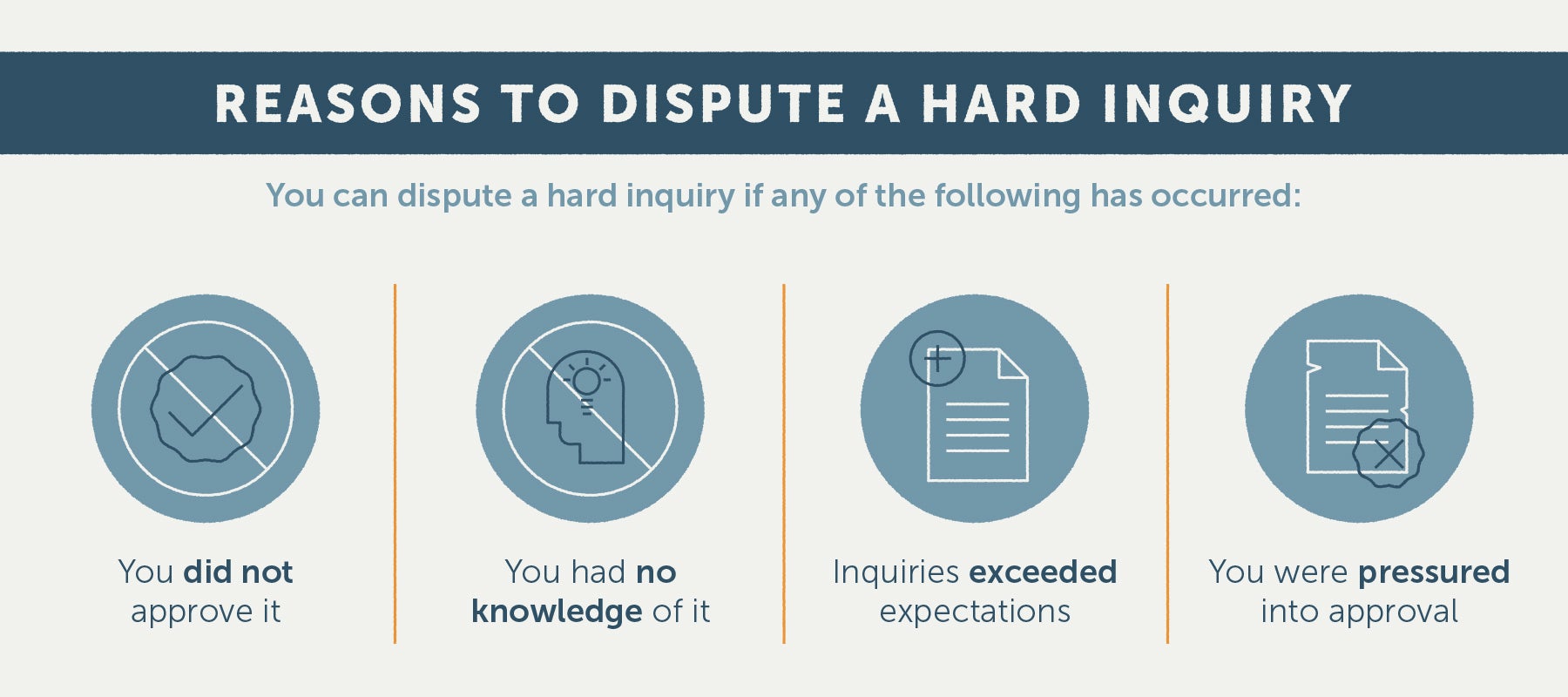 Hard inquiries can be removed from your credit history if they occurred without your approval. If you did not have knowledge of the hard inquiries pulled from your credit profile, you have the right to ask for the inquiry to be removed. Some credit inquiries can also be removed if you felt pressured into an application process that led up to the credit inquiry.
You can remove a hard inquiry if:
The inquiry occurred without your knowledge.
The inquiry occurred without your approval.
The number of inquiries exceeded what you expected.
You felt pressured into approving the hard inquiry.
How to send a credit inquiry removal letter
To send a credit inquiry removal letter you should contact the appropriate credit reporting agency in which the inquiry was published under. Credit inquiry removal letters can both be sent to the credit reporting agencies and to the lender who issued the credit inquiry.
1. Send the credit inquiry removal letter via certified mail
Certified mail is a way in which the sending and receiving of a letter or package is recorded. This form of mail will give you legal proof that the credit issuer or lender received the proper first notification to remove the hard inquiry.
2. Notify the lender first
Notifying the lender before you send a removal notice is necessary if you plan to take the dispute further to court. Although lenders may not be as responsive as a credit bureau, they are the proper first step for removing hard inquiries.
3. Include a copy of your credit report
Including a copy of your credit report with the highlighted unapproved hard inquiries may help with referencing your case. Although the credit reporting agencies will have easy access to your account, a hard copy will help investigators when processing your request.
4. Send to the appropriate credit bureau
It is important to send your letter to the credit bureau in which you used to view your credit report. Below are the addresses for each bureau:
Equifax
P.O. Box 740256
Atlanta, GA 30374-0256
Equifax Dispute Information Center
Experian
P.O. Box 4500
Allen, TX 75013
Experian Dispute Information Center
TransUnion LLC
Consumer Dispute Center
P.O. Box 2000
Chester, PA 19016
TransUnion Disputes Information Center
Credit Inquiry Removal letter template
Date
Your Name
Your street number, street name
City, State, Zip code
Your phone number
Social Security Number
Name of credit bureau
Re: Reporting Unauthorized Credit Inquiry
To whom this may concern,
I am writing to request the removal of unauthorized credit inquiry/inquiries on my (name of the credit bureau — Equifax, Experian and/or TransUnion) credit report. My latest credit report shows (number of hard inquiries you are disputing) credit inquiry/inquiries that I did not authorize.
I writing to dispute the following inquiries and asking for their removal from my credit report.
| Item No. | Creditor | Account |
| --- | --- | --- |
Please have these/this unapproved inquiries/inquiry removed from my credit report within 30 days, as it is harming my ability to obtain new credit. I would appreciate a copy of my credit report once this issue is resolved.
Thank you for your assistance.
Sincerely,
(Your Name)
How to stay on top of negative credit report entries
Removing negative aspects of your credit profile can be a long and time consuming process that can seem daunting. Although a few points difference may not seem like a large priority it is important to stay on top of these entries before they add up and get out of control.
If keeping your credit score high, or improving your credit score is the top of your priority, credit repair services may be a good option for you. Credit repair services offer quick negative item removals that do not require hours spent on personalized letters.
You can also carry on the conversation on our social media platforms. Like and follow us on
Facebook
and leave us a tweet on
Twitter
.