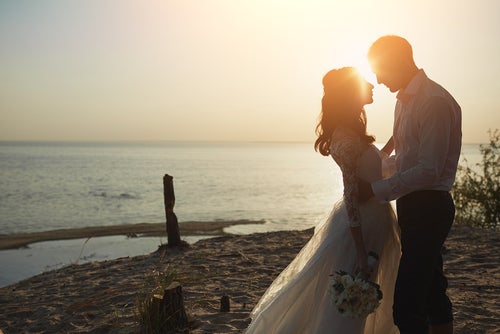 Marriage merges two lives into one. However, when it comes to credit histories, each spouse retains their own personal credit profile when they get married. Marriage does not merge two credit profiles into one. By the same token, if a spouse incurs debt during a marriage or otherwise wreaks havoc on their credit, the other spouse's credit does not necessarily suffer as a result.
While being married does not merge your credit with your spouse's, being joint account holders can certainly cause one spouse's actions to affect the other spouse's credit. Many married couples decide to have joint accounts — for example, bank accounts, utility accounts, or credit card accounts, to name a few. On a joint account, typically all account holders are liable for the actions of one of the account holders. For example, if a husband and wife are joint account holders on a credit card and the husband is 30 days late paying the bill one month, a 30-day late negative item will most likely appear on the credit reports of both the husband and the wife.When two spouses apply jointly for credit, such as for a mortgage, the lender will consider both applicants' credit histories when making the decision of whether to extend credit. One spouse's poor credit history could result in denial of the loan or approval with a higher interest rate. For this reason, some couples may decide that only one spouse — the one with the better credit history — will apply for the mortgage.
Also, keep in mind the difference between an authorized user and a joint account holder. A joint account holder can use the account and is also liable for the debt. An authorized user can use the account, but is not liable for the debt. An account will appear on an authorized user's credit report, but it may or may not affect his or her credit score, depending on the type and version of the scoring model being used. The positive history from the account will appear on the authorized user's credit report, but so will the negative history, so be aware of this when considering whether to become an authorized user on your spouse's account.
The main thing to keep in mind here with regard to credit is that nothing changes automatically when two people get married. Each person retains their own separate credit profile and reports. The couple may take steps to open joint accounts together, add one spouse as an authorized user or joint account holder on an existing account, or apply for loans together, but they may also choose not to do so. Each couple should consider the risks and benefits of opening joint accounts before taking this momentous step.
Related Articles:
Marriage and Credit: Five Reasons to Split the Bills
Student Loans and Marriage – Will I be held responsible for my spouse's student loans?