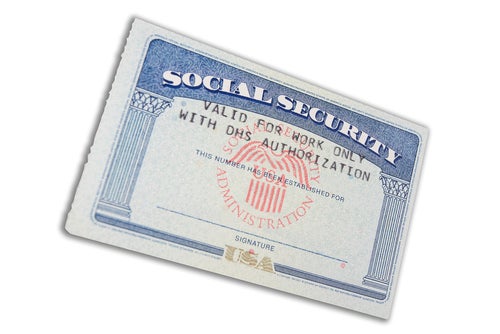 We've talked about what to do when your Social Security Number is compromised, but what happens when the damage is critical? Chronic and recurring issues may allow you to obtain a new SSN, but it won't be easy, and your credit will be affected. Read on to learn what you need to know about the process.
There are rules. According to the Social Security Administration, "we can assign a different number only if:

Sequential numbers assigned to members of the same family are causing problems;
More than one person is assigned or using the same number;
A victim of identity theft continues to be disadvantaged by using the original number;
There is a situation of harassment, abuse or life endangerment; or
An individual has religious or cultural objections to certain numbers or digits in the original number. (We require written documentation in support of the objection from a religious group with which the number holder has an established relationship.)"
Even if you qualify for a new SSN under these guidelines, you are still required to provide third-party evidence that the damage to your identity, credit and other personal information cannot be repaired with your current number.
Your original SSN won't disappear. Obtaining a new SSN doesn't erase the past. The SSA states, "When we assign a different Social Security number, we do not destroy the original number. We cross-refer the new number with the original number to make sure the person receives credit for all earnings under both numbers."
A new SSN could cause credit problems. Although the SSA claims to link a consumer's old and new SSN, the reality isn't that simple. Information logged under your old number cannot be attributed to the new number, making it appear as though you have no credit history at all. For example:
After years of identity theft issues, Claire is approved for a new SSN. Before fraud wrecked her credit, she boasted scores in the high 700s. Assuming a fresh start, Claire uses her new number to apply for an auto loan. She is denied because the bank cannot access her previous credit history. She explains the situation, but the bank is wary of providing a loan to an applicant with two SSNs on file.
Lenders aren't the only ones who may be confused by your new SSN. You'll need to notify the DMV, your medical insurance provider, employer, and anyone else who keeps your identifier on record. At best, a fresh SSN will help you stop harassment, identity theft and other chronic issues. At worst, it will hinder your ability to secure new credit and raise new issues.
A new SSN isn't a credit repair strategy. As we learned in the example above, a new SSN is problematic because it cannot display past credit history obtained with your original number. Although it may seem like a new SSN can erase your past indiscretions, this isn't the case. Suppose Claire provided her previous SSN to prove credit history. Although identity theft has damaged her score, she is confident that her accurate accounts (including a past auto loan) will illustrate her credit experience.
If you are hoping to erase past credit with a new SSN, don't bother. Future lenders will either deny your application based on lack of history or ask to run a credit check under your original SSN. In either case, you can't escape the facts.
The bottom line: Social Security fraud is a serious and costly problem, and it's important to protect yourself as soon as possible. Weigh the pros and cons of applying for a new SSN and talk to a professional about the issues you are experiencing. Don't allow a common criminal to redefine your identity.
---
If your credit has been damaged by fraud, or you just have questions, contact Lexington Law today.
You can also start up a conversation on our social media channels. Like and follow and interact with us on Facebook, Instagram, and Twitter.