The information provided on this website does not, and is not intended to, act as legal, financial or credit advice. See Lexington Law's editorial disclosure for more information.
Christmas time is a joyful season for many, but unless you're intentional with your finances, it can quickly become a source of stress.
When determining how much you should spend this year, it makes sense to consider how much others typically spend. For an average baseline of how much you should shell out this year, many financial experts suggest calculating one percent of your annual income to arrive at a figure that won't break the bank.
With each passing year, the holiday season's focus on consumption seems to loom larger than the last. Grandiose store displays and nonstop commercials pressure us to spend far more than we can afford—leaving many Americans with the unfortunate burden of credit card debt come the new year.
According to NerdWallet's 2019 Holiday Shopping Report, 71 percent of shoppers planned to use a credit card to fund their holiday spending. While the use of credit cards during the holidays might not come as a shock, the debt many are left with long after the holiday season ends is more concerning: Roughly 48 million Americans were still paying off credit card debt from their 2018 holiday expenditures in 2019, according to the same report.
If you'd rather avoid paying off this year's holiday well into next year, all you need is a bit of preparation and a plan of action to keep your spending in check.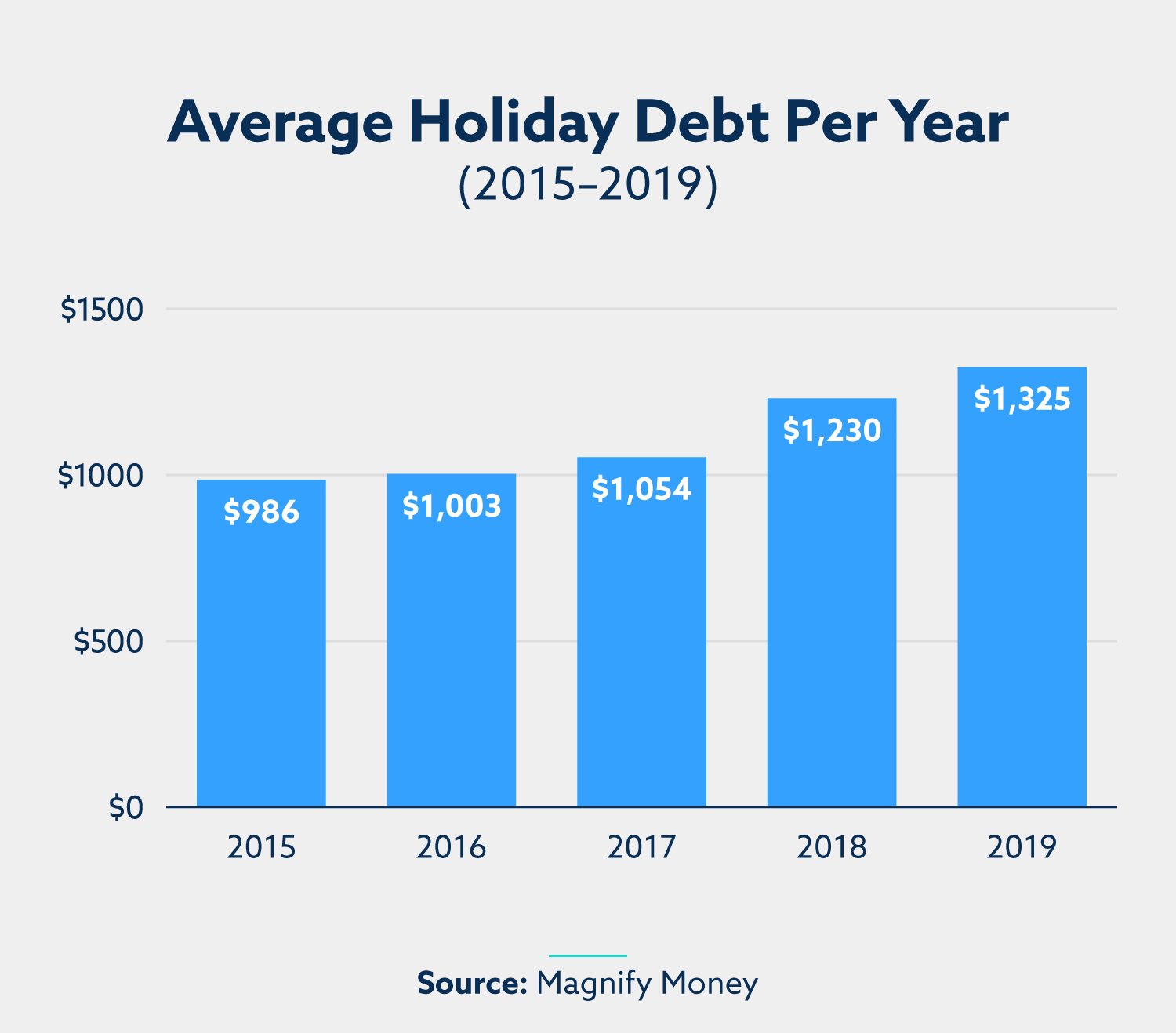 How to Determine How Much to Spend on Christmas This Year
When figuring out how much you should shell out for your Christmas spending, it can be helpful to look at some national averages as a baseline. According to a Gallup study, Americans planned on spending an average of $942 on gifts in 2019.
Compare this to the average household income of around $69,000 as reported by the U.S. Census Bureau, and you get an idea of what a reasonable amount might be for you. If you make $34,500—half of the national average—a general guideline could be a gift budget of around $471, or half of the average spent on gifts. Financial experts recommend spending around one percent of your take-home pay on gifts.
To be sure you can afford your holiday spending, creating a budget ahead of time is your best bet. It doesn't have to be elaborate, but having a clear picture of your finances up front can save you stress down the line.
Start by listing out all your monthly fixed expenses—the expenses you know you must pay each month. This includes food, home utilities, gas and other monthly expenses like cable and phone bills. Subtract your monthly expenses from your monthly income and see how much you have left. This is your disposable income.
From there, decide how much of your disposable income you can put towards your Christmas spending. If you can put all of it in, that's great! If you're worried it's not enough, consider where in your current budget you can reign in your spending in order to bulk up your holiday budget.
Holiday Spending Statistics
Tips to Stay on Budget and Out of Debt This Holiday Season
In order to stay on budget for the holidays, a plan is essential. The following tips will ensure you stay on track and out of credit card debt.
Before You Shop, Make a List
Before you spend a dime, make a list of everyone you intend to buy a gift for. That might not only be your immediate and extended family, but also friends, neighbors, kids' teachers or coworkers. Then write the dollar limit for how much you can spend on each person.
Use this printable to keep track of every person on your gift list and how much you've spent. The two money-related columns—one for your planned budget for each person and one for how much you actually spend—can help you keep track of any leftover funds you might have. If you end up under-budget for one person, note it in your tracker and allocate the money elsewhere.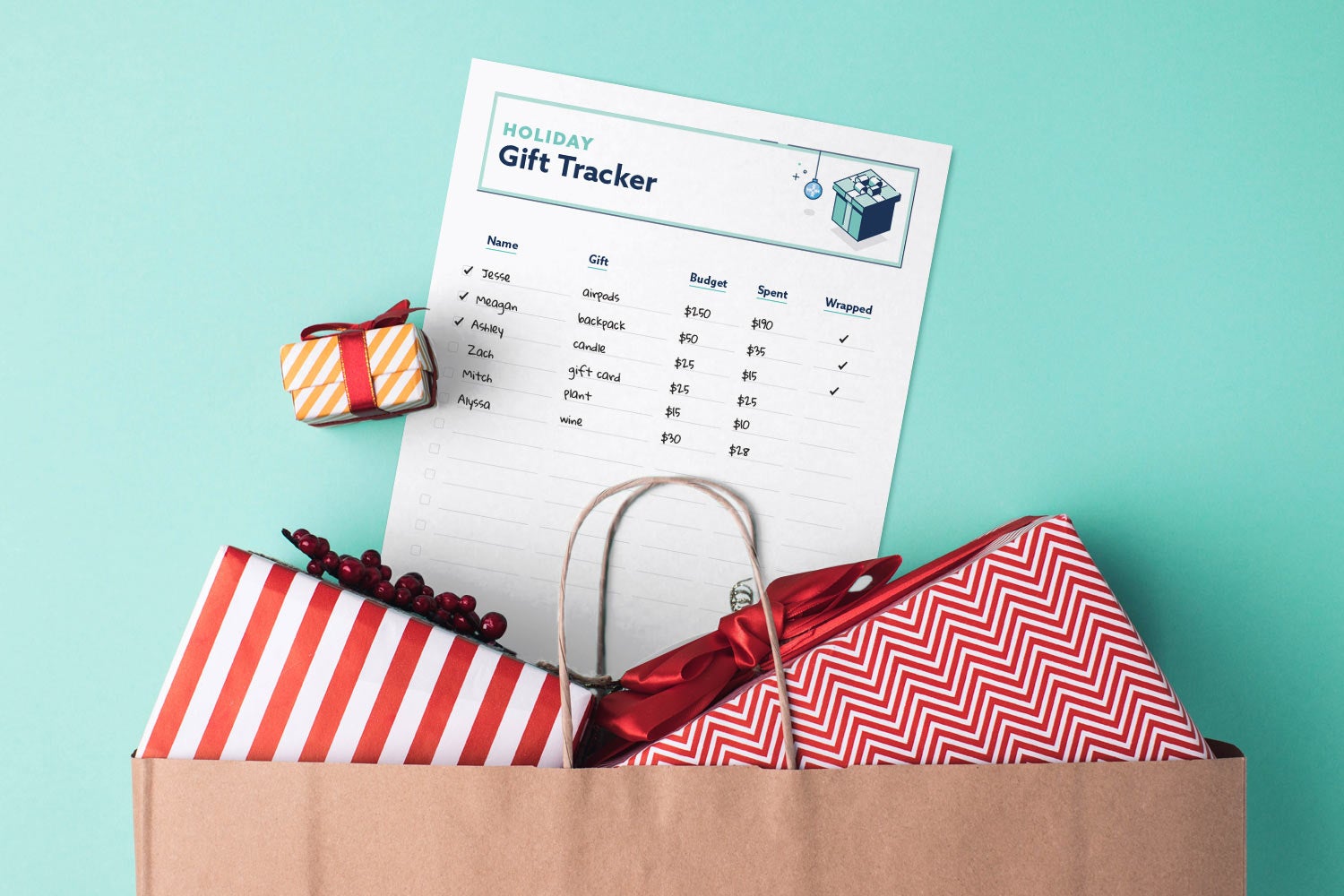 Don't Forget Non-Gift Items: Gift Wrap, Ingredients, Decorations, etc.
Gifts aren't the only thing you should budget for—many other festive costs will likely come up. Buying a Christmas tree, lights and a tree stand can get pricey fast, and that's just one example. Home decorations, outdoor Christmas lights, gift wrap and holiday meal ingredients should all be accounted for in your holiday budget.
Most people don't think about their homemade holiday meals when it comes to their budget—considering it's usually just an extended grocery list, it's easy to forget how quickly all those extra ingredients add up throughout the season. Instead of letting it sneak up on you, use our menu planning printable to keep up with holiday meal planning and stay on budget. Feel free to print one off per meal or event you need to plan for.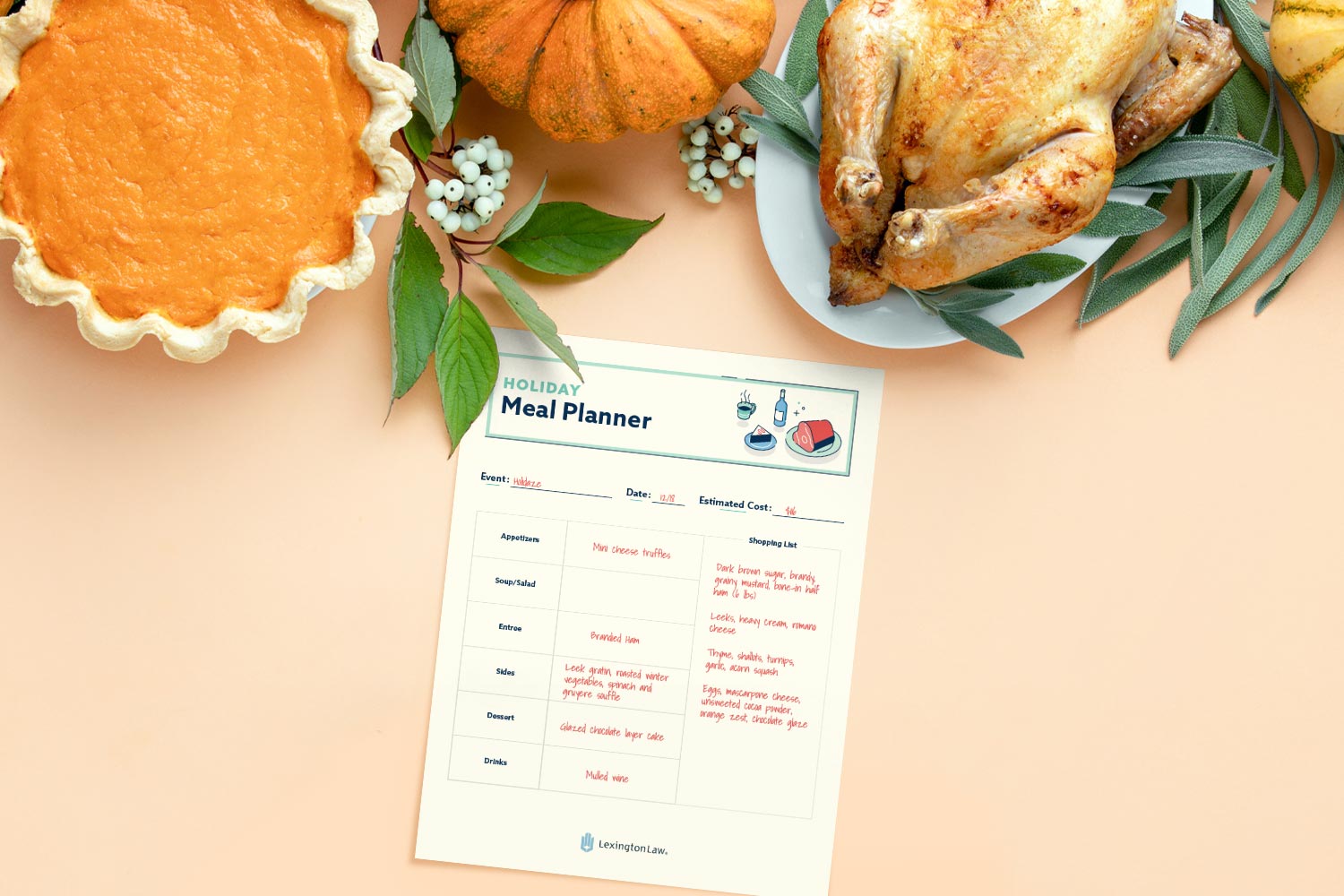 Don't Spend According to Sales: Stick to Your List
There are countless temptations vying for your attention and your wallet during this time of year. Stumbling upon what feels like a once-in-a-lifetime deal inevitably happens more often throughout the holidays, and unless you're intentional about what you need and can afford, those impulse-spending moments can take a toll on your finances. If you make a commitment to only buy the things on your list, you'll know exactly where your money is going and won't be tempted to stray from your plan.
For a bigpicture look at all your holiday spending, use this printable to record your budget for each of your spending categories and keep up with how much you've actually spent.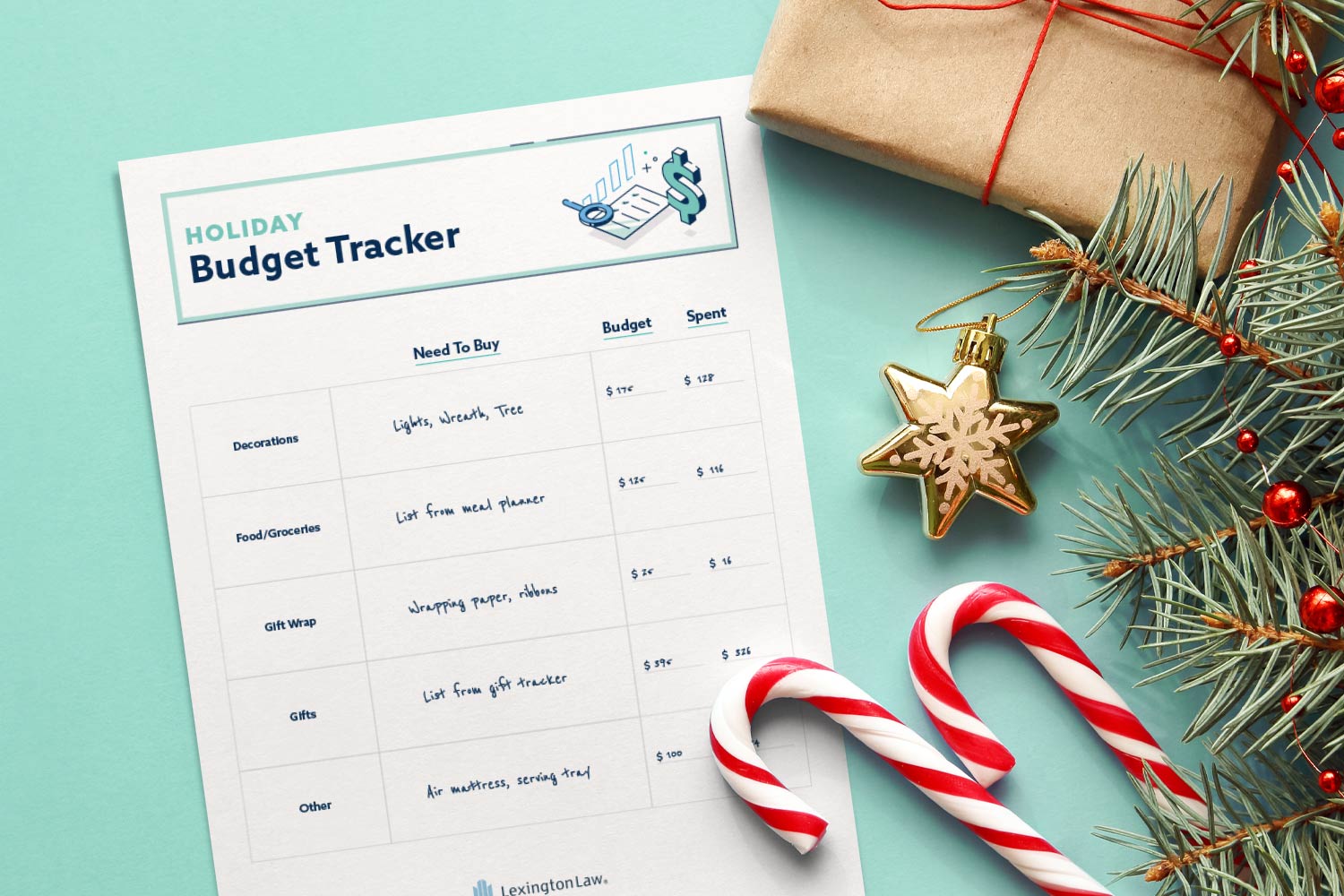 While managing your finances responsibly during the holidays is tough, the process is fairly simple. It all comes down to planning ahead and being intentional about what you can afford.
When you're proactive about making a budget, you avoid having excessive use of your credit card over the holidays. This can prevent you from accumulating a high credit utilization ratio, which is the result of borrowing too much money from your credit lines.
If you're unsure of how your credit utilization score is impacting your overall credit, the credit repair counselors at Lexington Law can help you get clear on where you stand before the holiday season is underway.
Give yourself the gift of a stress-free season by protecting yourself from bad credit and staying debt free. Making a plan for your holiday finances ahead of time might be the most rewarding gift you receive all year.
---

Reviewed by Kenton Arbon, an Associate Attorney at Lexington Law Firm. Written by Lexington Law.
Kenton Arbon is an Associate Attorney in the Arizona office. Mr. Arbon was born in Bakersfield, California, and grew up in the Northwest. He earned his B.A. in Business Administration, Human Resources Management, while working as an Oregon State Trooper. His interest in the law lead him to relocate to Arizona, attend law school, and graduate from Arizona State College of Law in 2017. Since graduating from law school, Mr. Arbon has worked in multiple compliance domains including anti-money laundering, Medicare Part D, contracts, and debt negotiation. Mr. Arbon is licensed to practice law in Arizona. He is located in the Phoenix office.
Note: Articles have only been reviewed by the indicated attorney, not written by them. The information provided on this website does not, and is not intended to, act as legal, financial or credit advice; instead, it is for general informational purposes only. Use of, and access to, this website or any of the links or resources contained within the site do not create an attorney-client or fiduciary relationship between the reader, user, or browser and website owner, authors, reviewers, contributors, contributing firms, or their respective agents or employers.