The information provided on this website does not, and is not intended to, act as legal, financial or credit advice. See Lexington Law's editorial disclosure for more information.
Piggybacking credit, otherwise known as becoming an authorized user, allows you to be added to another's credit card account in order to improve your credit standing. There are a number of reasons why you may need more positive exposure on your credit report—you could be looking to buy a car, get a loan or secure the best rates on a new line of credit, to name a few. 
There are some risks associated with piggybacking credit, so it should only be used as a temporary solution.
So what is piggybacking credit, really? Below we've outlined everything you need to know about this credit-boosting method.
How Piggybacking Credit Works
If someone with good credit adds you as an authorized user to one of their credit cards, that credit card account and payment history become part of your own credit report. Piggybacking credit is not the same thing as becoming a joint account holder.
The difference is that the authorized user is not responsible for the charges made on the credit card, and a joint account holder is.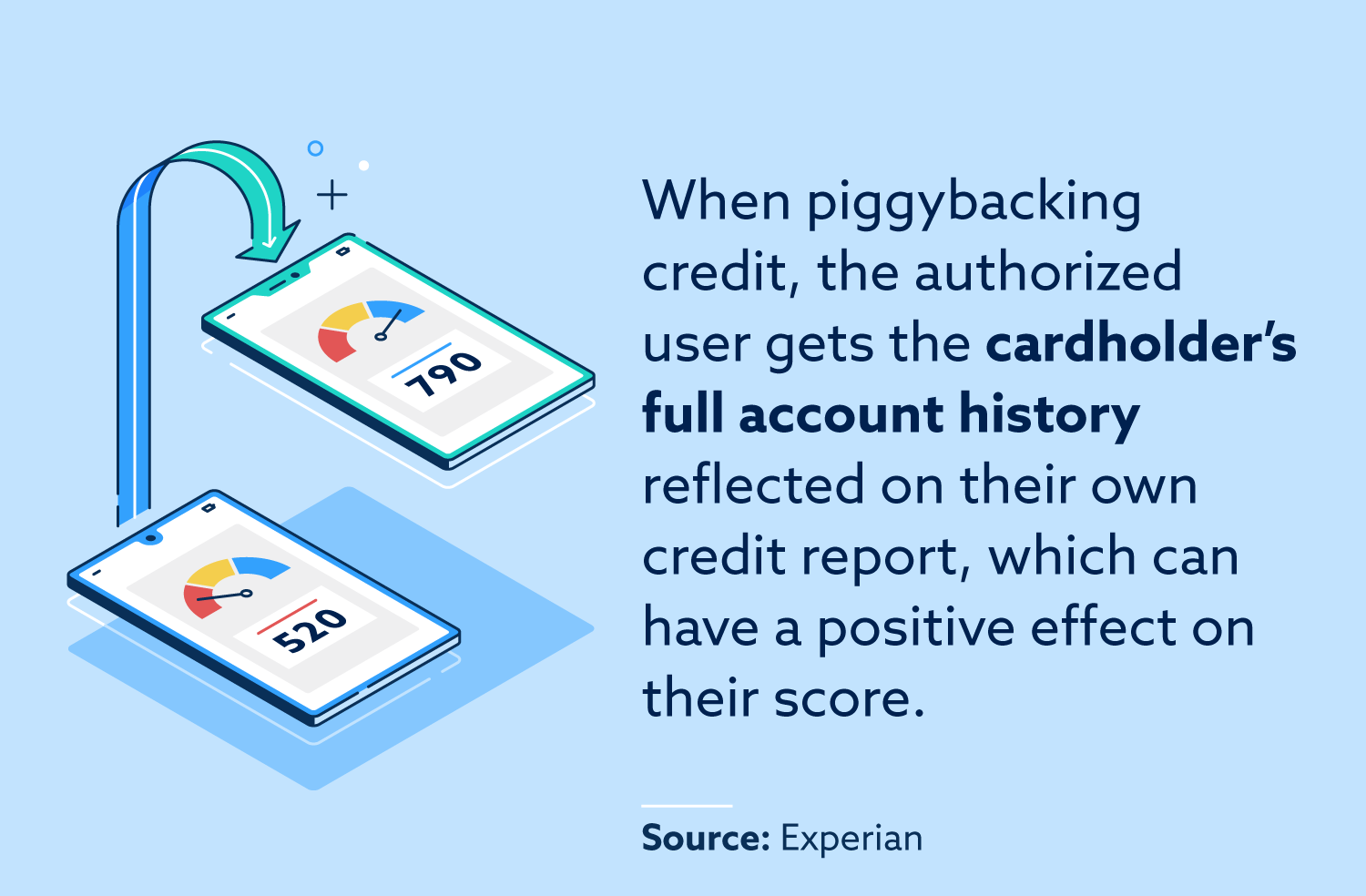 Simply put, the authorized user gets the cardholder's full account history reflected on their own credit report, which can have a positive effect on their score.
However, if you piggyback credit with someone who does not have a positive credit history (frequent late payments, low score, multiple hard inquiries, etc.) or even credit history at all, you run the risk of getting points shaved from your own credit score. 
While piggybacking credit may be beneficial for the authorized user, on the other hand, the primary cardholder who has added the authorized user could see their credit score lower if the authorized user has a poor credit history.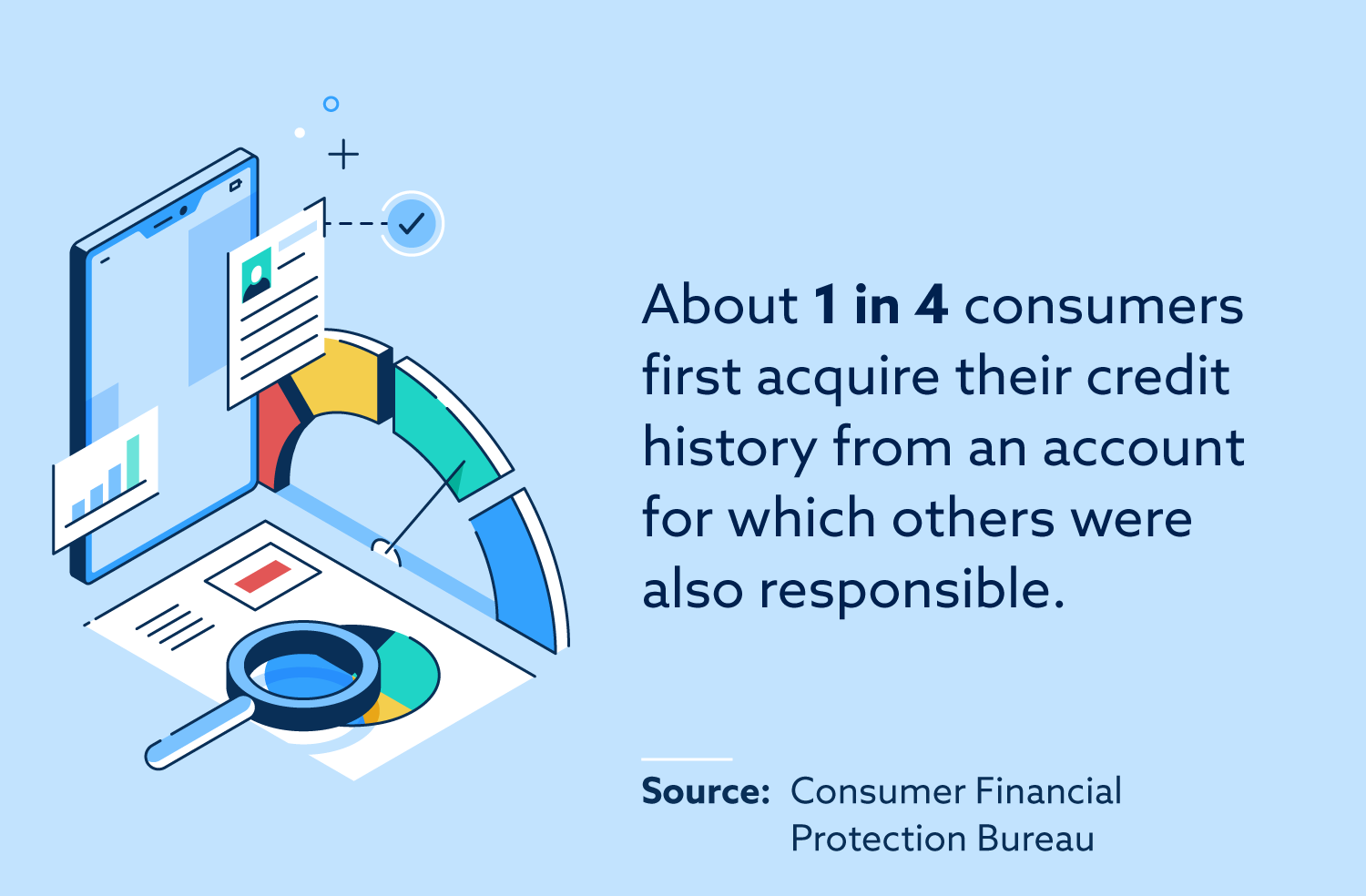 Ways to Piggyback Credit
To piggyback credit, you can get a close family member, spouse or friend to share their credit rating and history with you.
Person-to-Person:
This method of piggybacking involves a family member, friend or significant other with a good credit score adding you as an authorized user, in order to share their credit reputation with you. To do this, the cardholder contacts their credit card issuer and adds you as an authorized user. You then will be able to choose to get a card for the account or not.
If you end up getting access to your own card on the account, you may be offered privileges—like being able to make charges and payments. However, it's likely you won't be able to increase the line of credit or request lower rates. This method is commonly used by teenagers who are added to their parents' credit card account as authorized users, for example.
This can be a great way to get the boost of credit you need before applying for your own credit cards, loans or anything else that may require a higher credit score to secure the best offers and interest rates. 
For-Profit:
Some people—who may not have a close relative or friend they can piggyback credit with on a person-to-person basis—also choose to rent a position as an authorized user on a stranger's account for a fee.
In this scenario, you can turn to tradeline credit repair companies that will match you with a cardholder with great credit, for a fee. With this method, the cardholder ends up getting a percentage of the fee that you pay, and you will not receive an actual credit card or obtain card privileges.
Keep in mind that for-profit piggybacking is a short-term solution and you'll only be an authorized user for a limited time. Once your term ends, the account will then be removed from your credit report, which puts your credit scores at risk of dropping again. If you do consider this approach, be very careful—some people offer for-profit credit piggybacking as a scheme. 
If you do decide to pursue this method, we recommend that you do so through trustworthy sources.
Is Piggybacking Credit Legal?
Yes, piggybacking credit is legal, however it is not a well-known credit-boosting method, as many people are unaware that it's an option. Piggybacking became a method to boost credit after The Equal Credit Opportunity Act was enacted in 1974; which made it illegal for a creditor to discriminate against any applicant.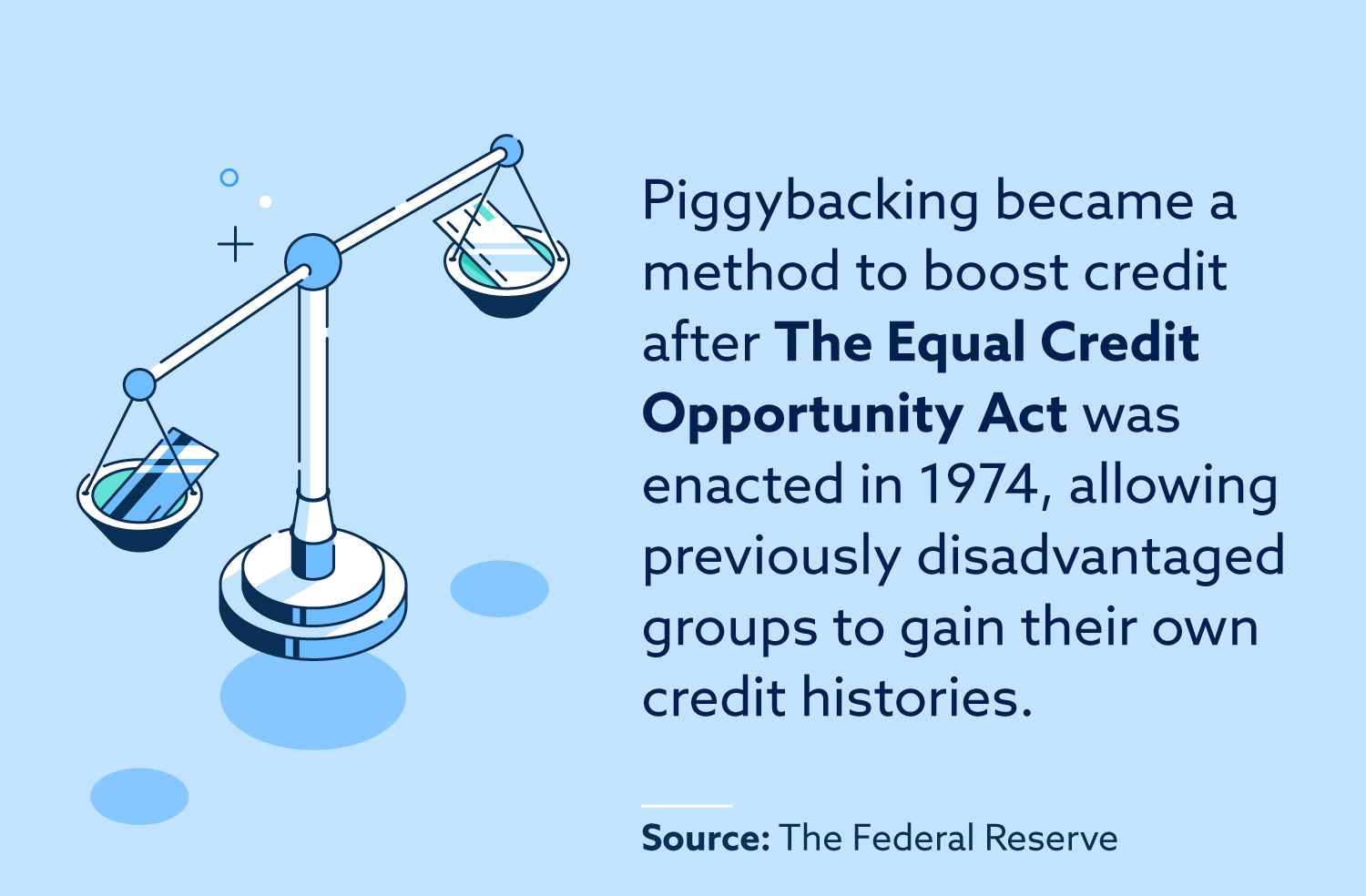 Piggybacking credit was used as a strategy designed to help combat the obstacles women faced prior to The Equal Credit Opportunity Act, allowing them to get their own credit cards or establish independent credit histories after they were added as an authorized user to their husbands' accounts.
However, since then, people have discovered loopholes to use The Equal Credit Opportunity Act to help them establish their own credit, or even rent it to others. When adding an authorized user to an account, cardholders do not need to indicate whether that new user is a spouse of the cardholder or not.
This means that an authorized user can be a friend, family member or stranger when it comes to for-profit credit repair organizations. 
Does Piggybacking Help or Hurt Your Credit?
While piggybacking credit may be beneficial for some, we recommend that you approach it cautiously. It's important to keep in mind that not all account holders or credit lenders can be helpful, or ensure that you get your intended credit results.
If you become an authorized user and your relationship suffers, or the primary cardholder ends up getting into financial trouble or starts missing payments, your credit history and score may also suffer. Piggybacking credit requires a great deal of trust between the account owner and the authorized user.
How to Improve Your Credit Without Piggybacking
You may consider piggybacking credit as a way to boost your credit reputation, but remember that it's not a sustainable long-term solution. The best way to boost your credit score is to establish good financial and credit habits. Below are a few other ways to build your credit on your own and keep it healthy in the long run. 
Pay down debt
Lower your credit utilization ratio
Dispute errors on your credit report
Increase your credit limit
Limit hard inquiries on your credit report
Make payments on time
Whether you're the cardholder or the authorized user, it's important to know both the pros and cons of piggybacking credit. If you're building credit for the first time, consider taking your own steps to build your credit reputation before piggybacking off of someone else's credit, as it can be risky. If you have any questions about piggybacking, or want to learn about alternative ways to build your credit, consider signing up for credit repair services online to help you reach your financial goals.
---

Reviewed by Kenton Arbon, an Associate Attorney at Lexington Law Firm. Written by Lexington Law.
Kenton Arbon is an Associate Attorney in the Arizona office. Mr. Arbon was born in Bakersfield, California, and grew up in the Northwest. He earned his B.A. in Business Administration, Human Resources Management, while working as an Oregon State Trooper. His interest in the law lead him to relocate to Arizona, attend law school, and graduate from Arizona State College of Law in 2017. Since graduating from law school, Mr. Arbon has worked in multiple compliance domains including anti-money laundering, Medicare Part D, contracts, and debt negotiation. Mr. Arbon is licensed to practice law in Arizona. He is located in the Phoenix office.
Note: Articles have only been reviewed by the indicated attorney, not written by them. The information provided on this website does not, and is not intended to, act as legal, financial or credit advice; instead, it is for general informational purposes only. Use of, and access to, this website or any of the links or resources contained within the site do not create an attorney-client or fiduciary relationship between the reader, user, or browser and website owner, authors, reviewers, contributors, contributing firms, or their respective agents or employers.