Every employer has heard the statistics about how companies with happy employers tend to perform better. But what exactly is a happy employee and how do you make them that way?
We wanted to find out what it takes to make Americans happy at work. You might guess that salary is the number one factor determining employee happiness at work. We thought so too.
To find out what people actually value in a job, we asked 2,000 Americans to weigh in.
These two main results speak volumes about Americans' priorities when considering a career:
60 percent of Americans would take a job they love with half their current income over a job they hated that doubled their current income.
Americans are 2x as likely to value personal interests, benefits, company culture and growth opportunities over salary when choosing a job.
To see our list of tips and tricks on maximizing employee happiness in the office, jump to our infographic.
3 in 5 Americans would take a 50% pay cut for a job they loved.
We asked Americans to choose between two extremes –– a job you love, but half your current pay or a job you hate, but twice your current pay.
We were surprised to see that nearly 60 percent of Americans would opt for a job they loved, even if it meant reducing their current income by 50 percent.
For perspective, let's look at two hypothetical situations:
An experienced businessman receives $100,000 gross salary each year. He is unhappy with his career and opts to take a 50 percent pay cut for the job of his dreams: floristry. Now he lives on just $50,000 a year, an entire tax bracket lower than his original salary.
Now consider a recent graduate earning a starting salary of $48,000 a year. After working for a year, she realizes she chose the wrong career path and decides to take an offer to travel the world with only half her current salary. She now lives on $24,000 annually, well below the poverty line.
Clearly, Americans are willing to make drastic changes to their lifestyle and spending habits for the job of their dreams.
Broken down by gender, women are more likely than men to want a job they love, even if it means taking half their current salary. This is pretty significant, considering the average American woman's gross annual income is only $40,040 (compared to men's average income of $48,932).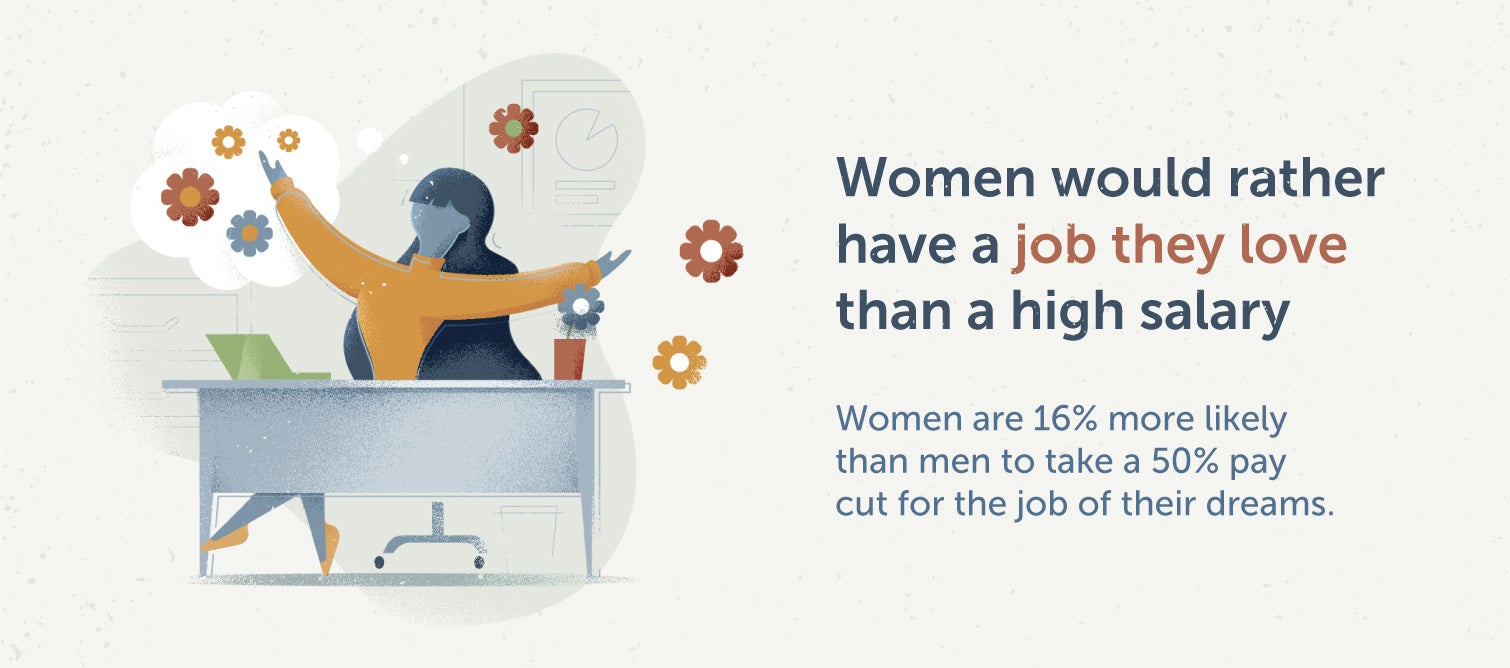 Age also plays a factor in determining whether Americans value money over a job they actually enjoy. Millennials and Generation X were more likely than any other age group to say they'd take a job they hated as long as it doubled their current income. However, as age increases, the preference for an enjoyable job becomes much clearer.
From the Baby Boomer generation on, Americans voted strongly that a job they love is more important than the offer of doubling their current income.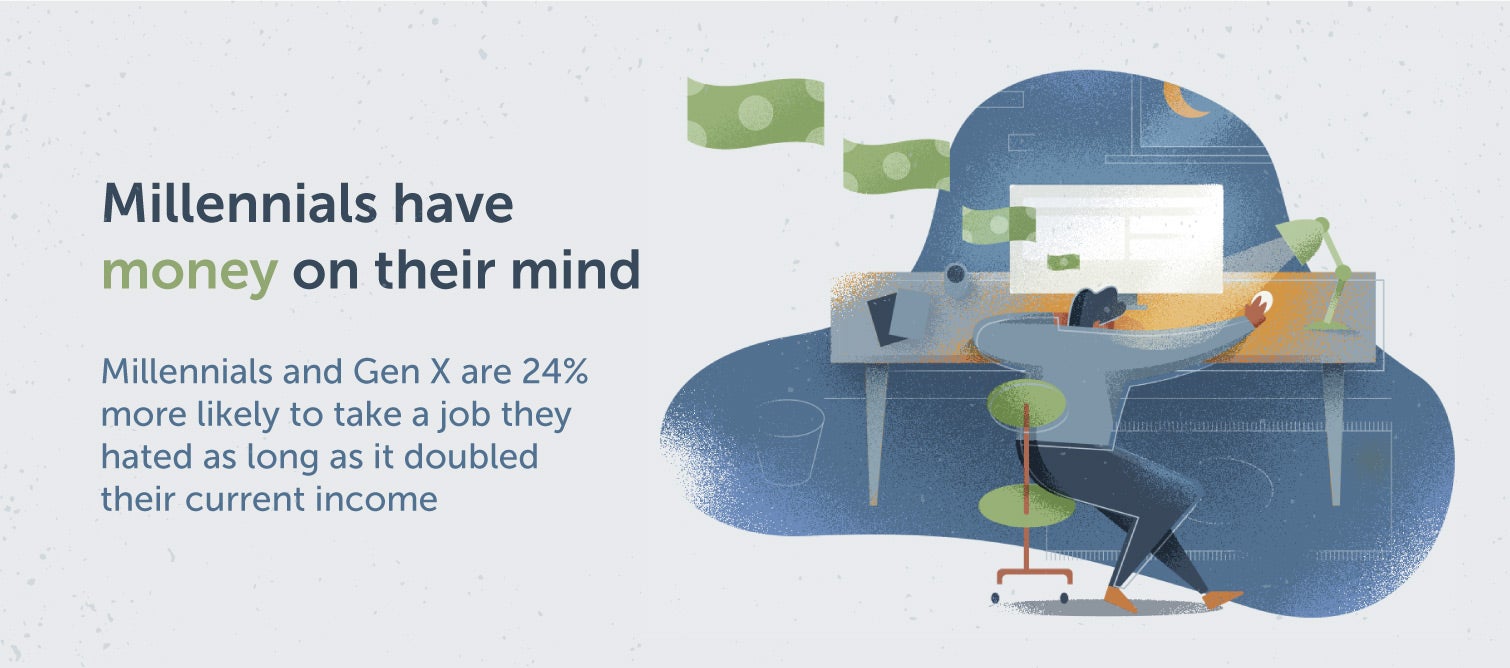 Nearly 70% of Americans value benefits and company culture over salary.
If Americans really would take a 50 percent reduction in their current pay for a job they loved, salary must not be an important factor when choosing a new job or career.
We asked Americans to decide which of these factors would be the main reason for choosing a career: interests and passion, growth opportunities, benefits (other than salary), company culture and finally, salary.
Working Americans mean what they say––68 percent did not choose salary as the most important factor when choosing a career. In fact, the most popular choice across all respondents was interests and passion, with 38 percent of respondents choosing this answer alone.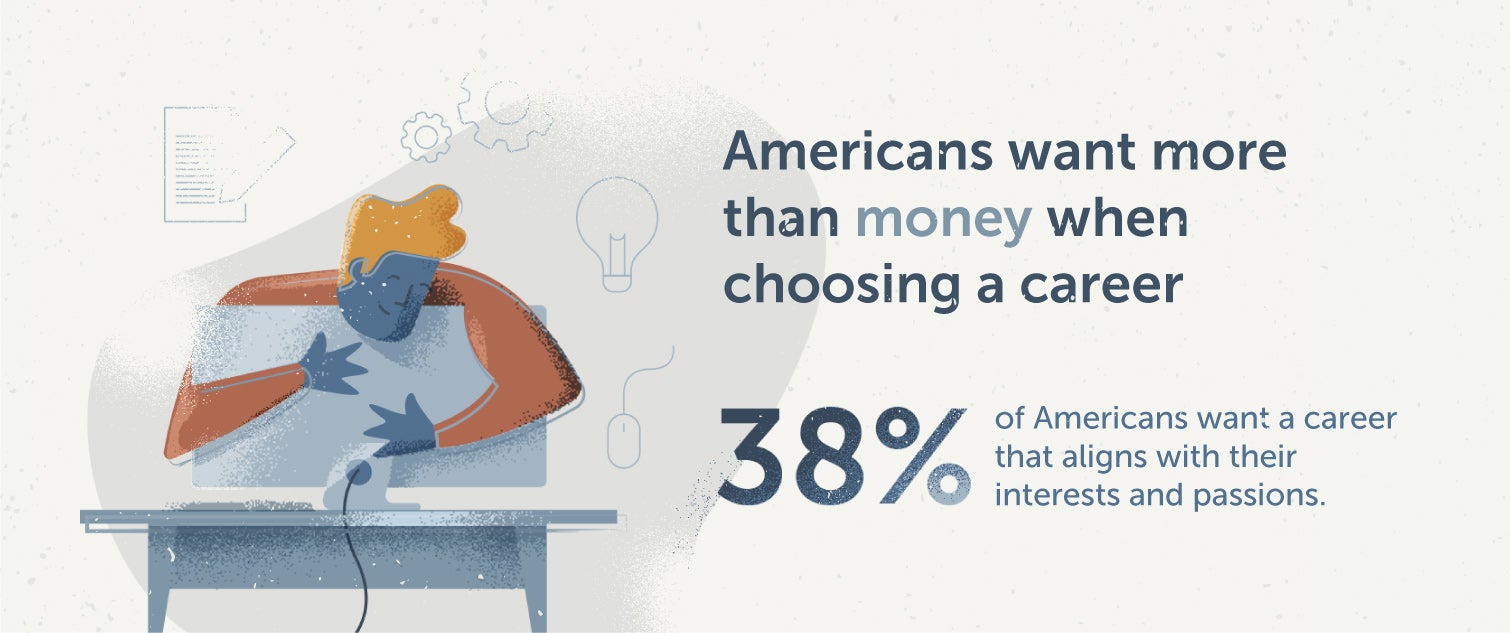 Money really can't buy happiness according to Americans. The results of this study speak loud and clear: people follow a career in line with their passions and value things like company culture, benefits and growth opportunities over salary when choosing a new job. In fact, most Americans would happily cut their current income by half if they could have a career they truly loved.
What does this mean for employers? Take the time to make work an enjoyable experience for your team. Consider improving your company benefits with things like a paid-time-off program, casual dress code or a relaxing workspace. To stand out from the competition, offer even more unique benefits like "bring-your-dog-to-work day," credit-building assistance programs, financial relief benefits and monthly catered lunches to celebrate your team's efforts.
For more tips on keeping employees happy at work, check out our infographic below.

Sources
Talent Management and HR | Business News Daily Harvard Business Review | O.C. Tanner Learning Group | Gallup | Inc | Entrepreneur | Forbes ErgoBuyer | The Balance | Financial Samurai | The Power of Small Wins | Access Perks