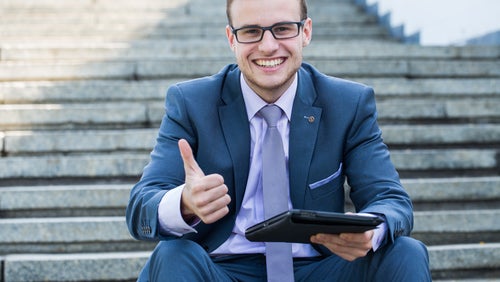 A wise person once said, "Find a career you love and you'll never work a day in your life." We couldn't agree more with this sentiment, and it seems many people agree with us. While some may appear outwardly successful, their level of satisfaction tells another story. According to a survey conducted by Medscape, only 54 percent of doctors would choose medicine again as a career. Professional revelations like these are shocking, especially within the realm of highly educated and specialized work. Of course, you don't have to be an MD to regret your decisions.  Step lightly into your new career by considering the following factors carefully. They will help avoid making the wrong personal and financial decisions.
1. Think beyond money.
The average physician can earn more than $300,000 per year, but that doesn't offer much solace to the 46 percent who would rather be doing something else. The moral here is to choose your motivation carefully. Think beyond your earning potential. Will your career make you happy, or will you dread the daily grind? Choosing a path based solely on income can lead to burnout, poor performance and even unemployment. Prioritize your workplace satisfaction. The result will keep your earnings steady and your mind satisfied.
2. Research your job's growth potential.
Your passion may drive you, but will it sustain you? Pursuing a career with little growth potential is sure to throw you off course. You may be forced to take a job that has nothing to do with your degree in order to make ends meet. Consider the following example:
Brooke is passionate about art history. After earning her bachelor's degree, she struggles to find relevant work. She is forced to take an administrative assistant position at the local college, a boring job that utilizes none of her fine arts education.
Brooke had the drive but she forgot to consider logic. Many areas of study do not have a practical application in today's world. On the other hand, Brooke may choose to pursue a master's degree in teaching or art conservationism, allowing her to find a practical position related to her interests. Choose the same strategy by doing your research. Peruse the Bureau of Labor Statistics' Occupational Outlook Handbook for more information about your area of study.
3. Weigh the costs and benefits.
If your new career requires training, the costs may exceed the benefits. Student loans are among the top reasons for credit repair in the US. Before applying to college, it's important to determine how you plan to pay for classes and the effect loans will have on your income. Taking on too much education debt could transform your earnest ambitions into a burdensome regret.
The bottom line: Pursue your dreams deliberately. Achieving your goals safely requires careful consideration.