FICO® scores are numbers measuring creditworthiness using a specific scoring system created by the Fair Isaac Corporation (FICO®).
Your credit score, on the other hand, can use any scoring model to generate a number measuring your creditworthiness. Your FICO® score is just one of many sources of information that can inform your overall credit score.
Here's what you need to know about FICO® scores, your credit scores, and how they both can impact your creditworthiness.
Key Things to Know About Your FICO® Score
The Fair Isaac Corporation introduced FICO® scores in 1981 and many lenders today continue to use this model for lending decisions. FICO will release its latest scoring model, the FICO 10 Score Suite, in summer 2020.
There are different types of FICO® scores: base FICO® scores and industry-specific FICO® scores. Basic scores are typically used to predict payment history for any new line of credit or loan. Industry-specific scores are tailored to specific items, like auto loans and mortgages.
Because there are different types of FICO® scores it's likely that the credit score you see is different from what your lender sees.
FICO® scores are calculated using these metrics:
35 percent: Payment history
30 percent: Amounts owed
15 percent: Length of credit history
10 percent: New credit
10 percent: Credit mix
FICO® score ranges vary based on the type of score. Base FICO® scores range from 300 to 900 while industry-specific scores range from 250 to 900. A "good" base FICO® score is between 670 and 739, but FICO® breaks down their scores into several ranges:
800+: Exceptional
740 to 799: Very good
670 to 739: Good
580 to 669: Fair
579 and below: Poor
How Do I Get My FICO Score?
You can get your FICO® score directly from FICO® or from one of their partners.
Check the FICO® Open Access Program: FICO® has partnered with a number of institutions to provide your FICO® score number for free under their open access program. Check to see if your bank or credit and financial counseling program is listed.
Purchase access from FICO®: You can purchase your score and other services from FICO®.
Purchase from an authorized FICO® retailer: FICO® authorized retailers are Experian and Equifax.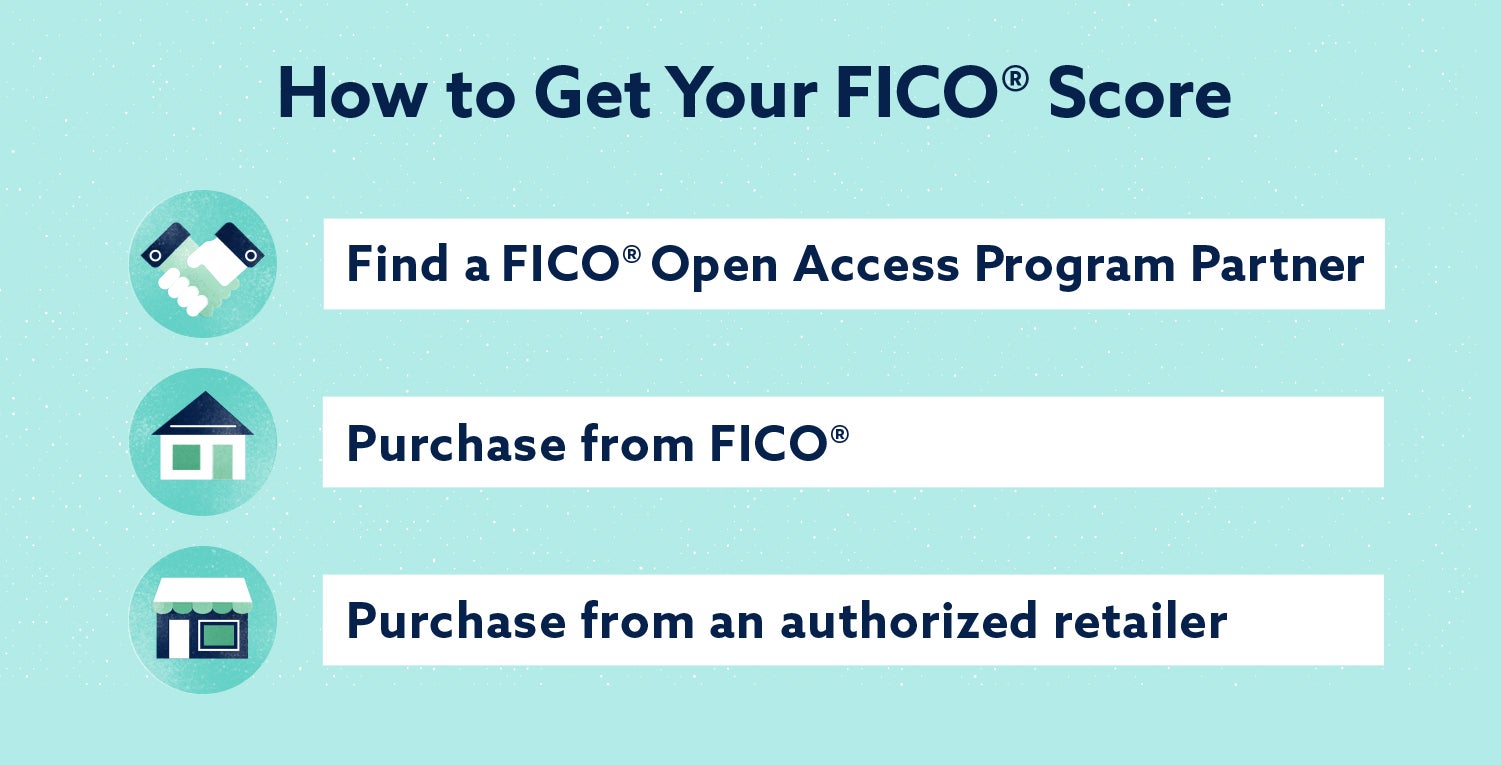 Not every score you receive is generated using the FICO® scoring model. Confirm what score you're receiving to ensure what scoring model was used.
90 percent of lenders use FICO® scores when making lending decisions, but it's still helpful to understand the other scoring models—like VantageScore®.
Key Things to Know About VantageScore®
The three major credit bureaus—Equifax, Experian and TransUnion—created VantageScore® in 2006 to create a more consistent and predictive scoring model that's simple to understand and use. VantageScore® usage increased 20 percent between 2017 and 2018.
VantageScore® differs from FICO® in a few ways. For example, FICO® requires you to have an account open for at least six months while VantageScore® calculates a score as soon as the account appears on your credit report.
VantageScores® are calculated similarly to FICO®, but have a few differences:
Extremely influential: Total credit usage, balance and available credit
Highly influential: Credit mix and experience
Moderately influential: Payment history
Less influential: Age of credit history
Less influential: new accounts
How Do I Get My VantageScore®?
You can obtain your VantageScore® from a number of lenders and non-lenders.
A few include:
Key Things to Know About Other Scores
There are many other credit scores generated and used by other lenders and companies. Common ones are educational credit scores and business credit scores.
An educational credit score is based on a private lender or credit bureau's ranking of your financial information.
For example, the PLUS score was designed by Experian to provide you with a basic idea of your risk level and creditworthiness. Although they are designed to measure credit risk, educational credit scores are not used by lenders.
Models like the PLUS score are meant for consumer use only, which means that they are not considered when lenders review your loan application.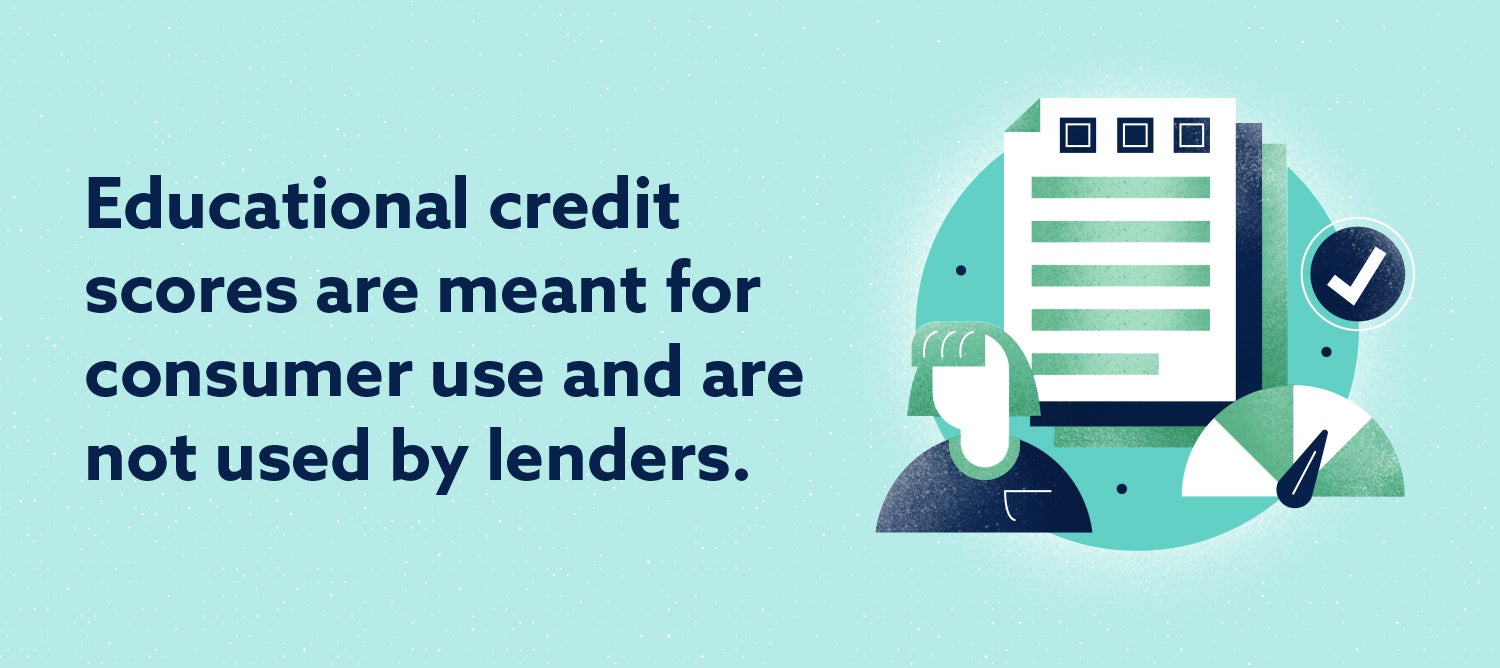 Business credit scores predict your company's financial stability and how reliable you are in terms of managing company finances.
For example, Dun & Bradstreet's D-U-N-S Number is used to identify your business and is the key to finance-related information about your company, like your business credit report, your D&B Delinquency Predictor Score and more.
All of your credit scores will likely differ since numerous scoring models are used and these models weight information differently. They may also pull information from one, two or all of the credit bureaus (Equifax, Experian and TransUnion).
Instead of focusing on the specific criteria for each score, you should instead focus on responsibly managing your credit with FICO® 's criteria as a guideline since that score is most commonly used.
Why Your FICO® Scores and Other Credit Scores Matter
Many are unaware of the fact that they actually have more than one credit score, and the score that your lender looks at can vary.
Understanding these scores, what impacts them, and how to improve your credit score can help you increase your chances of opening a new credit account. Start by checking your current credit score and reviewing your credit report to ensure all of the information is accurate.
If you find any mistakes, you can get in touch with the credit repair specialists at Lexington Law to get them removed. You can call for a free credit report consultation to see where you stand and how we can help.