Veteran and military service members are likely well-versed in organization to a high degree. As they begin the transition to civilian life, they'll need to start organizing their finances in order to provide stability for themselves and their families.
This guide offers applicable advice on things veterans should consider when planning their retirement from the military. We'll help navigate benefits available to veterans, health care, financial responsibilities and the unique perks veterans are granted in return for their service.
Preparing for civilian life

Just as the decision to join the military is a major life event, so is separating from it as a veteran. To ensure the transition into civilian life is streamlined, there are things to consider and prepare for.
These tips can help veterans simplify the transition process and leave them fully equipped to navigate civilian life and employment.
Attend a Transition Assistance Program workshop
The Transition Assistance Program (TAP) provides informational support to military members and their families on all matters related to the transition into civilian life, including the pursuit of further education, finding a job or starting a business.
TAP gives service members and their families access to educational resources. Counselors are available to assist with the transition and guide veterans through benefit options. Through these services, counselors can help veterans get in touch with companies who actively hire veterans and have dedicated programs to promote career opportunities in the military community.
Emphasize transferable skills
Service members perform many duties throughout their time in the military. As a result, veterans' skills and experiences are unique, making them highly qualified for a number of careers.
When preparing for a civilian job interview, be sure to highlight skills gained during time in service such as:
Leadership. Service members are given opportunities to demonstrate and practice leadership skills. The ability to manage a group is a skill which is in high demand by companies.
Planning. Military life revolves around a structured schedule. Service members closely follow a daily plan that guides their every activity, from eating breakfast to getting into bed at night. The experience most veterans have with planning is highly desirable to employers wishing to achieve long-term goals.
Integrity. In military service, trustworthiness is necessary to survival in many cases. Employers look for candidates who demonstrate their own trustworthiness with punctuality, promise fulfilment and discipline.
Teamwork. Military service requires constant collaboration with others. Working in a team is a valuable skill to employers in any civilian industry.
Conflict resolution. In the military, officers are often tasked with negotiations, persuasion and management of interpersonal conflict. Demonstrate an ability to handle these situations effectively to an employer.
Flexibility. The military has prepared veterans to calmly handle unexpected changes in plan. This is an essential skill to the fast-paced corporate world.
Communication. The military relies on communication for streamlined operations. Employers also view communication as a necessary skill in civilian positions.
Problem solving. The ability to analyze and manage a conflict is a necessity to survival in the military. Civilian work also relies on individuals with exceptional problem-solving skills.
When seeking a career after retirement from the military, emphasize a mastery of these skills and how to apply them to a prospective career. For assistance transitioning to a civilian job, there are employment resources and programs for veterans that can help launch a new career.
Organizing your finances

When navigating civilian life, it's important to have organized finances. Veterans have access to many resources for financial management, so be sure to make the most of veteran status by utilizing these services.
Boost your savings with the Savings Deposit Program
The military's Savings Deposit Program allows service members deployed to combat zones to invest as much as $10,000 and receive 10 percent annual interest for up to three months after their return from service. Though this program is only available to active service members, it provides exceptional savings at minimal cost and can be used long after retirement to supplement income.
Plan for retirement using a Roth IRA
Even if a veteran served in the military long enough to earn a military retirement and pension, it may not fully cover retirement. Because of this, it is essential for veterans to take senior retirement planning into their own hands.
Because of this, it is essential for veterans to take retirement planning into their own hands.
A Roth IRA is a specialized retirement account funded with post-tax income contributions. Because income has already been taxed, the accounts are eligible for tax-free withdrawals in retirement after age 59 ½. These accounts are particularly helpful for newly-transitioned veterans who may need an extra cushion of savings to hit the ground running in civilian work and retirement. Additionally, these accounts take the guesswork out of retirement planning because the money in the account will not be subject to tax. Roth IRA accounts do not require distributions, so veterans can leave the money in their account and let it grow.
Create an emergency savings fund
Life can be unpredictable. An emergency fund is useful to anyone planning their retirement, particularly veterans who may be struggling with disabilities, financial instability or dependent family members who need support.
To ensure veterans are fully prepared for life's can't-plan-for moments, consider saving three months' worth of pay or put aside a percentage of monthly income.
There are many ways to build an emergency budget. To conceptualize what an emergency fund will need, take these steps:
Track monthly spending. Spending money without careful thought can be dangerous to anyone's wallet. To avoid unnecessary expenses, consider keeping receipts and writing down all expenses in a journal. It may be easier to cut down on unneeded expenditures once all transactions are written in one place.
Pick a place to house the emergency fund. Ideally, the emergency fund should be kept in a savings account where it will not be tempting to spend. Many banks and credit unions offer free savings accounts that accumulate interest, offering an easy way to store and grow money.
Set up automatic contributions. Using an automatic withdrawal from a checking account is an easy way to contribute to an emergency savings fund. Ask a financial service to set up automatic deposits to a savings account on a daily, weekly or monthly basis. The more often veterans contribute to their emergency funds, the faster they'll build it. For example, to save $1,000 in 90 days, contribute $11.11 to a savings account daily.
Financial services for veterans

Veterans have earned special benefits and services for their financial needs. It is helpful to capitalize on these unique services for financial well-being.
Financial institutions with special veteran benefits
There are a number of financial institutions who cater to military service members and their families. They offer perks like competitive interest rates, free services and discounts and locations around the world.
Financial institutions with services for military members and their families include: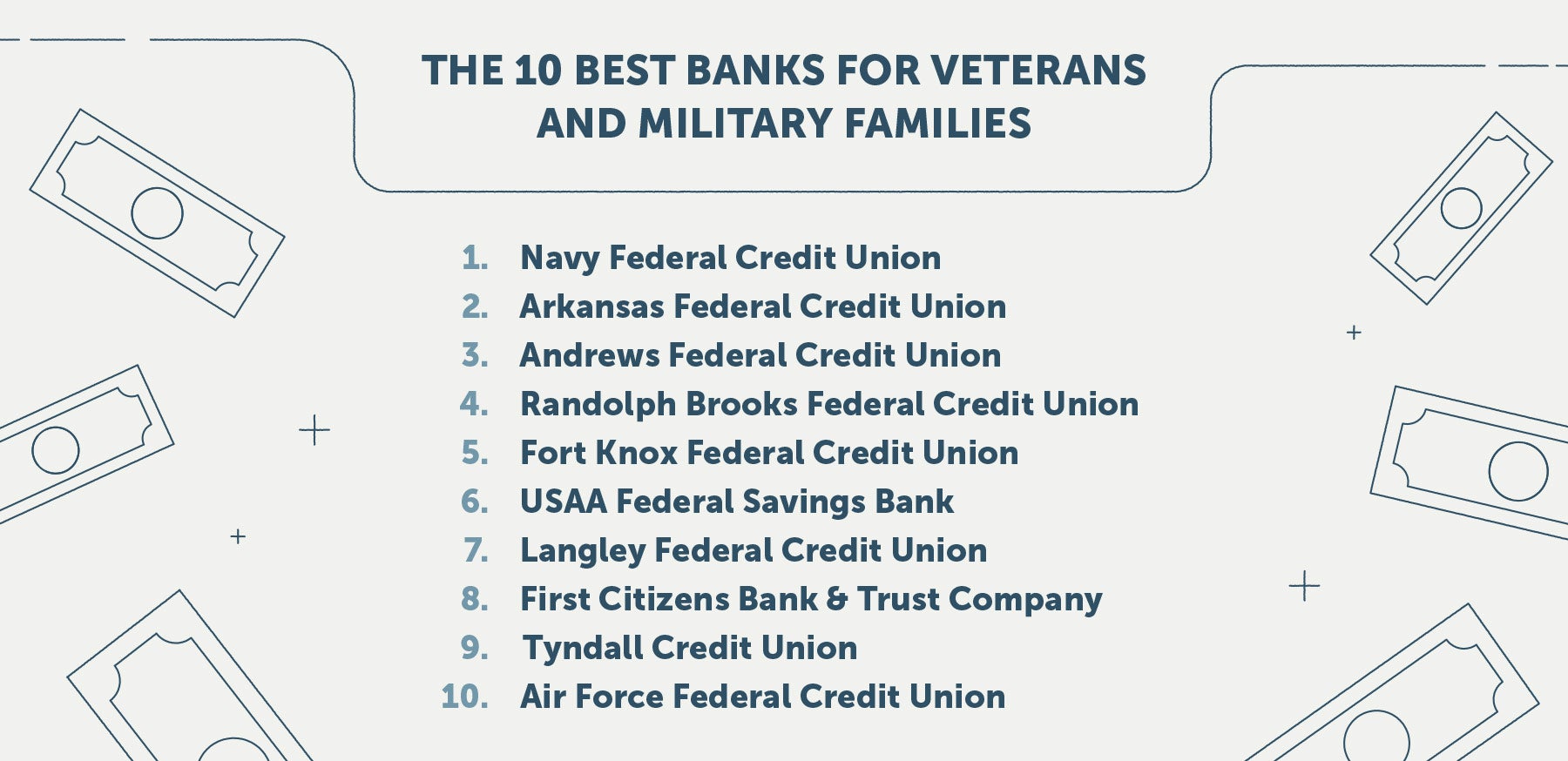 These banks provide support and financial assistance to their military members. With the often complicated financial situations of military families, these services can help veterans achieve stability.
Take advantage of government initiatives for financial support
In 2015, the Consumer Financial Protection Bureau (CFPB) launched the Financial Coaching Initiative, targeting transitioning veterans and economically unstable consumers to help with their financial goals.
Financial transition into civilian life can be difficult. The Financial Coaching Initiative provides veterans with coaches in organizations around the country who are trained in finance and are accredited by the Association for Financial Counseling and Planning Education. A financial coach can give one-on-one help with personalized plans to address individual goals and needs.
Additionally, there are many online resources to help with financial management and strategy. The Veterans Financial Coalition is an online source for transitioning veterans and offers free educational tools to help navigate the unique situations faced as a veteran. Resources offered by the Veterans Financial Coalition include budgeting and savings tips, tax break information and even educational games to build money knowledge.
Other online resources for financial management include services provided by VeteransPlus and the Foundation for Financial Planning.
Maximizing your benefits

Military veterans are eligible for a broad range of benefits and programs provided by the Department of Veteran Affairs (VA). The Veterans Benefits Administration (VBA) provides many services to active service members, veterans and military families.
Utilize these services for many needs, including health care, insurance and pensions, education and family support. By enrolling in these programs, veterans may qualify for low-cost or cost-free health care services and can save money on insurance policies, education and home loans.
Apply for disability benefits and assistance
The VA provides compensation to those affected by disability, disease or injury sustained during military service. A disability recognized by the VA can apply to physical limitations or injury, as well as mental health conditions like post-traumatic stress disorder (PTSD). This compensation is tax-free, graduated according to the severity of the disability and is meant to help make up for economic loss and physical and emotional stress.
To be considered for disability compensation, the VA looks for these eligibility criteria: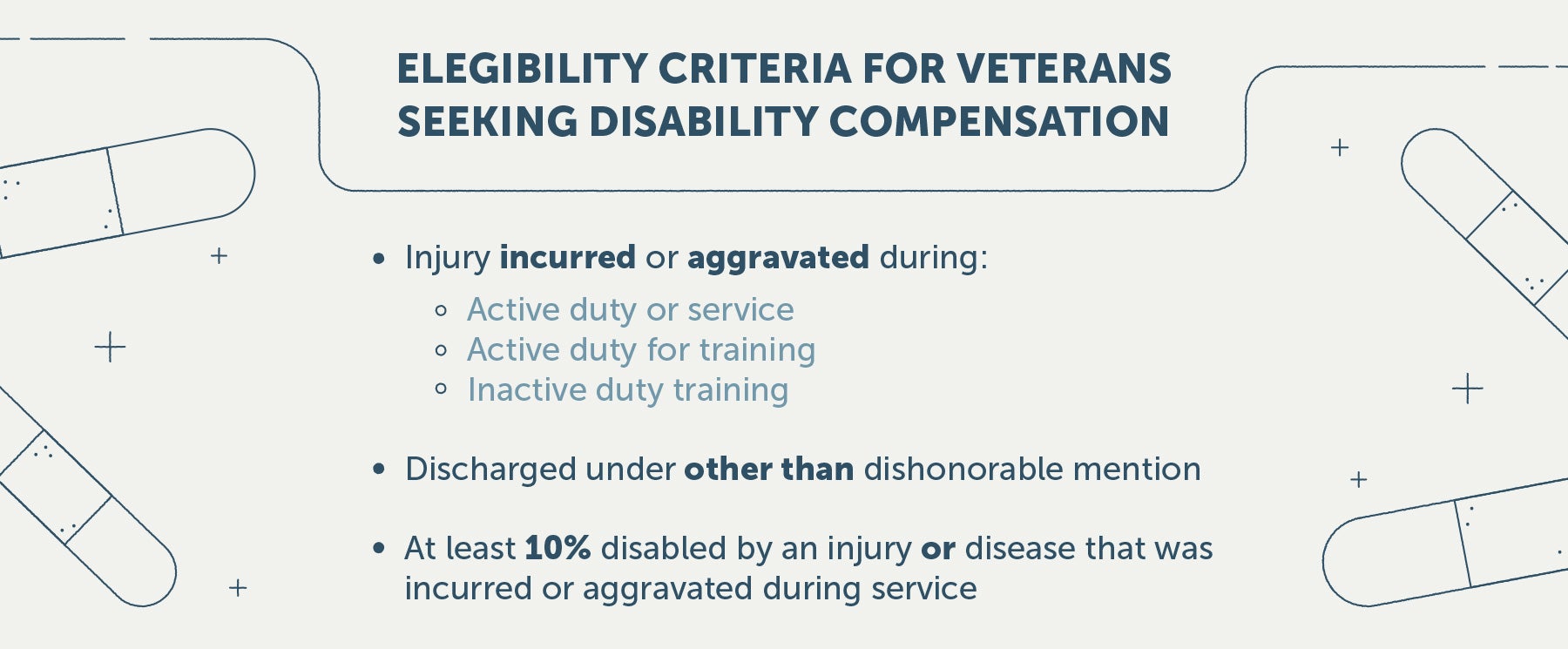 In order to be approved for disability compensation, the following documents are required:
Medical evidence of a current physical or mental disability
Documentation proving the relationship between a disability and an event in military service
Next, to apply for disability benefits, work with an accredited representative or agent, visit a regional VA office or follow these steps on the eBenefits online portal:
Create an account on eBenefits.va.gov.
Collect all relevant documents for evidence.
Scan and upload all documents then press "Submit."
Track the status of the claim via eBenefits.va.gov.
Take advantage of services for housing and home loans
Veterans have access to unique home loans and housing-related services. Home loans provided by the VA may be used towards homes, condominiums or manufactured homes. They can also be used to refinance an existing loan or to install energy-saving improvements to a current residence.
The VA offers three main types of guaranteed loan benefits: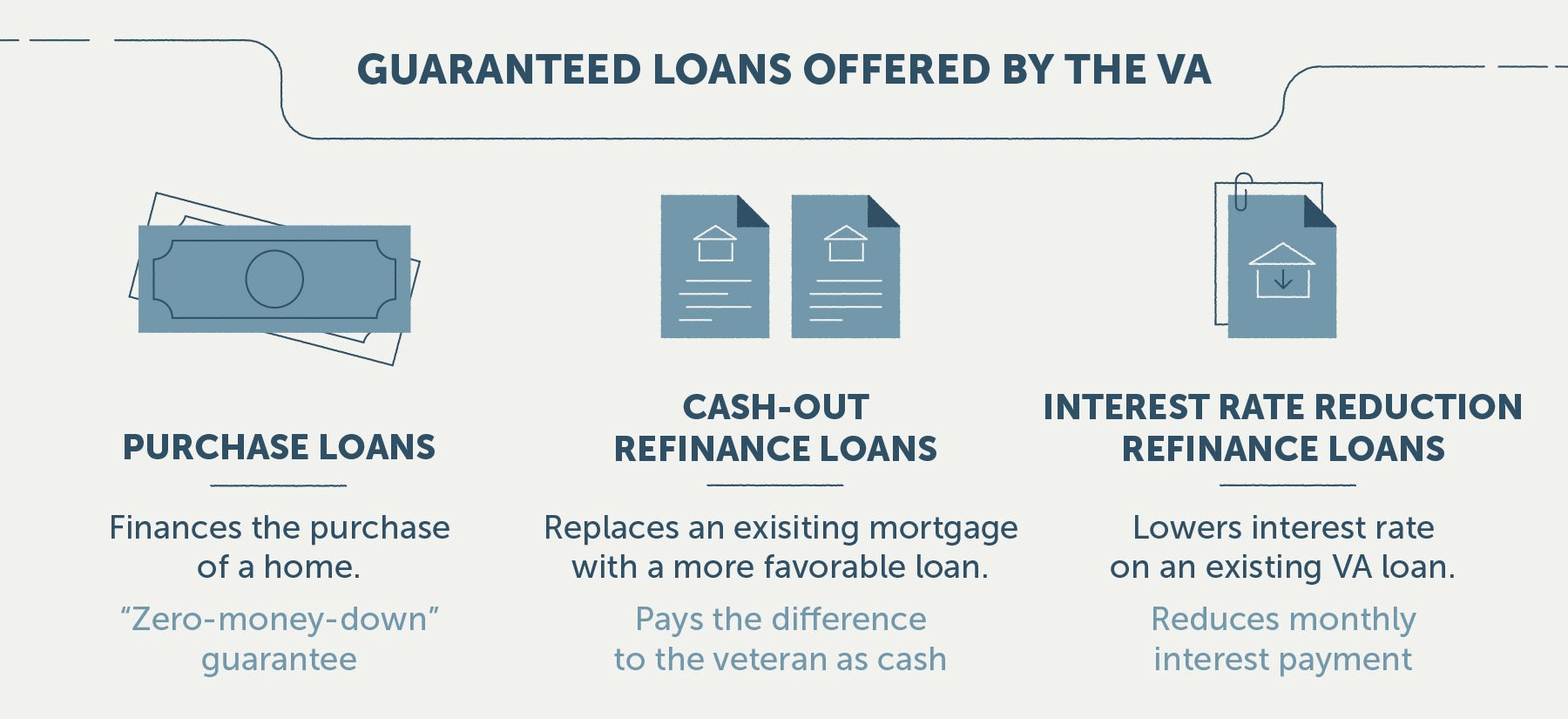 The VA also offers assistance with home adaptations for disabled veterans and support for homeless veterans or those at risk of becoming homeless.
Requirements for eligibility of home loans or housing-related assistance include:
Proof of suitable credit and sufficient income to maintain home ownership
Certificate of Eligibility (COE) proving verified eligibility for a VA home loan
Record of military service (DD-214, OMPF or medical)
Certification of intent to occupy the home alone or with family (if applicable)
Utilize pensions and life insurance plans curated for individual needs
The VA offers pensions to provide income and make life more secure for veterans and their families. A pension is a need-based benefit with limited or no income for those who are age 65 or older and have a permanent, non-service-connected disability. Pensions can also be distributed to qualifying survivors or dependents of a veteran.
Eligibility requirements for pension application include:
Proof of income and net worth information
Private medical records and any relevant treatment records
Completed program applications:

Veterans Pension–VA Form 21-527EZ
Survivors Pension–VA Form 21-534EZ
The VA also provides life insurance for veterans and their families. In fact, over $1.3 trillion a year is used in insurance coverage for veterans. There are many life insurance options to choose from, and Servicemembers' Group Life Insurance (SGLI) coverage is automatic for most service members.
Take care of military spouses, dependents and survivors
There are many resources and support services for the families of military service members. Family members of a service member who have died or were seriously injured in the line of duty may be eligible for many of the same benefits veterans enjoy including disability compensation, educational training, employment services, home services and health care.
One of the most notable benefits provided to the family of service members is the GI Bill, designed to help service members, veterans and their families cover educational expenses.
The following trainings are included in the benefits of a GI Bill:
College degree programs
Vocational or technical training
Licensing and certification reimbursement
National testing programs (SAT, CLEP, AP)
Flight or correspondence training
Work-study programs
Tuition assistance
Managing health care and medical expenses

Under VA benefits, veterans may be eligible for low-cost medical services and health care, including dental, vision, mental health and home services as well as preventative and primary care, prescription medication, medical equipment and prosthetics. The VA provides elite health care services to eligible veterans with more than 1,200 sites of care around the country.
Most veterans qualify for cost-free health care services under VA benefit enrollment, though a modest copay may be required for certain health care or prescription medications.
To be eligible for VA health benefits, be sure to meet these criteria:
Must have served in active military, naval or air service and discharged under any conditions other than dishonorable.
Must have served 24 continuous months or the full period for which they were called to active duty.
When applying for health care benefits, provide proof of discharge papers, such as a DD-214, additional health insurance information and any financial information, including gross income reports for the veteran, their family and any dependents.
Managing your debt

Many veterans who have been in military service for the majority of their adult lives have not built a favorable credit score and have accumulated significant debt. As veterans begin to transition to civilian life, it's important to act quickly to stabilize credit, manage debt and begin rebuilding financial strength.
Take control of your credit score
Check credit scores regularly and take any necessary steps to fix report errors or pay outstanding debts. Making sure the credit report accurately reflects individual history is crucial to building a good score.
It's important to note that repairing a credit score takes time. Quick-fix efforts to improve a score may backfire, so beware of any services claiming to offer immediate results. The best way to build credit is to manage it responsibility throughout the transition into veteran life.
Consider using a credit card with perks for military members. Many credit cards offer rewards for active-duty service members, veterans and military families.
Here are a few credit cards designed solely for veterans and military members: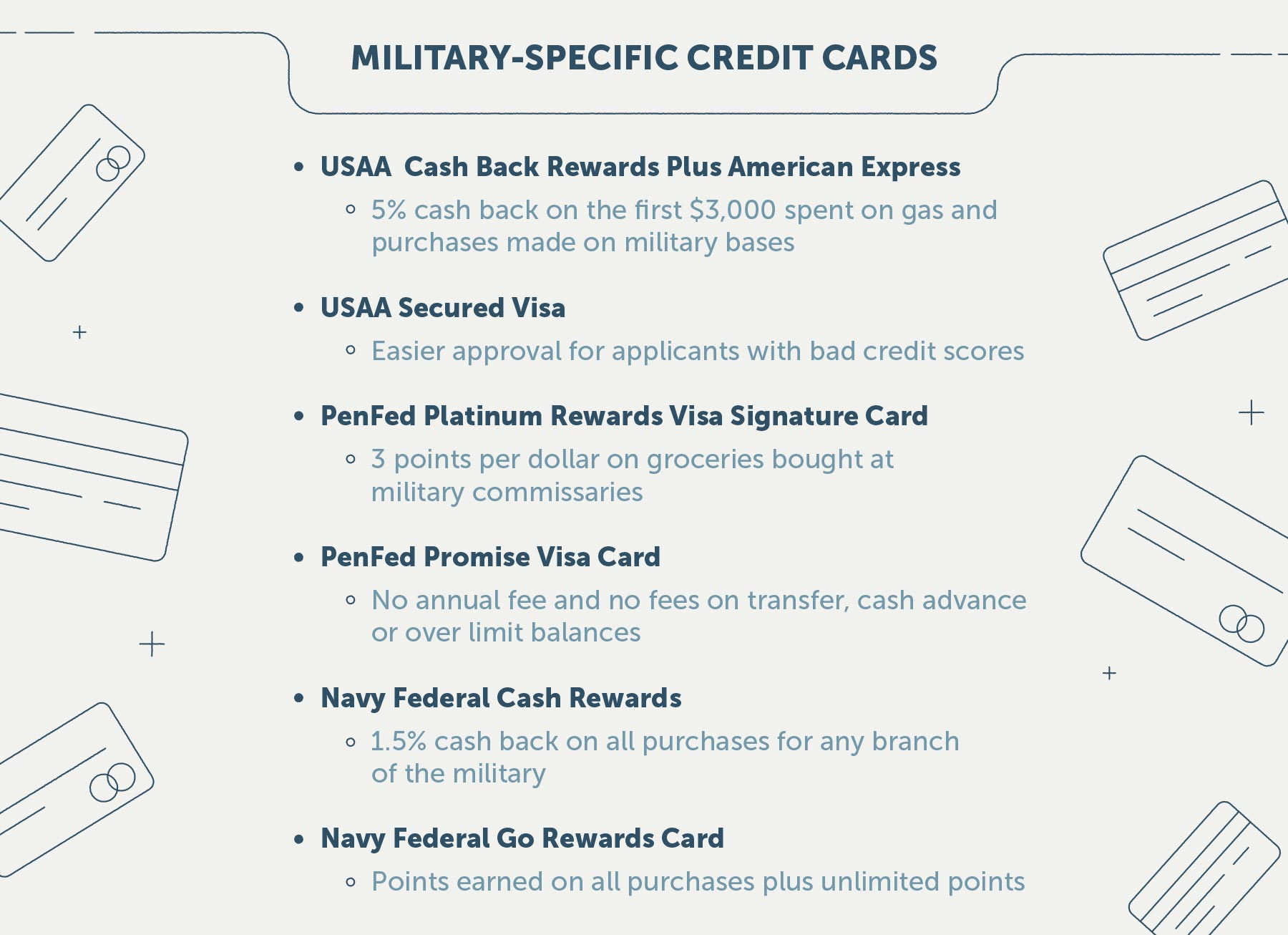 Understand your options for debt relief and control
According to the Financial Industry Regulatory Authority, service members have more credit cards and display more costly spending behaviors than civilians.
However, service members have access to unique programs to help ease debt:
Service Member's Civil Relief Act: caps interest on loans taken out by active military members and regulates loans for credit cards, auto loans and other financial services
Military Lending Act: guarantees that military service members can not be charged more than 36 percent interest for credit products and personal loans
Veterans Housing Benefit Program: offers home loans to veterans at low rates
Nonprofit Credit Counseling: offers credit counseling services by nonprofit companies to veterans struggling with debt
Additionally, there are many debt management resources online and through financial institutions to help veterans properly navigate the process of reducing their debt-to-income ratio.
Continuing your education

Aside from educational benefits provided by the VA, there are many ways to further education as a veteran. Colleges and universities may offer discounted rates to veterans and their families, and there are a variety of scholarships to apply for.

Learn important money management skills
The National Financial Literacy Educators Council provides military members and veterans with important financial literacy resources, support and training to achieve financial success.
Military members may have higher debt and fewer assets than civilians. Additionally, many military families experience stress due to their financial situations and feel insecure about their financial futures. Increasing financial literacy can help veterans and their families alleviate stress caused by financial problems.
As service members transition from a military career into life as a veteran, they may face challenges unique to their situation. We hope this guide helps veterans navigate successfully through the obstacles life brings and puts them on the path towards financial stability and strength.
If a service member is struggling with poor credit, money management or wants to learn more about the benefits they are entitled to as a veteran, reach out to a financial service, support counselor or a family member or friend for help.
We thank all veterans and military members for the gift of their service.
Sources
Investopedia | Military | Experian | Forbes | Kiplinger | Explore VA | US News | VeteransPlus
Defense Finance and Accounting Service | Consumer Finance | Veterans Financial Coalition
Foundation for Financial Planning | myFICO | FINRA | Debt | Consumer Credit | Mental Health
National Financial Educators Council | USAA