The information provided on this website does not, and is not intended to, act as legal, financial or credit advice. See Lexington Law's editorial disclosure for more information.
When someone acquires an amount of debt that is challenging to pay off, a debt consolidation loan combines multiple debts, such as credit cards, personal loans and medical bills, into an account with one monthly payment and lender.
When debt becomes hard to pay due to juggling multiple due dates and payments, it might be time to consider debt consolidation. Debt consolidation allows you to compile your high-interest debts into one loan with a single monthly payment and a lower interest rate. Consolidating debts may help you save money in interest payments, which could reduce your total debt.
The idea of debt consolidation may sound appealing to anyone with high-interest debts. However, consolidation isn't a fix-all for everyone with debt. Let's look at what debt consolidation is, the types of loans you should apply for and why you should or shouldn't consider consolidation.
Key takeaways:
Debt consolidation can help simplify your financial situation by combining your debts into one loan with a single monthly payment.
Consolidating your debt may lower your monthly payments and interest rate.
When choosing between debt consolidation and a debt management plan, consider your financial priorities and choose the option that saves you the most in interest costs.
What is debt consolidation?
Debt consolidation is a financial strategy of combining multiple debts into a single loan or credit line. It aims to simplify debt repayment and potentially lower interest rates. By consolidating debts, individuals can manage their finances more effectively and often reduce the total amount they pay over time.
You may consolidate debt through various methods, such as obtaining a personal loan, a balance transfer credit card, a home equity loan or another personal loan. The option that best suits you depends on your circumstances and available options.
How does debt consolidation work?
You have a few options that can help you consolidate your debt, either in the form of a loan or through a new line of credit. Essentially, you'll take out a loan that covers the entirety of your debts and use it to pay off personal loans, credit cards and other bills that may be piling up.
When you take out a debt consolidation loan, you can pay off other loans and then make a single payment toward your consolidation lender.
How to consolidate debt: 3 types of debt consolidation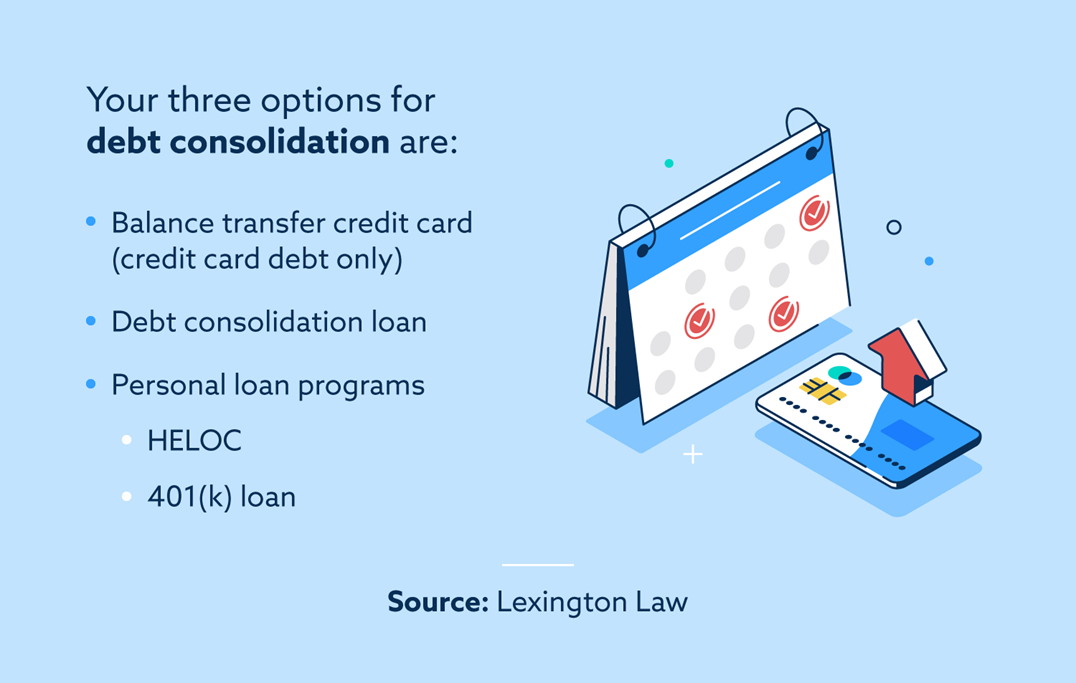 While there is a specific debt consolidation loan that one could take out, it is not the only option. Alternatively, one could turn to a balance transfer credit card, a home equity (HELOC) loan or a 401(k) loan.
Let's take a look at each of these loans and their pros and cons.
Balance transfer credit card
A balance transfer card is a type of debt consolidation for credit card debt. Balance transfer cards often offer a 0 percent interest rate for an initial promotional period. To consolidate your credit card debt, you can transfer your existing balance from other cards onto this new card and then use the promotional period to pay down your debt without interest.
Let's look at an example of what it could cost you to transfer your credit card debts to a single balance transfer card.
Let's say you have $15,000 in credit card debt across multiple cards. You find a balance transfer card offering 0 percent interest for the first 12 months, but this offer comes with a one-time balance transfer fee that is a percent of the amount that's transferred. In this situation, you would pay $750 to transfer the balances over. Now it's up to you to calculate if that $750 fee is more or less than the amount you'd spend in interest fees in that one year.
It's important to note that balance transfer cards eventually return to a standard interest rate, usually between 19 and 28 percent, after the promotional period ends. Therefore, it is best to pay the balance before the promotional period ends.
| Pros of balance transfer credit cards | Cons of balance transfer credit cards |
| --- | --- |
| Promotional period offers zero interest | Transfer fee |
| Make one monthly payment | Only applicable to credit card debt |
| Potential to decrease credit utilization | High interest rates kick in after promotion |