The information provided on this website does not, and is not intended to, act as legal, financial or credit advice. See Lexington Law's editorial disclosure for more information.
Total consumer debt among Americans rose to $16.9 trillion by the end of 2022, according to the Federal Reserve Bank of New York.
Total consumer debt among Americans has risen about 7 percent annually, hitting $16.9 trillion at the end of 2022, according to the Federal Reserve Bank of New York. Americans owe nearly 10 percent of their disposable income to household debt, including mortgages, car and student loans, and credit card debt.
Americans have been amassing more and more debt since 2013—although disposable income has also increased. Though income is increasing, American consumers are borrowing more money more often.
What's causing these changes in behavior? Recent studies have shown that many Americans could benefit from improved financial literacy education on basic finance and investment. Perhaps that partially explains the marked uptick in consumer borrowing.
To dive further into consumer debt and learn how to manage it properly, let's first understand what it is and how it works in our financial systems.
Key takeaways:
Total household debt rose to $16.9 trillion in the fourth quarter of 2022.
Total household debt increased $1.32 trillion from Q4 of 2021 to Q4 of 2022.
The total credit card balance in the U.S. rose to $986 billion at the end of Q4 in 2022.
Consumer debt statistics
Below, we've compiled the latest statistics on consumer debt in the U.S.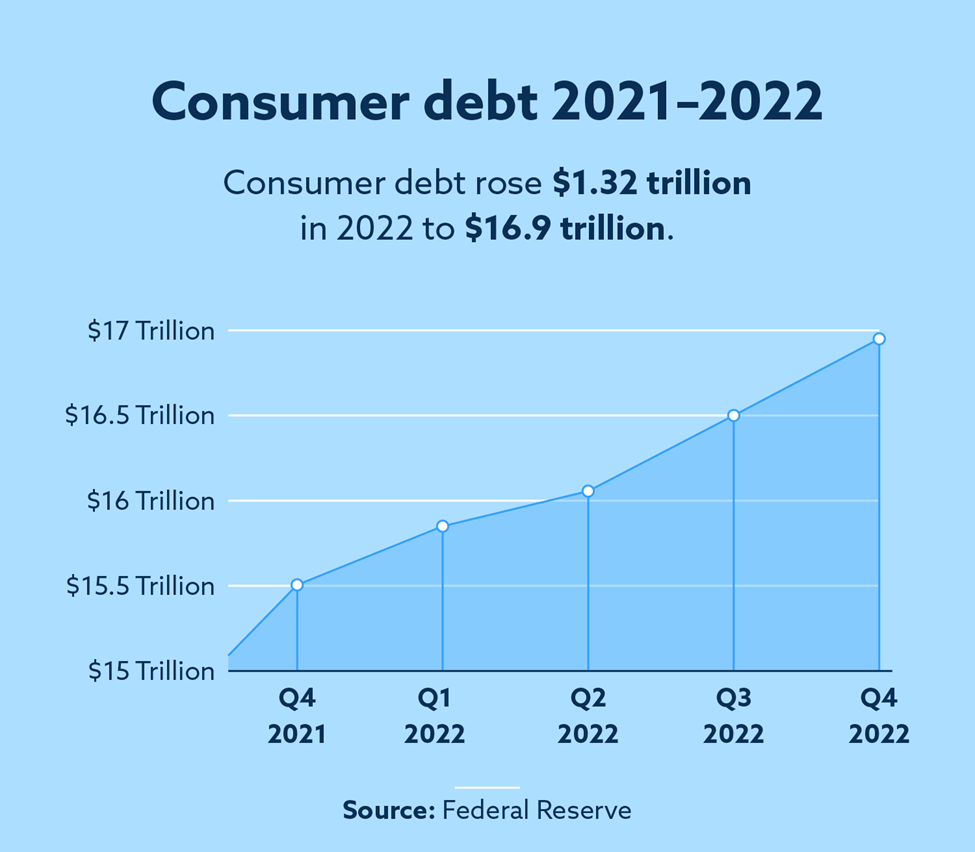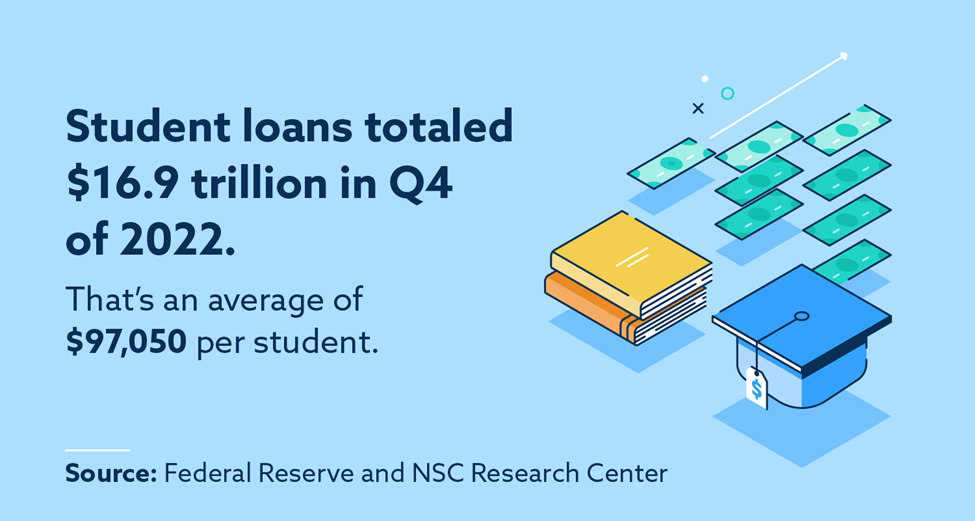 *Total enrollment based on a 2022 estimate of students in all education sectors
What is consumer debt?
Consumer debt is personal debt an individual owes to another entity, typically a bank or credit union. Consumer debt often involves household purchases and transactions independent of a business or government operation. It does not include debts a business or corporation owes to another entity.
These purchases are typically consumable and include items that do not depreciate. Purchases like this allow consumers to invest in themselves without the requirement of paying the full price up front. For example, consumer debt may come in the form of auto or student loans.
Also referred to as credit debt, there are typically two types of consumer debt: revolving and nonrevolving.
Revolving consumer debt
Revolving consumer debt is an open-ended account that the borrower can use and pay off repeatedly up to the available limit. The account remains open and the borrower agrees to make regular, timely payments. Credit card debt is the most common example of this type of consumer debt.
This kind of debt is referred to as revolving because it is meant to be paid off frequently, typically within a month. The Federal Reserve fluctuates with consumer use and usually comes with a variable interest rate.
Nonrevolving consumer debt
Conversely, nonrevolving consumer debt is money borrowed one time that the borrower repays, with interest, according to a fixed payment schedule. Unlike revolving credit, the borrower can't repeatedly access more money from the same account by paying off all or part of the principal amount due. Common examples of this type of consumer debt may include long-term loans for cars and education. These debts typically involve a fixed payment plan with few changes to the amount charged. Consumers can choose between fixed and variable interest rates for these debts in some cases.
FAQ
Below, we answer a few common questions about consumer debt in America.
What is the current average consumer debt?
The total average consumer debt as of Q3 2022 is $101,915, according to Experian.
What percentage of Americans carry consumer debt?
According to Ramsey Solutions, 77 percent of Americans have at least some type of debt—credit card debt, mortgage or loan debt.
What is the most common consumer debt?
Credit cards, auto loans, mortgages and personal loans are some of the most common types of consumer debt. If you're unsure how to begin tackling your personal debt, many resources are available to help you. Paying your monthly fees on time and maintaining your credit can help you reduce your loan amounts over time. Work with Lexington Law to learn more about credit.
Note: Articles have only been reviewed by the indicated attorney, not written by them. The information provided on this website does not, and is not intended to, act as legal, financial or credit advice; instead, it is for general informational purposes only. Use of, and access to, this website or any of the links or resources contained within the site do not create an attorney-client or fiduciary relationship between the reader, user, or browser and website owner, authors, reviewers, contributors, contributing firms, or their respective agents or employers.