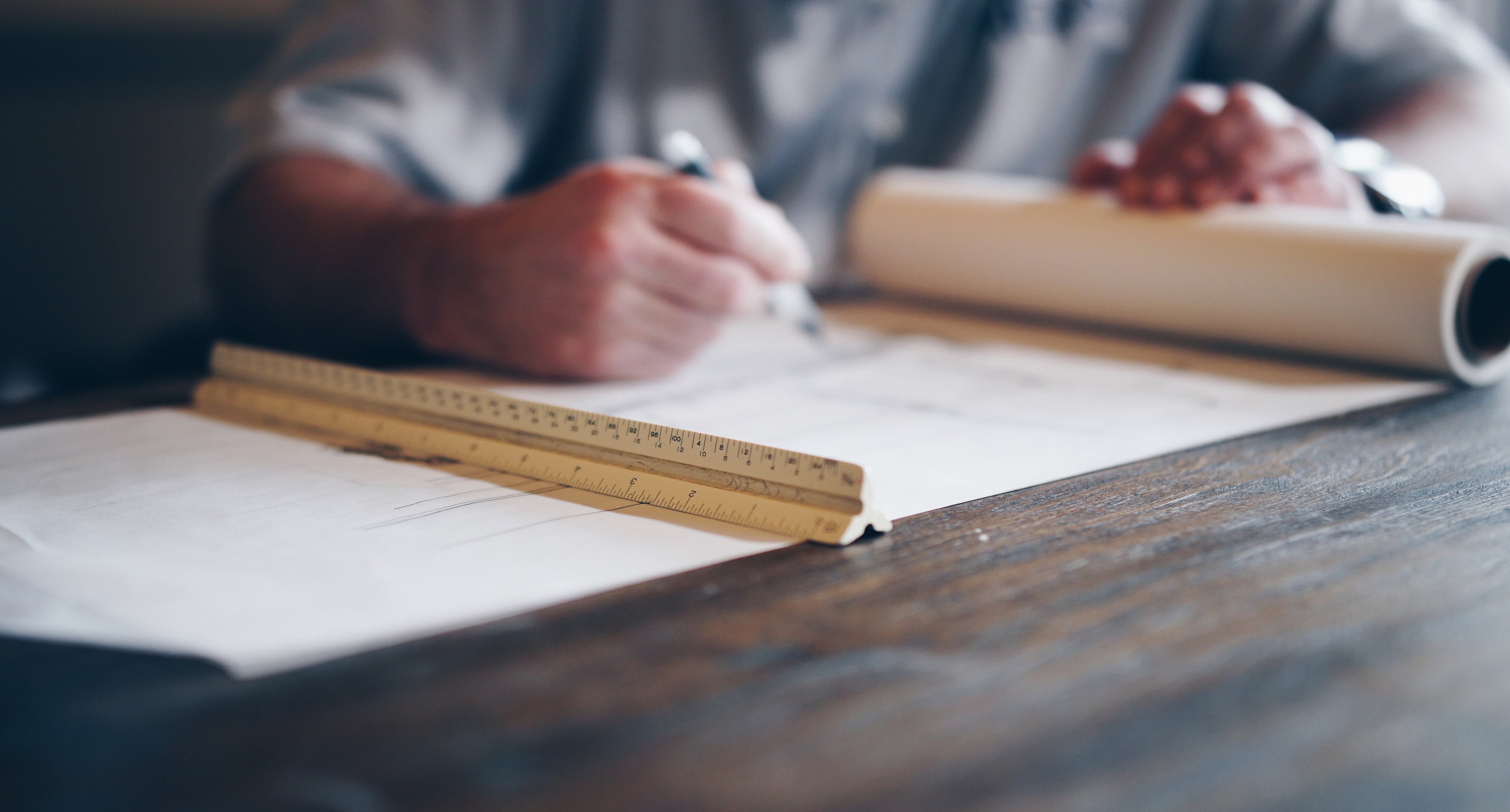 When it comes to the major costs associated with home ownership, most people immediately think of the price of their mortgage or leasing agreement. Many Americans focus on the fixed costs associated with homeownership and forget about the benefits that come with investing money inside the home on improvements or upgrades. Whether you are a renter or homeowner, allocating funding for your interior living space can help improve safety measures and energy efficiency, and minimize unexpected maintenance and repair fees.
To find out how Americans invest in home improvement, we surveyed 3,000 renters and owners and asked them how they spend money inside their home and what room they spend the most on. Our poll revealed:
3 out of 10 Americans don't invest in home improvement at all, while the 7 out of 10 that do invest mostly allocate their funds to repairs and maintenance.
Men are almost twice as likely to invest in comfort than women.
Americans—especially millennials—spend the most on their kitchens.
Americans invest more in decor and aesthetics than safety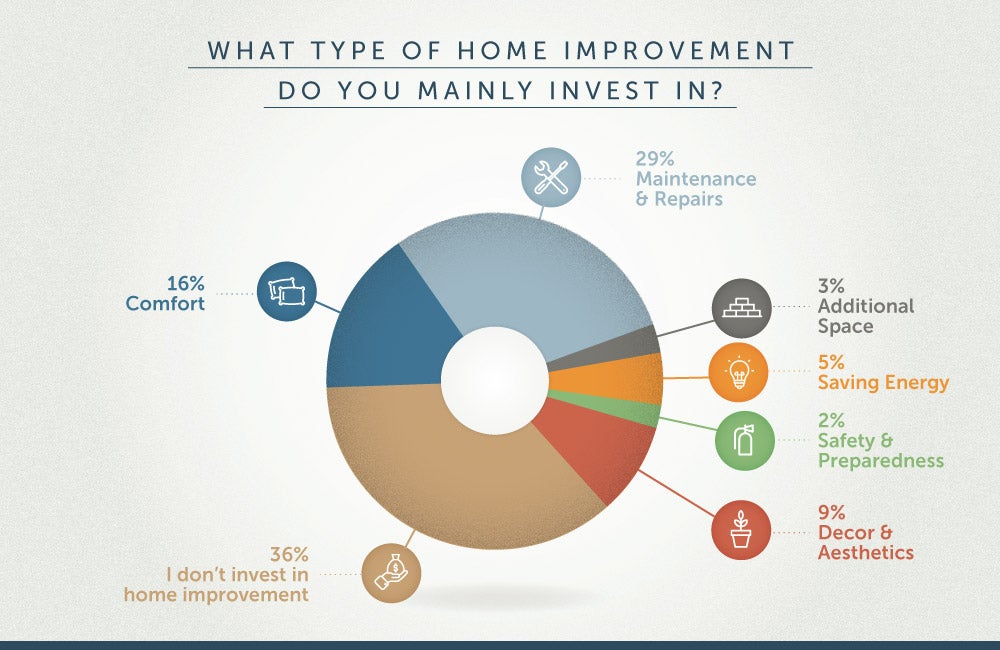 Home improvement is defined as making additions or remodeling one's home. For our survey, we broke this term up into six separate categories: maintenance and repairs, comfort, additional space, saving energy, safety and decor.
Out of 1,500 Americans surveyed, 36 percent said they do not invest in home improvement at all. This is a costly mistake, even for renters, as ignoring investments such as saving energy can lead to additional costs on utility bill statements.
We found that of those who invest in home improvement, 29 percent invest in maintenance and repairs. These expenditures include fixing or improving broken fixtures and ensuring everything functions as it should, such as plumbing or electricity. While these improvements are essential, other investments such as comfort and additional space can increase the value of one's home.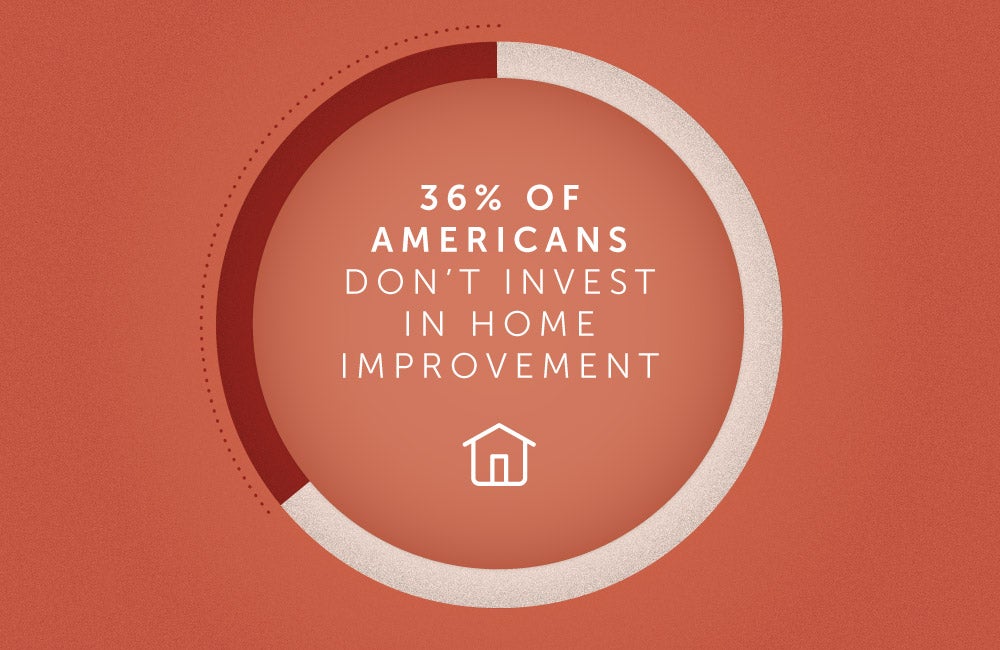 Surprisingly, Americans invest more in decor and aesthetics than safety and additional space across all generations. The majority of those who invest in decor and aesthetics are between the ages of 35- to 44-years-old, at 25 percent.
As for comfort, both the youngest and the oldest generations spend the least on this improvement. At 11 percent, those between the ages 18 and 24 likely are on a budget and cannot splurge on comfortable options inside the home. With only 13 percent of those who invested in comfort being 65 and older, it was surprising to find so few older people prioritize creating a comfortable living space, despite enjoying greater leisure time than other age groups.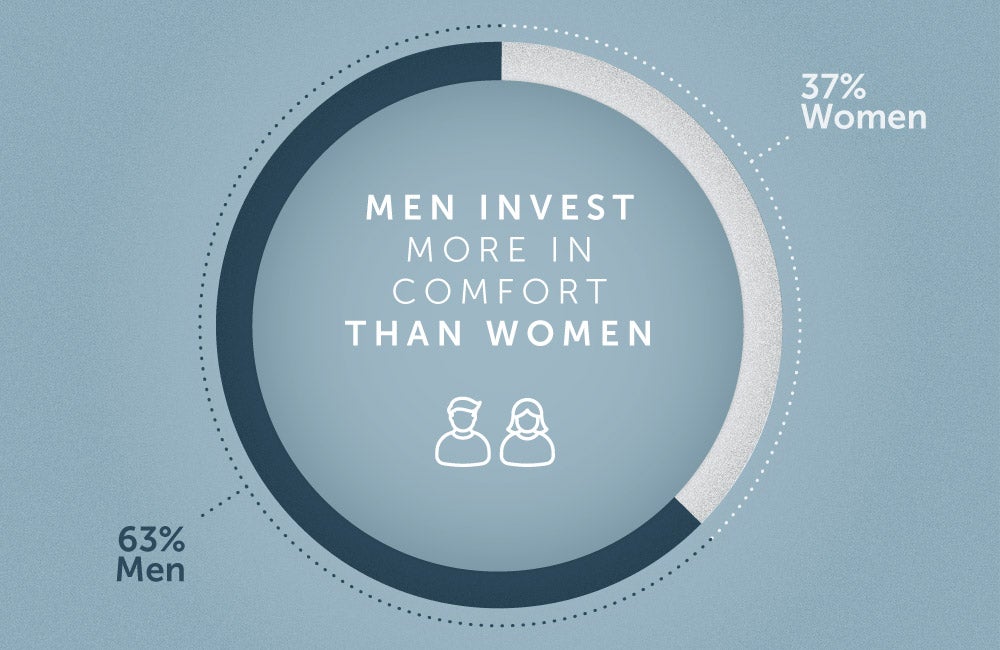 Men are almost twice as likely to invest in comfort as women, with 63 percent saying they spent the most on this feature. Men are also more likely to spend money on maintenance and repairs than women, at 58 percent versus 42 percent. In fact, the only instance in which women spend more than men on home improvement is in decor and aesthetics, but by a small margin of 8 percent, suggesting women tend to spend less money inside their home overall than men.
Americans spend the most money on their kitchens
With nearly one third of Americans spending money on maintenance and home repairs, it's no surprise 38 percent of money spent inside the home is devoted to the kitchen, where improvements on appliances can be costly.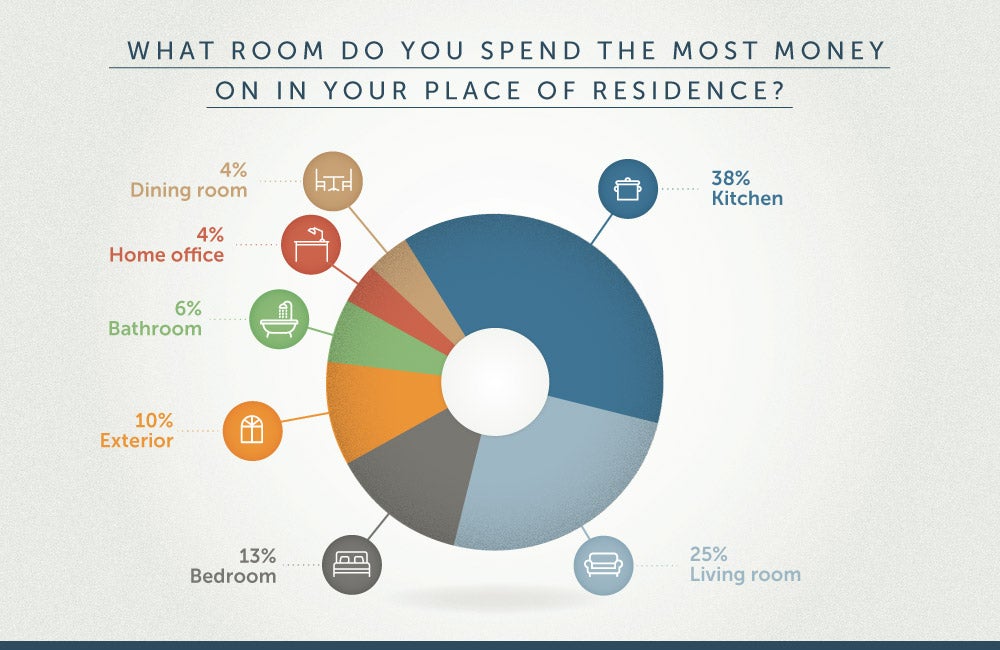 Millennials make up 50 percent of those who spend money on their kitchen, a shocking finding given that according to Forbes, 44 percent of Millennials spend money eating out instead of cooking in their kitchen. Those between the ages 35 and 54 make up 33 percent of those who spend the most on their kitchen. This finding is likely due to the fact that they are at the age when people begin to purchase homes and remodel them.
Both men and women also agree the kitchen is where they spend the most money. In fact, for almost every other room of the house, both men and women answered similarly, suggesting one of the biggest determinants of what room people invest in is their age.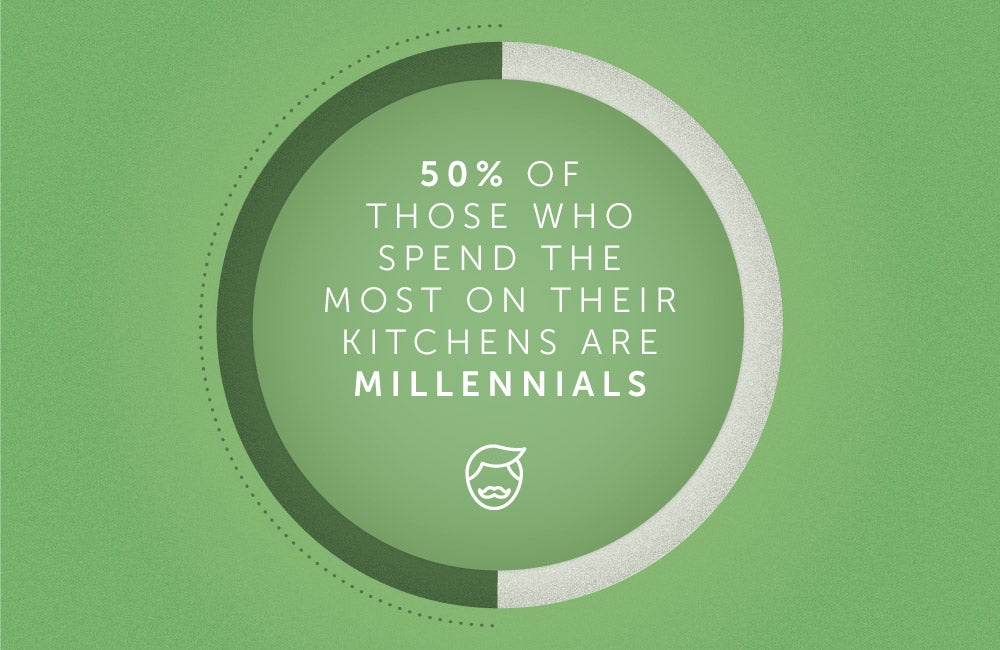 Though 1 in 3 Americans does not invest in interior home improvement, those who do tend to focus on home repairs and maintenance, likely in their kitchen where expenses are costly. By diversifying where Americans invest in their home, they can see a better return on their investment and cut other payments down to save money, whether it be by lowering your utility bill, increasing your home value, or creating a space you love to live in.