Debt is a common cause of panic for many Americans. We know this since a quarter of Americans worry they'll go broke this year. Credit card debt alone increased 18.5 percent in the past five years and overall consumer debt reached close to $4 trillion in 2018. To make matters worse, some are at a greater disadvantage simply because of where they live.

Let's take a look at neighboring states California and Nevada. California's median income in 2017 was $67,169 while Nevada's was $55,434. Although California's high income looks more attractive on the surface, you have to consider things like cost of living and other expenses (like taxes) that eat up income. California had a 9.3% marginal tax rate for income at that level while Nevada had no taxes (and still doesn't).

All of this brings up the question: should people consider moving just to pay off debt? Things like lower taxes and a lower cost of living can make a big difference over time. It can be easier to focus most of your income on your debts rather than living expenses. Some cities even pay people to move there through a variety of incentives like student loan repayment assistance and tax credits.

To get a better understanding, we took a look at what Americans thought about moving to pay off debt and found some of the best places to live to do it.
Americans Would Not Move to Pay Off Debt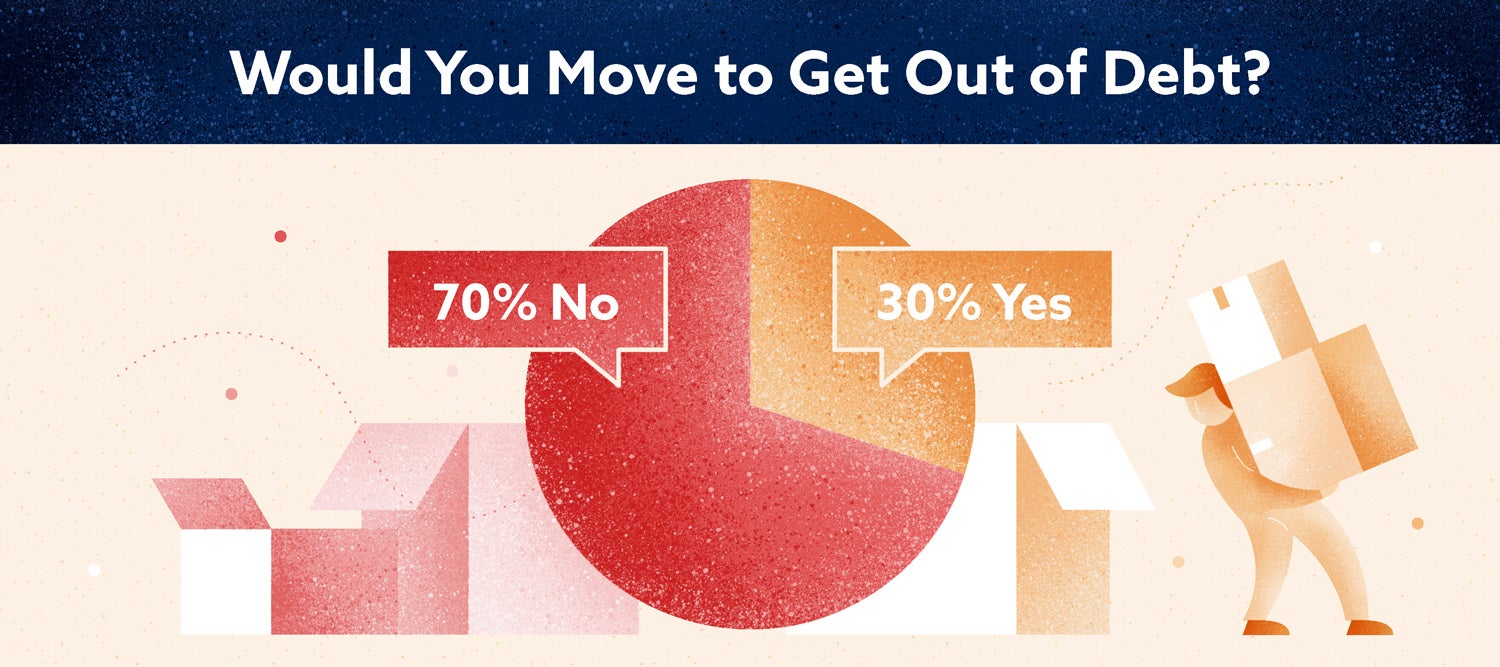 We surveyed 2,000 Americans and found over two thirds would not move to pay off debt. This means that two thirds of Americans would not move even if it meant saving money and potentially saving more to pay off debt.

When asked why they wouldn't move, we found that family is the top reason why people wouldn't move to a cheaper location. This was followed by people disliking the hassle of moving and changing jobs. We can infer inconvenience and sentimentality are compelling enough for people to stay put. However, these reasons may not completely outweigh the financial benefits you gain in a city far from home.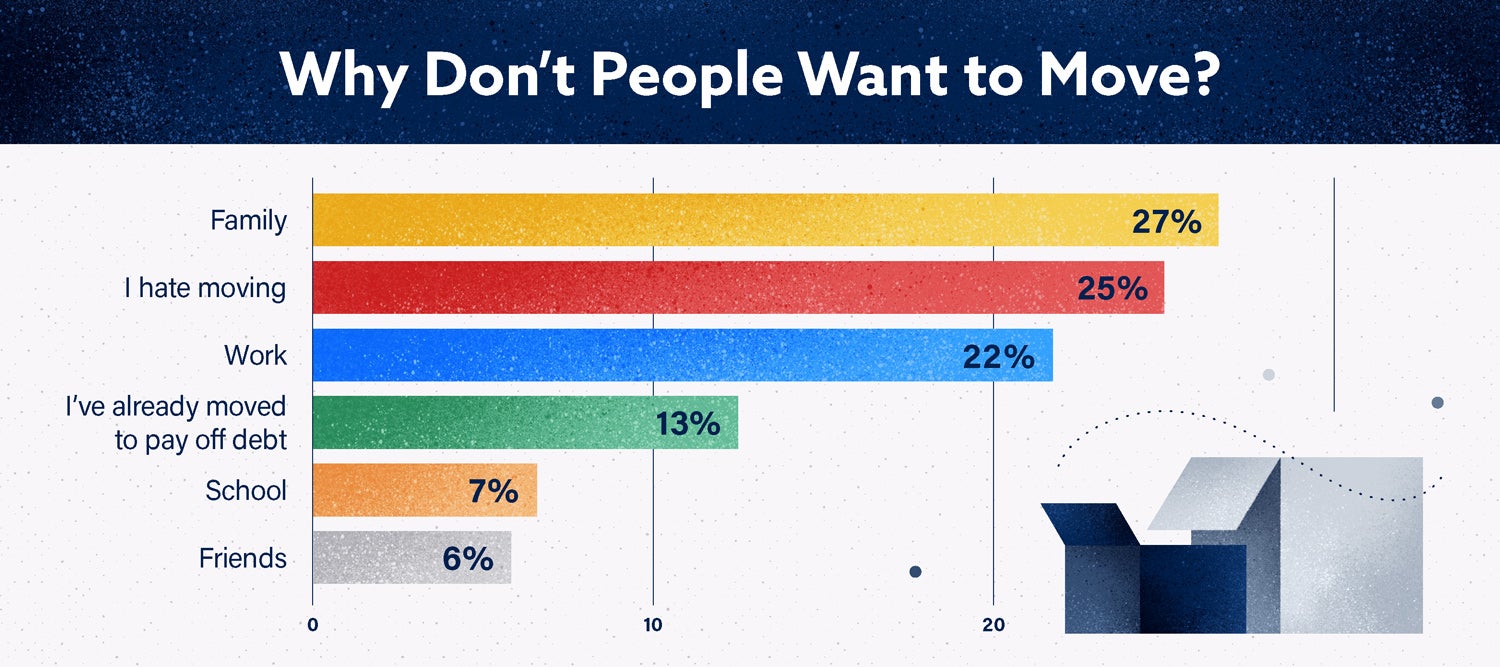 How You Lose When You Don't Move
We already know that we can keep more of our income in places that have low or no taxes. There are a handful of other perks to moving depending on where you live. Some cities offer living stipends while others offer tax credits. Take a look at some of the top financial perks you may be missing.


Good Cost-to-Income Ratio
Some people believe that a low cost of living is a great perk, but there are times where it's not always a financial benefit. Lower prices don't mean much if your income is also low. Finding a location with a good balance between the area's cost of living and income will help your dollars go further.

Examples of States with a Good Cost of Living to Income Ratio
North Carolina – Check out Charlotte
Missouri – Check out Kansas City
Nebraska – Check out Omaha
Fewer Taxes
There are several states in the US that do not impose state taxes. Like our earlier example, living in an area where you pay fewer taxes can make a big difference over time. One thing to note is that places with low or no taxes in one area (like income) may have higher taxes in another. For instance, some states that don't impose state taxes on personal income may have higher sales taxes.

Examples of States Without State Income Taxes
Student Loan Repayment
If you're drowning in student loan debt, there are many private and public programs that offer scholarships and stipends to assist paying off this type of debt. The catch is that most of these programs require you to live in that area. Some programs also require you to hold a specific occupation to qualify. Check the specifics of each program before deciding to move to ensure you and your debt meet the requirements.

Examples of Places with Student Loan Repayment Programs
Kansas – Rural Opportunity Zones in Kansas can offer state income tax waivers and/or student loan repayments for new residents.
Ohio – The Hamilton Community Foundation in Hamilton, Ohio, offers the Talent Attraction Program (TAP) Scholarship for college graduates who will move to Hamilton.
Michigan – The St. Clair County Community Foundation in St. Clair County, Michigan, offers the Come Home Award to STEAM (science, technology, engineering, arts, mathematics) graduates who will move to St. Clair County.
Higher Median Household Incomes
Some places offer higher incomes for different positions for several reasons, including the demand for the area and standard of living. Like we mentioned earlier, you should compare the potentially higher salary with the cost of living in your new home. A 25 percent boost in your income might not mean much if your cost of living also skyrockets.

Examples of States with High Median Household Incomes
New Jersey – $80,088
Maryland – $80,776
Alaska – $73,181
Stipends, Dividends and Cash Incentives
Certain cities in the US and around the world offer stipends and other financial perks to attract talent and supplement employment shortages. You can take advantage of this to offer your skills to a smaller city in exchange for stipends and other incentives.

Examples of Cash Perks:
Vermont – The Remote Worker Grant Program offers grants to cover the costs of moving to work and live in Vermont as well as other things needed to perform the job like commuting and supply costs.
Oklahoma – The Tulsa Remote program in Tulsa, Oklahoma, offers cash up front to remote workers seeking to relocate there, in addition to other perks like coworking memberships and housing stipends.
Alaska – The Permanent Fund Division distributes dividends to residents from the state's investment earnings on mineral royalties.
Best Places to Move to Get Out of Debt
These perks are offered in different locations around the world. Many of them are available based on the area's desire to alleviate labor shortages and boost the local economy.

We've highlighted some of the best places to move in both the United States and around the globe. Take a look at our list to see what places you should consider for your next move and what areas you should avoid.
Around the United States
If you live in the US and don't want to move too far from home, consider living in one of these states. These states are among those with a good cost of living to income ratio, low unemployment rates and great financial perks that can help lighten the burden of debt payments. Take a look at these US states and see if you might want to call one home.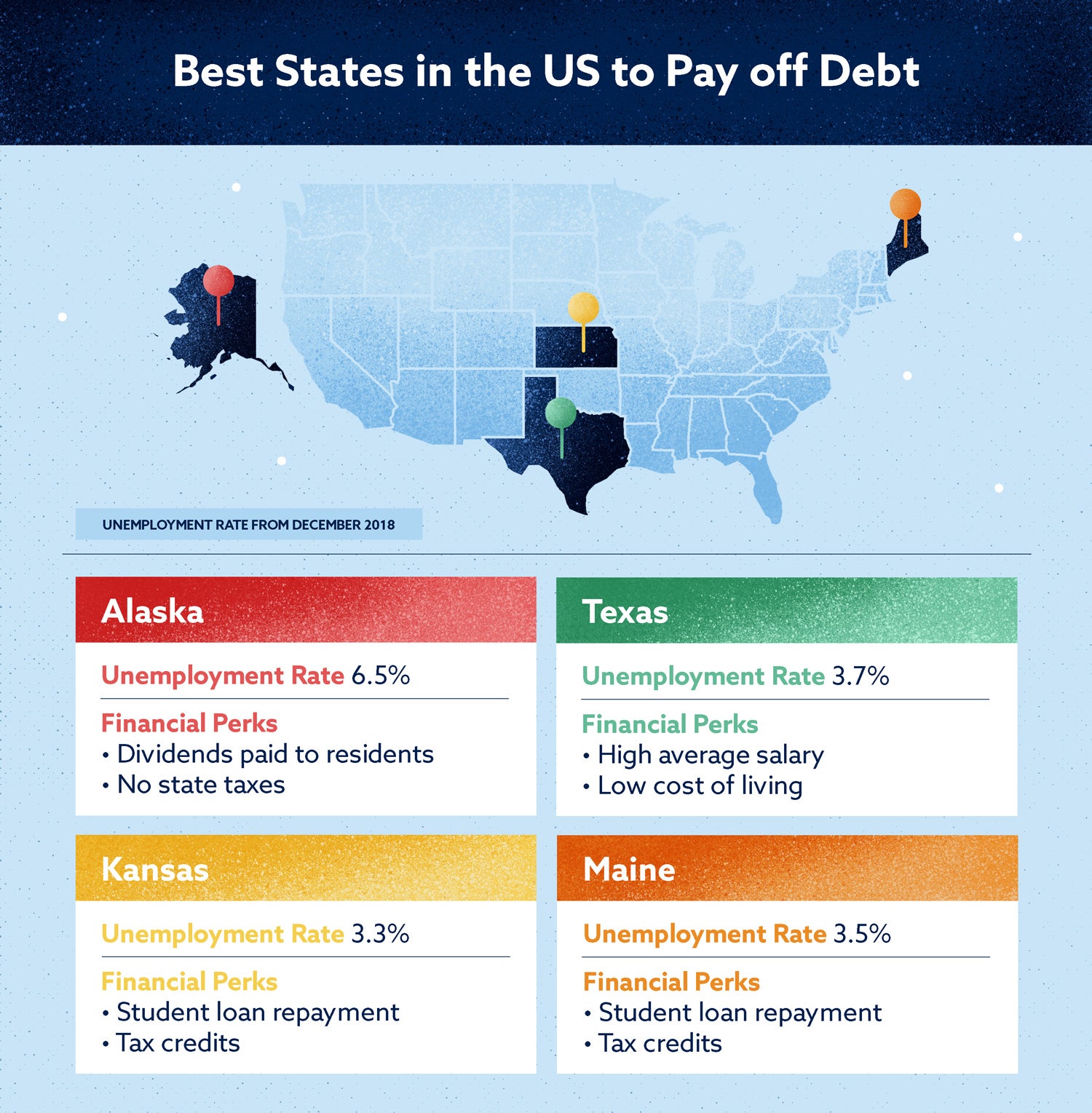 Alaska
This state is located in the northwest corner of North America. Living in a more populated area like Anchorage will grant you the benefits of a strong economy, unique dining experiences and entertaining local performances. Like we mentioned earlier, Alaska residents receive annual dividends from the government thanks to the state's investment earnings. They also enjoy the benefits of high median household income and no state taxes.

Unemployment Rate: 6.5%
Cities to Check Out: Anchorage, Fairbanks
Kansas
This midwestern state has a lot to offer. Kansas has a low unemployment rate, so it's a great place to go if you're struggling to find a job. They have a federal student loan repayment program that will either pay off your student loan debt or grant you tax credits equal to your loan. Marquette is one place to check out if you're interested in putting down roots since this city will give you free land to move and build a house.

Unemployment Rate: 3.3%
Cities to Check Out: Topeka, Colby
Maine
Located in the northeastern sector of the United States, Maine is home to natural beauty that you won't find in more urban American states. Maine's Educational Opportunity Tax Credit is available for certain college graduates with student loan debt. STEM graduates are particularly in luck since the Finance Authority of Maine (FAME) offers the Alfond Leaders student debt reduction program for those who move to and work in Maine.

Unemployment Rate: 3.5%
Cities to Check Out: Caribou, Gardiner
Texas
The Lone Star State is the home of The Alamo, southern hospitality and some of the best BBQ in the country. In addition to all of these great perks, you'll also find that many Texas cities have a great ratio between the average income and cost of living. The best part is that you can still enjoy the benefits of a lively city without paying a high price.

Unemployment Rate: 3.7%
Cities to Check Out: Dallas, Houston, Fort Worth
Around the World
If the perks within the US aren't cutting it for you or you're interested in traveling, then a big move to another country might be the best option for you. Different countries offer similar perks and the added benefit of experiencing another culture. However, things like taxes, rent prices and employment can be drastically different than in the US. Make sure you familiarize yourself with the area before moving there so you understand the different ways your lifestyle and finances will be impacted.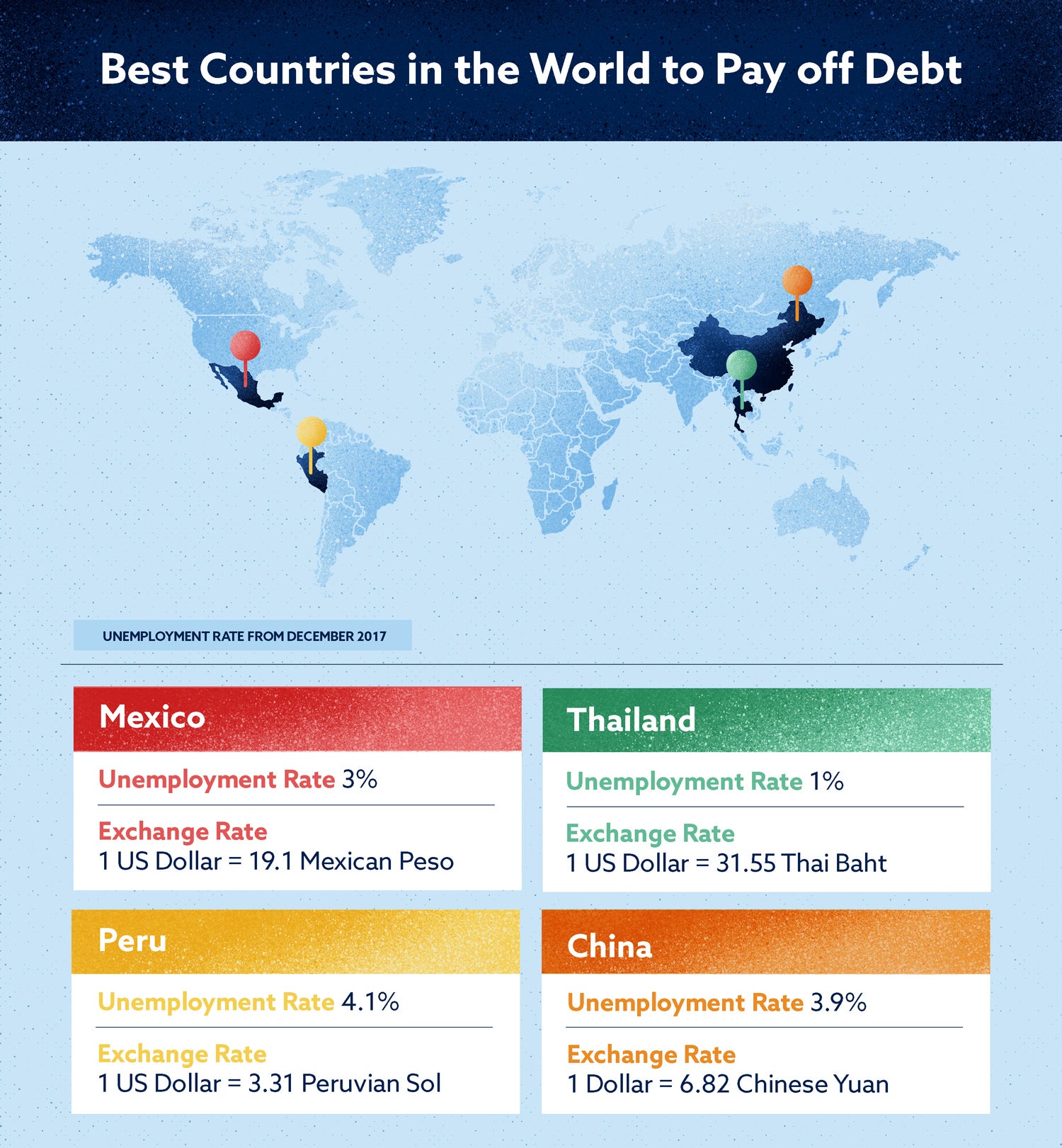 Peru
This South American country is one of the most affordable places to settle and work in the world. Many digital nomads like to stay here for months at a time while others choose to retire and live the remainder of their lives in this scenic country. Machu Picchu and the Amazon are just a couple famous places you can easily visit while living in this country.

Unemployment Rate: 4.1%
Cities to Check Out: Cusco, Arequipa
Exchange Rate: 1 US Dollar = 3.31 Peruvian Sol
Thailand
Southeast Asia is home to another country that's particularly popular with digital nomads. The city of Bangkok is a fun place to settle if you're looking for big city life without big city costs. Chiang Mai is another city worth checking out thanks to it's equally lively population and abundance of coffee shops with WiFi. Thanks to its affordability, it's feasible to acquire gym memberships and occasionally dine at high-quality restaurants without breaking the bank.

Unemployment Rate: 1%
Cities to Check Out: Chiang Mai, Bangkok
Exchange Rate: 1 US Dollar = 31.55 Thai Baht
Mexico
If you're looking to stay close to the United States, Mexico is one choice to consider. The key here is to avoid popular tourist destinations like Cancun and look for more local, inland cities to settle down. The affordable housing and medical costs, scenic beaches and great food are just a few reasons to live in Mexico.

Unemployment Rate: 3%
Cities to Check Out: Merida, Guanajuato
Exchange Rate: 1 US Dollar = 19.1 Mexican Peso
China
Working in China is a great move to make thanks to the booming economy. This country has a great balance between its cost of living and average income. You'll also enjoy accessible transportation around the country thanks to their convenient and cheap network of public transit. If you're looking for the most affordable places to live, you should plan to live away from the big cities like Beijing and Shanghai (unless you have some money saved up and you're confident you can land a job in either city!).

Unemployment Rate: 3.9%
Cities to Check Out: Chengdu, Nanjing
Exchange Rate: 1 Dollar = 6.82 Chinese Yuan
Getting Out of Debt and Fixing Your Credit
Getting out of debt takes a lot of work and may require some sacrifices, but is possible with the right plan in place. There are different methods to pay off debt to consider when formulating your debt repayment strategy. You should always choose the tactic that best works for your situation.

You should also consider how debt impacts your credit score when prioritizing which debts to pay first. Fixing your credit and getting out of debt go hand-in-hand since you'll need good credit to make big purchases like a new home or car. Navigating debt, credit changes and everything in between can be especially overwhelming if you're managing multiple debts.

Along the way, you may find some inaccurate negative items on your credit report like a credit card you never had or a reported late payment that was never paid late. These items add up and can hurt your score. Lexington Law can assist you with disputing inaccurate items on your credit report to ensure all items are fair and accurate.
Methodology
This study consists was conducted using Google Surveys. The sample consists of no less than 2,000 completed answers. Post-stratification weighting has been applied to ensure accurate and reliable representation of the total population. The survey ran in April 2019.

Sources: U.S. Census 1, 2, 3 | Fool | SmartAsset | Student Loan Hero | Alaska.gov 1, 2 | Kansas Commerce | Bureau of Labor Statistics 1, 2, 3, 4, 5 | Investopedia 1, 2 | Cheapest Destinations Blog | Go Abroad | International Living 1, 2, 3 | CEIC 1, 2, 3, 4 | Travel and Leisure | USA Today | Saskatchewan | CNBC