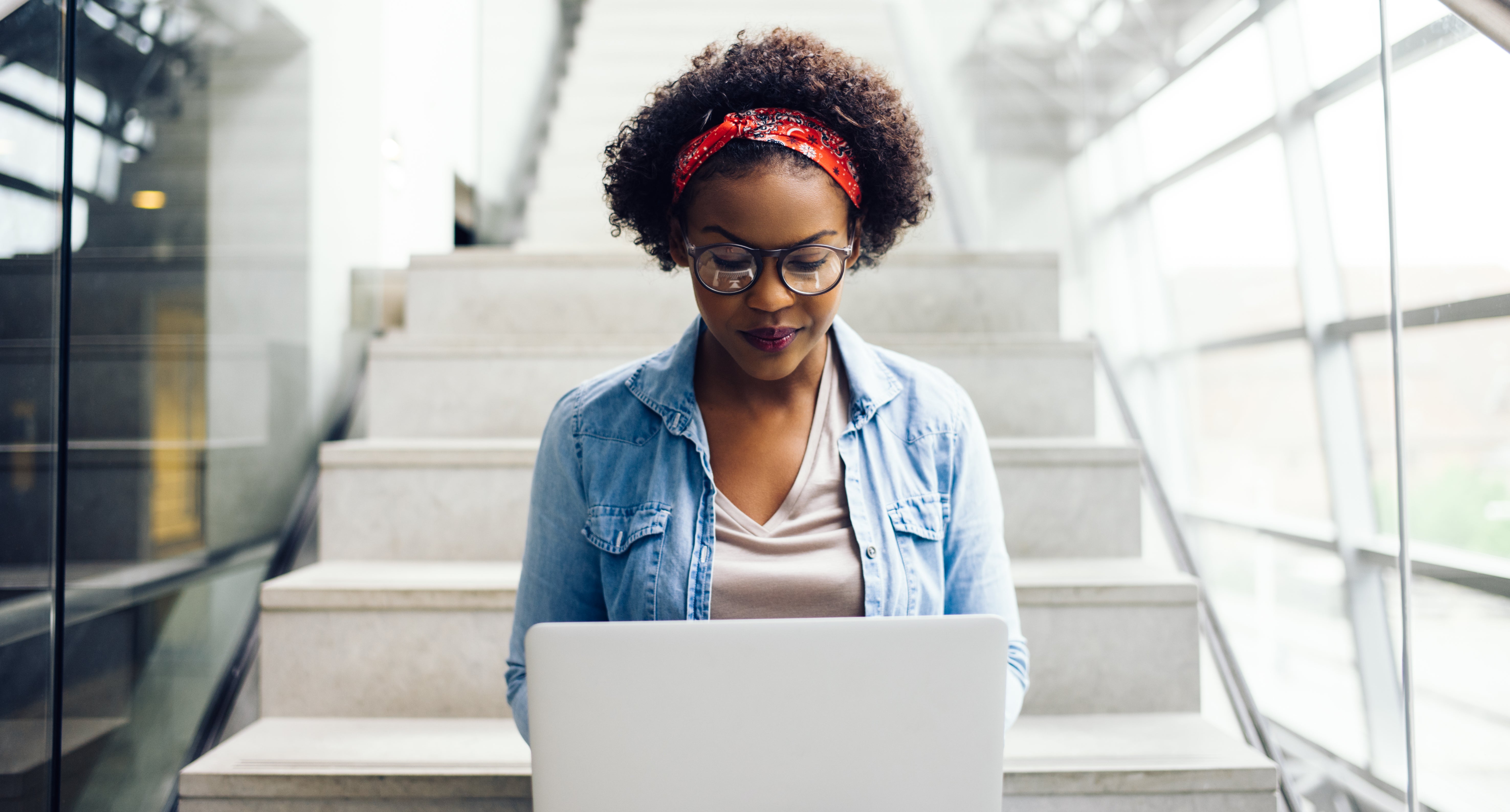 Over 44.7 million Americans have student loans on file, adding up to a staggering $1.56 trillion in February 2019. The class of 2018 walked off the stage with an average debt of $29,200. The US Census reported in 2019 that 32% of Americans held a bachelor's degree or higher.
Many attribute the growing number of Americans pursuing higher education to the job market. A study conducted by Georgetown University found that 35% of jobs required a bachelor's degree or higher.
The burden of student loans is poised to have lasting effects on graduates as home ownership among Americans under the age of 35 is down and the expected retirement age is rising. With college tuition increasing, it is important for graduates and potential student loan borrowers to practice strategic financial planning in order to plan for future investments.
General Student Loan Debt Statistics
Student Loan Default Rates
A borrower defaults on a loan when the payment is more than 270 days late. Missing and defaulting on student loan payments cause severe effects on your credit score and can create barriers when applying for insurance plans and financing, as well as seeking housing and loans.
40% of borrowers who entered school in 2004 may default on their student loans by 2023. [Source: Brookings]
Students who attended for-profit colleges are two times more likely to default within a 12-year period as students who attended public universities. [Source: Brookings]
Student Loan Debt by Age
Analyzing student loan borrowers by age demographics can be helpful to understand the financial status of Americans. According to the Pew Research Center, 34% of all student loan borrowers were under the age of 30 and around 22% were between the age of 30 – 44.
As of February 2019, the total balance of student loan debt in the United States reached $1.56 trillion dollars.
Ages 24 and younger: 8.2 million
Ages 25–34: 12.8 million
Ages 35–49: 10.2 million
Ages 50–61: 1.1 million
Ages 62 and older: 1.1 million
Of the total student loan borrowers, the largest growth-by-age between 2018 and 2019 was among the 62 and older age group. This group experienced a 22.2% growth from .9 million borrowers in 2018 to 1.1 million in 2019.
Ages 24 and younger: 3.53% decrease
Ages 25–34: 5.19% decrease
Ages 35–49: 6.25% growth
Ages 50–61: 71.8% decrease
Ages 62 and older: 22.2% increase
2019 Student Loan Balances by Age Group [Source: Experian]
Ages 24 and younger: 123 billion
Ages 25–34: 454.6 billion
Ages 35–49: 406.8 billion
Ages 50–61: 171.3 billion
Ages 62 and older: $42.8 billion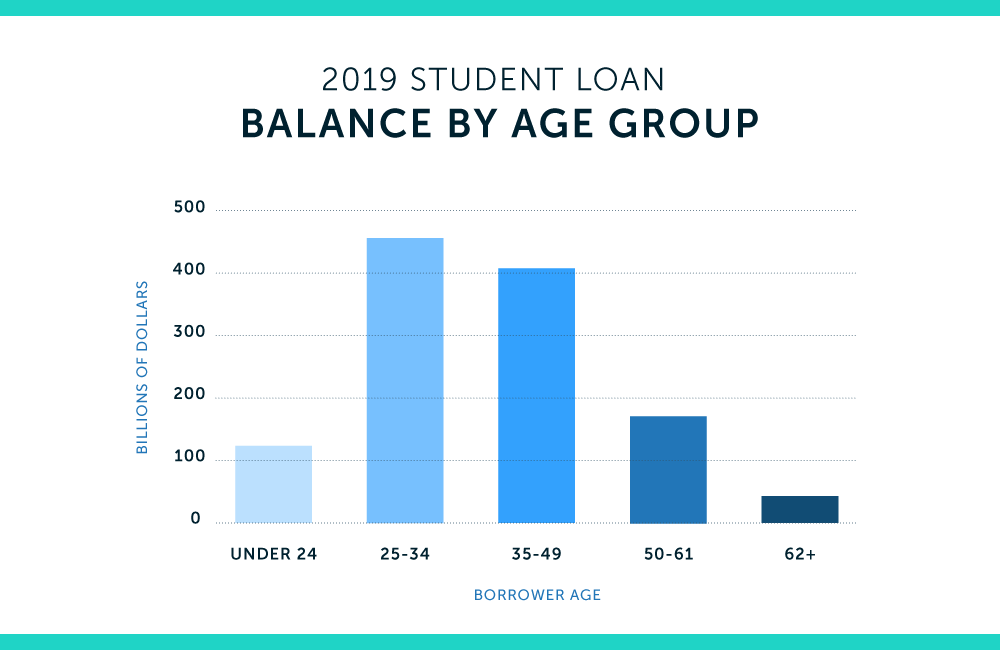 Growth of Student Loan Balances by Age Group  [Source: Experian]
The highest growth in student loan balances was among borrowers above the age of 60 with a 24.4% growth from 2018 to 2019.
Ages 24 and younger: 3.3% decrease
Ages 25–34: 5.33% increase
Ages 35–49: 12.72% increase
Ages 50–61: 13.75% increase
Ages 62 and older: 24.4% increase
Direct Federal Student Loan Outstanding Balances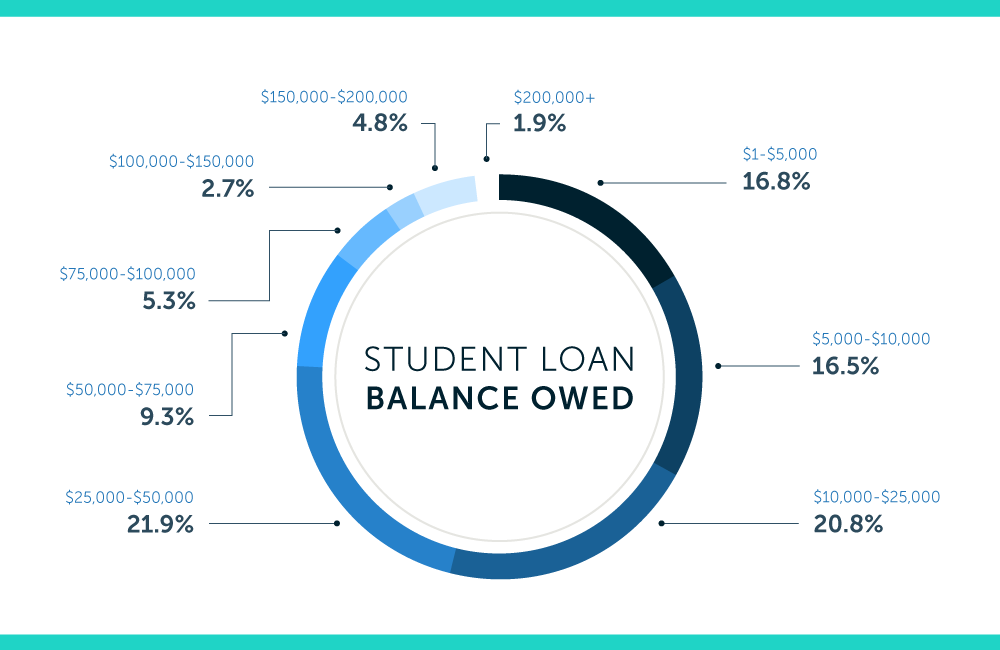 | | |
| --- | --- |
| Balance in Q4 2017 | Number of Borrowers |
| Between $1 and $5,000 | 6,300,000 |
| Between $5,000 and $10,000 | 6,200,000 |
| Between $10,000 and $20,000 | 7,800,000 |
| Between $20,000 and $40,000 | 8,200,00 |
| Between $40,000 and $60,000 | 3,500,000 |
| Between $60,000 and $80,000 | 2,000,000 |
| Between $80,000 and $100,000 | 1,000,000 |
| Between $100,000 and $200,000 | 1,800,000 |
| $200,000+ | 609,800 |
Student Loan Debt By State
The cost of education is not the same throughout the United States. As universities are funded on a state level and the cost of living changes throughout the country, college graduates are coming out financially ahead or behind others depending on their location. [Source: FRBNY]
States With the Most Student Loan Borrowers  [Source: FRBNY]
California: 3,781,000 borrowers
Texas: 2,893,000 borrowers
New York: 2,514,000 borrowers
Florida: 2,209,000 borrowers
Pennsylvania: 1,881,000 borrowers
States With the Highest Average Debt Per Capita [Source: FRBNY]
Georgia: $7,250
Maryland: $6,740
Minnesota: $6,280
Ohio: $6,220
Pennsylvania: $6,210
States With the Lowest Average Debt Per Capita [Source: FRBNY]
Wyoming: $3,610
Hawaii: $3,780
West Virginia: $4,020
Alaska: $4,030
New Mexico: $4,070
States With the Highest Delinquency Rates [Source: FRBNY]
Mississippi: 18.34% Delinquency Rate
West Virginia: 18.01% Delinquency Rate
Kentucky: 16.00% Delinquency Rate
Oklahoma: 15.63% Delinquency Rate
New Mexico: 15.21% Delinquency Rate
Effects of Student Loan Debt
The effects of student loan debt span into the adult lives of graduates entering the workforce. With high monthly loan repayment contributions, graduates are delaying the age that they will be able to purchase a home, get married, have children and retire.
Graduate Student Loan Debt
Between 2008 and 2012, the median debt of graduate students in America was around $57,600. In 2012, students in the medicine and other health sciences programs were graduating with the highest median debt of $161,772 with law students trailing behind with a median debt of $140,616.
Median Debt Per Graduate Program in 2012
Business Administration: $42,000
Education Masters:  $50,879
Master of Arts: $58,539
Master of Science: $50,400
Other Master's Degree: $55,489
Medicine (MD) & Other Health Science: $161,772
Law (LLB or JD): $140,616
Percent of Masters Graduates with Debt in 2012
Business Administration: 57%
Education Masters: 67.3%
Master of Arts: 69.5%
Master of Science: 59.3%
Other Master's Degree: 75%
Medicine (MD) & Other Health Science: 87%
Law (LLB or JD): 86.3%
Private Student Loan Debt
Taking out a private loan to pay for education is a route that many college students use to fund school. Unlike Stafford Loans that are subsidized by the government, a private loan tends to have a higher interest rate and does not come with any of the benefits of federal loan forgiveness and income-based payment program.
47% of private student loan borrowers from 2011–2012 borrowed less than they could from a Stafford Loan. [Source: TICAS]
45% of private loan borrowers could not have borrowed more with a Stafford loan.  [Source: TICAS]
6% of all undergraduates from 2011–2012 borrowed private loans. [Source: TICAS]
Financial Planning for Graduates
As graduates entering the workforce are burdened with student debt there is a growing need to practice careful planning to reach financial goals. Paying off student loans will take priority over contributing to any retirement savings accounts or contributing to saving for future life events.
When it is time to prepare for major financial changes, student loan borrowers should consider a number of resources for lessening the burden of their debt:
Student Loan Refinancing
Student loan refinancing is an option for borrowers who would like a better interest rate, a longer repayment time and a lower minimum monthly payment. Refinancing a student loan is, in certain cases, beneficial for people falling behind on payments or for those who would like to pay off their debts faster.
Student Loan Consolidation
If a borrower has multiple student loans or other sources of debt, the loans can be consolidated into one lump sum. When considering debt consolidation, it is important to prioritize the financial benefits over any other convenience. For certain borrowers, loan consolidation may not be worth it, as it often brings higher interest rates and a longer term of repayment.
Student Loans' Affect On Credit
Borrowing any large sum of money will have a large impact on your credit score. Your payment history will become a major contributing factor to a credit score which can quickly decline if you fall behind on payments. If you are unsure if student loans are having a negative effect on your credit score, you can receive a free credit report summary and consultation to help assess your student loans and other credit factors.