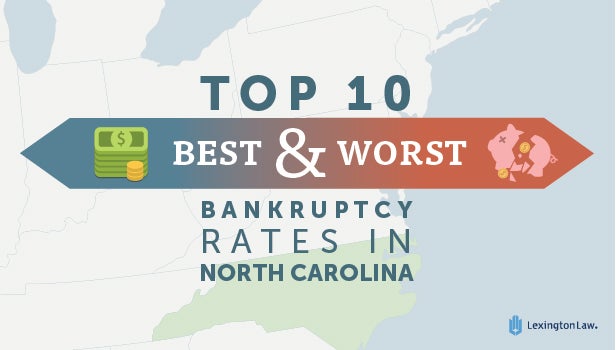 In a previous post we took a look at how bankruptcy rates were more common in some regions than others. The reasons pointing to bankruptcy varied, but economic factors were one issue that played a major role. For example, southern states have a greater prevalence of bankruptcy, while more poverty-stricken areas also see increased rates of bankruptcy.
And while looking at the nation as a whole is important for putting this fiscal condition into perspective, we felt we could go a bit deeper and focus more specifically on states. In this piece, we'll take a look at North Carolina.
Not the worst
North Carolina is not at the bottom of the pile when it comes to bankruptcy-ridden states. In fact, it fares better than many, with an average of 16.71 bankruptcy cases per 10,000 residents. This doesn't put the state anywhere near the top. However, there is no denying that bankruptcy exists, and with a steadily growing population, which is currently at almost 10 million people, the state of North Carolina should be aware of which areas are being hit by bankruptcy the hardest.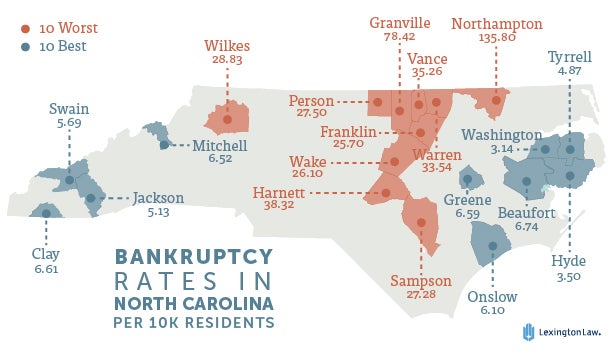 The best way to do this is to break the state down by county, providing the 10 best and 10 worst pertaining to bankruptcy rates. As you can see, Northampton is far and away being hit the hardest by bankruptcy issues. Averaging 135.80 out of 10,000 residents, this county is far above the number two county, Granville, which has 78.42. From there the gap gets smaller and more gradual.
At the other end of the scope, you'll see Washington county takes the top spot with only 3.14 bankruptcy cases out of 10,000, just underneath Hyde County with 3.50. However, it is important to note that not all bankruptcy filings are the same, as no two financial situations are alike. So while these numbers display how many bankruptcy cases there have been, specifics are needed to further investigate what these numbers actually mean. On the other hand, concentrated cases certainly demonstrate a trend, which is alarming to many financial professionals.
See the complete North Carolina county list here:

What to know about bankruptcy
Filing for bankruptcy can help individuals remove debt they are unable to pay back. While there are many causes for bankruptcy, it is important to know that filing for bankruptcy is not the only option for eliminating debt. Only when individuals or businesses reach a financial position without options is bankruptcy turned to.
That being said, the process can certainly assist individuals getting back on their feet. While it stays on a credit report for some time and can make it difficult to attain loans or large amounts of credit for some time as well, it can also help alleviate a dire situation.
There are also different types of bankruptcy, as it is not a one-size-fits-all process. And which bankruptcy type a consumer files (often Chapter 7 or 13) can dictate how long it stays on a credit history. But in the end, bankruptcy removes debt and allows people to move on with their lives.
Methodology
County bankruptcy rates are from March 31, 2014 to March 31, 2015. Those data were sourced from a database of bankruptcy filings offered by the U.S. Federal Courts (uscourts.gov). We included all bankruptcies, both by businesses and individuals, including Chapter 7, 11, and 13 filings.