America is obsessed with happiness — so obsessed that we Google it 124 thousand times a month — all in the pursuit of happiness.
While the definition of individual happiness varies person-to-person, the UN Sustainable Development Solutions Network has managed to put some parameters around the otherwise abstract term. In order to compile their annual World Happiness Report, the team studies factors like GDP per capita, social support, healthy life expectancy, freedom to make life choices, generosity and perception of corruption in order to rank each country's overall happiness. You might assume the U.S. would rank at the top considering how interested we are in happiness, but if happiness were an Olympic sport, we wouldn't even take home the bronze medal. The U.S. is ranked #18 in terms of overall happiness.
While it's important to note the difference between correlation and causation, many of the world's happiest countries have higher average income taxes than the United States. Taxes have been a divisive topic in American politics, but political affiliation aside, it's hard to ignore the relationship between taxes and overall happiness as exhibited by other countries around the world.
We surveyed 1,000 people to find out whether Americans would be willing to pay higher taxes to improve their happiness, and here are some of our key findings:
Over half (54 percent) of Americans wouldn't pay higher taxes — even if it would improve their happiness.
People of childbearing ages (18–44) are 3 times as likely to support higher taxes for parental leave.
Over half of Americans don't believe higher taxes would improve happiness — despite research saying otherwise
As mentioned, taxes and happiness are certainly correlated, so it's shocking to find that slightly over half of the U.S. population wouldn't be in favor of increasing taxes under any circumstance. Or perhaps it's not shocking at all when you consider that 57 percent of Americans are not confident in their understanding of the U.S. tax code. For many Americans, the only time they consider taxes is when Tax Day rolls around each April.
Though more and more states are making financial literacy classes a requirement for high school graduation, as of 2016, only 12 percent of elementary and high school classes teach forms of financial education.
Beyond whether or not Americans would be willing to pay higher taxes, we wanted to find out which government programs they would be most willing to support considering social support is one of the pillars ranked in the World Happiness Report. Among the factors included in our survey — universal health care, social security, college education, infrastructure and parental leave. Before we jump into survey findings, here's some telling information about how the United States stacks up to those seventeen happier countries.

3 in 4 Americans wouldn't pay higher taxes for universal health care
Of the options presented, universal health care received the most unanimous support even though only 25 percent say they would pay higher taxes for it. Of course, that still leaves the other 75 percent unwilling to pay premiums for the perk. This underwhelming support for universal healthcare is interesting because it contradicts recent studies that show majority support for single-payer health care. According to Reuters, 70 percent of Americans are in favor of Medicare-for-all. It's possible that in an idealist world, Americans support universal health care, but when presented with the reality of tax increases, support falters.
Parental leave: an issue of age or gender?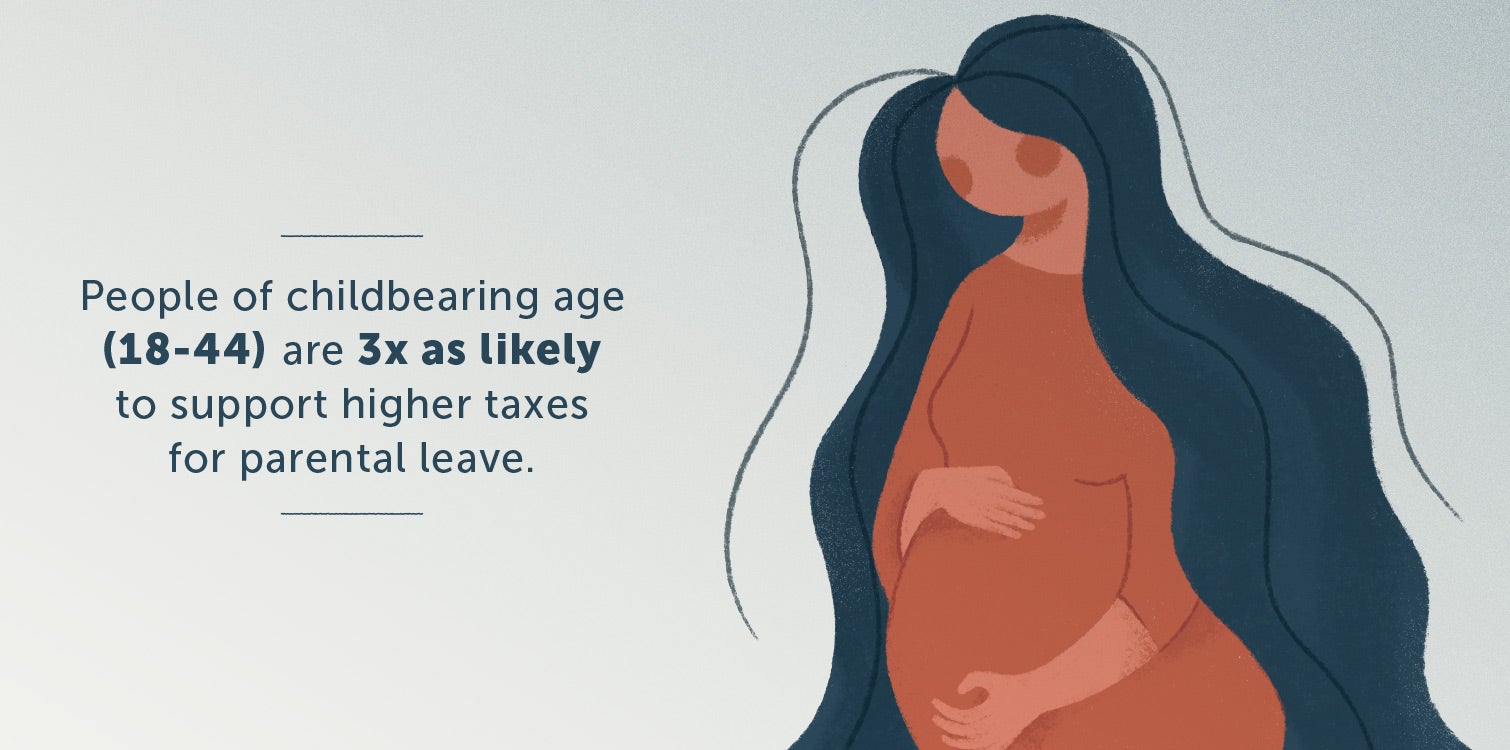 The United States is the only country in the developed world without at least some sort of national paid parental leave law, yet only 11 percent of survey respondents would be willing to pay higher taxes for what is essentially a basic right in every other developed nation.
Support is undeniably lacking across the board, but certain demographic factors like age and gender play a divisive role. Age, specifically with regards to fertility, seems to be the biggest predictor of support for parental leave improvements. Regardless of gender, people in childbearing ages (18–44) are three times as likely to support paying higher taxes for parental leave.
Despite parental leave encompassing both maternity and paternity leave, men are 63 percent less likely to be in favor of paying higher taxes for parental leave. Even more concerning, however, is that even men who are of childbearing age are 43 percent less likely than women of childbearing age. As a result, this issue sits squarely on the shoulders of young women, who on top of it all, earned 80.5 cents for every dollar earned by men in 2017.
82% of countries happier than the U.S. have higher income taxes

In examining the income tax rates of some of the happiest countries in the world, 14 of the 17 countries that have been deemed happier than the United States have higher income tax rates. It would, however, be unfair to say that taxes are the only factor in a country's happiness. Even if it's not immediately apparent, taxes do play a role in each of the six ranking factors (GDP per capita, social support, healthy life expectancy, freedom to make life choices, generosity and perception of corruption).
For example, Americans are dealing with obesity, opioid addiction and major depressive disorder on a scale that is unprecedented by global standards. In combination, these issues mark a public-health crisis that result in a lower life expectancy at birth.
Americans believe impulse purchases will make them happier
In addition to public health problems, many Americans are chasing a misguided pursuit of happiness — perpetuated in part by the American dream. In 1928, Robert Quillen coined Americanism as "using money you haven't earned to buy things you don't need to impress people you don't like." Buying things we don't need, especially with regard to impulse buying, is a major issue for a number of Americans. In a study about impulse buying, 51 percent of respondents said that "feeling happy" was a trigger for unnecessary and unplanned purchases. This is just part of a cycle that feeds off the "happiness high" we get in anticipation of buying something.
According to Knox College psychology professor Tim Kasser, materialism is proven to reduce emotional well-being. If you're left wondering what the best way to improve your individual happiness is, (and hopefully as a result, the national happiness level), take stock in your purchasing decisions. Work to improve your finances and your relationship to consumerism. Small steps are key to growing and changing without feeling overwhelmed. This tax season, consider a few smart things to do with your refund, like paying off debt, investing or giving to charity. These little actions will go a long way.
Methodology
This study consists of one survey question conducted using Google Surveys. The sample consists of no less than 1,000 completed responses per question. Post-stratification weighting has been applied to ensure an accurate and reliable representation of the total population. The survey ran during December 2018.
Sources: PwC | OECD | Time | Princeton | Association for Consumer Research | TaxSlayer