If you've experienced financial distress or want to highlight errors on your report, a consumer statement may be used to explain derogatory credit information to credit bureaus and/or potential lenders. While these statements won't hide negative credit histories, they may help answer some questions on your report to eliminate concern and give a lender the clarity they need to extend you a line of credit or loan.
If you're wondering if adding a consumer statement to your credit report is right for you, read on as we outline exactly what a consumer statement is and a few instances where you may need one.
What Is a Consumer Statement?
A consumer statement is a 100-word statement (200 words for residents of Maine) that can be added to your credit report to address any negative information shown in your credit history. Once placed, potential lenders may review this statement to help clear up any concern they have about your creditworthiness or ability to pay back a loan.
A consumer statement should clearly explain any negative history or discrepancies on your credit report. See an example of a consumer statement below:
"On March 30, 2020, I was laid off from work as a result of the coronavirus pandemic and related shutdowns. Due to this unexpected job loss, I fell behind on my monthly debt payments. I found employment on May 12, 2020, and I am working to catch up on all missed payments. While my credit rating was in good standing before losing my job, I believe these late payments associated with [name of creditor] account are not a true reflection of my creditworthiness."
Once a consumer statement has been added to your credit report, it will be visible to a lender or creditor each time they view your credit report. Once the financial situation on your consumer report has been straightened out, you can elect to remove the consumer statement so it no longer shows up on your report.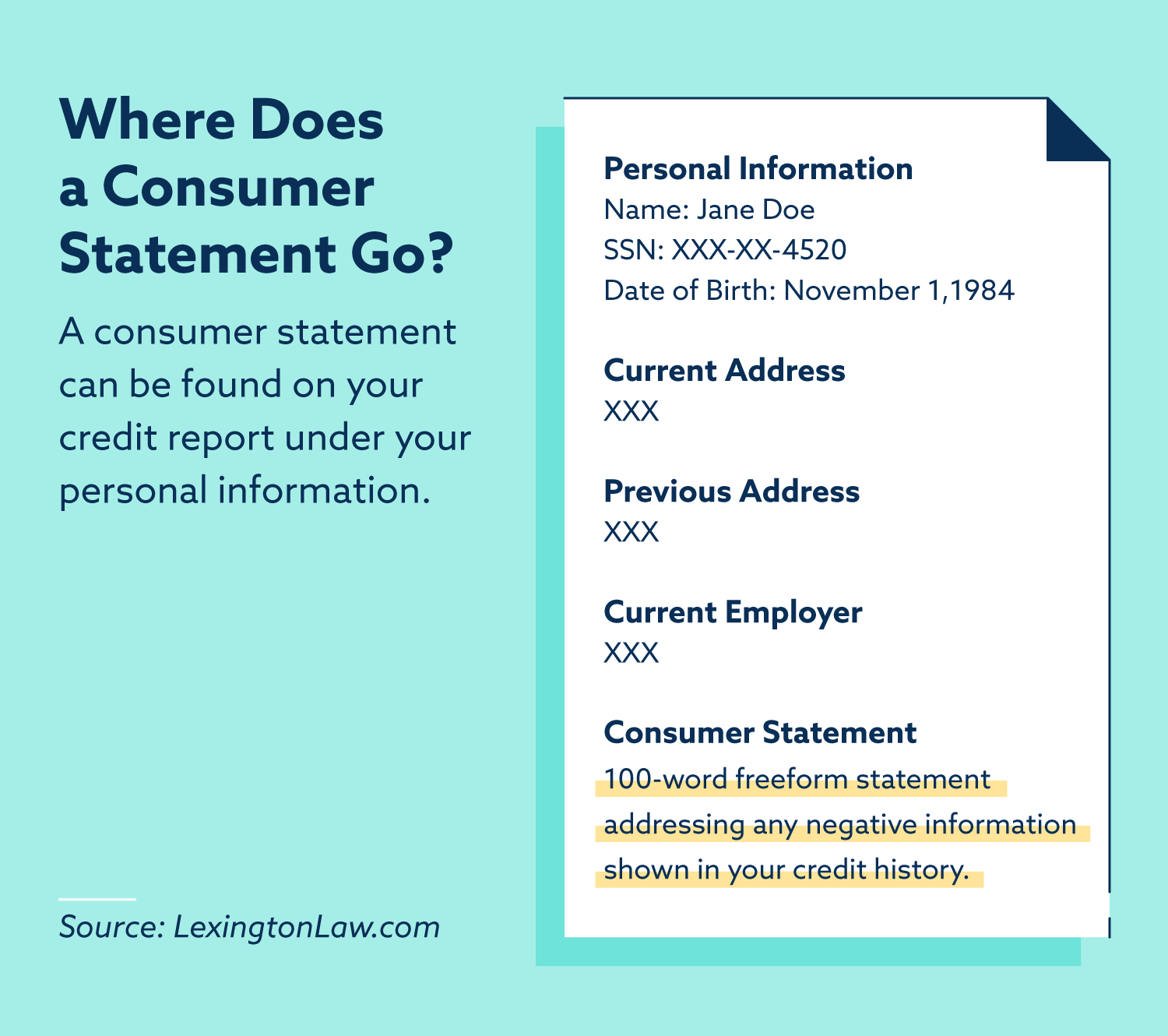 When to Add a Consumer Statement to Your Credit Report
There are a few reasons why you may consider adding a consumer statement to your report: to provide context for derogatory information on your credit report or to dispute any errors that may be negatively impacting your credit. There are two basic types of consumer statements that can be added to an individual's credit report:
General Consumer Statements
These are used to provide background information on your entire credit report, and they can stay on your report for up to two years. An example of when to add a general consumer statement on your report might be after an instance of identity theft or financial hardship as a result of an illness.
Account-Specific Statements
These statements apply to individual accounts and can be used to explain items that may be negatively impacting your credit report. Account-specific statements can remain on your credit report until the accounts they're associated with are removed. An instance where someone might include an account-specific statement on their report might be to address a late payment that was made due to a mailing or shipping delay.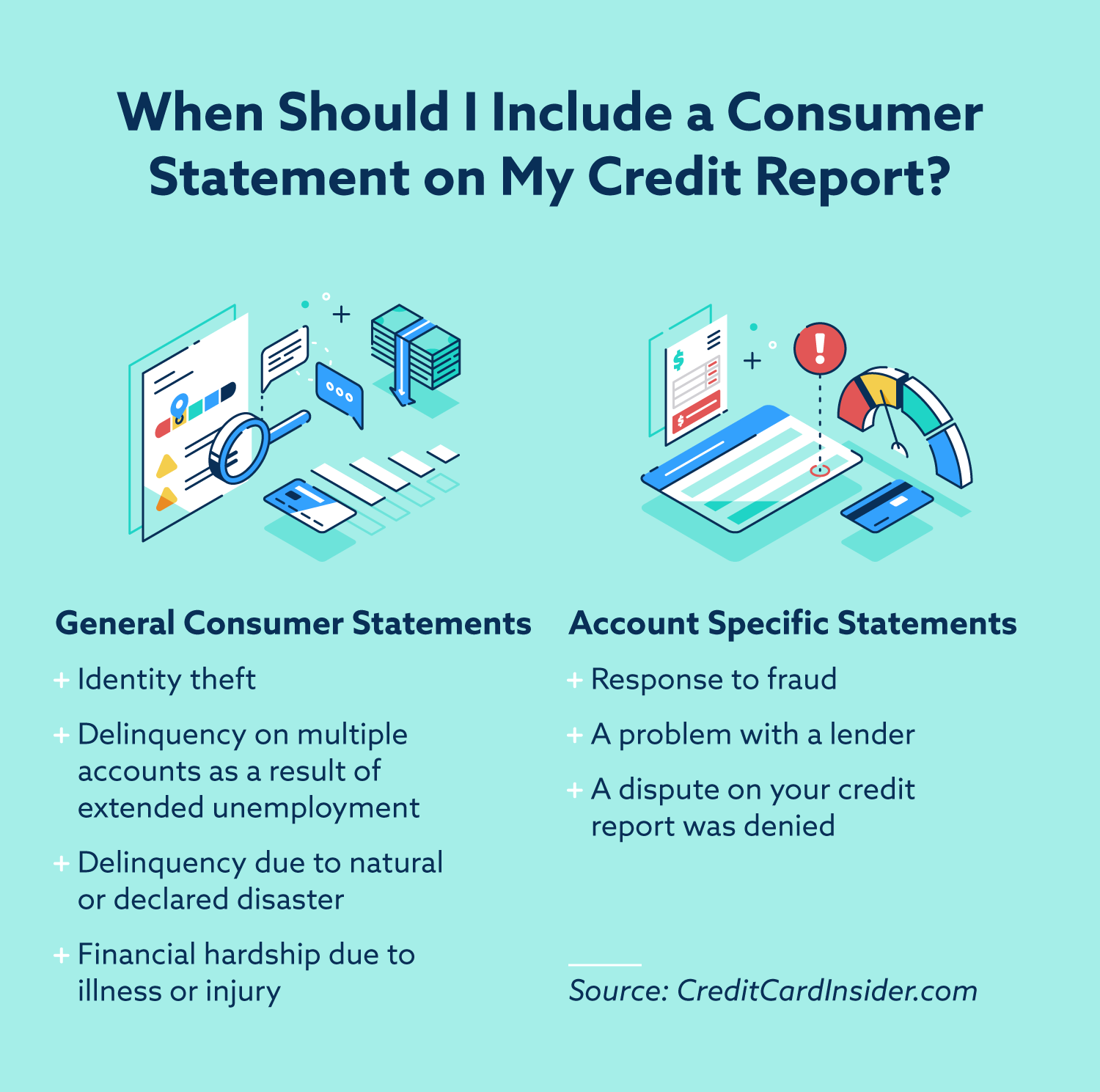 Frequently Asked Questions About Consumer Statements
How Do I Add a Statement to My Report?
If you'd like to add a consumer statement to your report, you can do so free of charge. You'll need to write a 100-word statement (200 words in Maine) and submit it to your preferred credit bureau. You can do this by sending a letter along with your statement to their address or submit your consumer statement online. You'll need to look online or call your credit bureau of choice for instructions on how to add a consumer statement to your report, as each bureau may have its own guidelines.
Does a Consumer Statement Hurt My Credit Score?
A consumer statement will not change any accurately reported information on your credit report and is unlikely to impact your scores. However, providing an explanation for your financial distress or poor credit history may help a creditor or lender better evaluate your creditworthiness or ability to make payments on time.
Can I Remove a Consumer Statement?
If your credit history or financial situation has improved, you can elect to remove a consumer statement so that lenders and creditors can't see it on your credit report anymore. It's best to remove a consumer statement as soon as it is no longer necessary, as it may notify potential lenders that you had a negative credit history in the past and could be a cause for concern when evaluating your creditworthiness. Typically, you can request a removal in the same way you submitted your consumer statement to the bureau. If you have any questions, contact the credit bureau directly.
For more insight on ways to improve your creditworthiness, contact us today for a free personalized credit consultation.
---

Reviewed by Kenton Arbon, an Associate Attorney at Lexington Law Firm. Written by Lexington Law.
Kenton Arbon is an Associate Attorney in the Arizona office. Mr. Arbon was born in Bakersfield, California, and grew up in the Northwest. He earned his B.A. in Business Administration, Human Resources Management, while working as an Oregon State Trooper. His interest in the law lead him to relocate to Arizona, attend law school, and graduate from Arizona State College of Law in 2017. Since graduating from law school, Mr. Arbon has worked in multiple compliance domains including anti-money laundering, Medicare Part D, contracts, and debt negotiation. Mr. Arbon is licensed to practice law in Arizona. He is located in the Phoenix office.
Note: Articles have only been reviewed by the indicated attorney, not written by them. The information provided on this website does not, and is not intended to, act as legal, financial or credit advice; instead, it is for general informational purposes only. Use of, and access to, this website or any of the links or resources contained within the site do not create an attorney-client or fiduciary relationship between the reader, user, or browser and website owner, authors, reviewers, contributors, contributing firms, or their respective agents or employers.