The information provided on this website does not, and is not intended to, act as legal, financial or credit advice. See Lexington Law's editorial disclosure for more information.
There are certain lenders who provide personal loans to those who have a bankruptcy on their credit report. Due to the perceived additional risk, these loans come with higher interest rates.
According to U.S. Courts, there were between about 400,000 and 789,000 bankruptcy filings per year between 2017 and 2021. This means that each year, hundreds of thousands of Americans have damaged credit due to the derogatory marks on their credit reports that come from filing bankruptcy. This makes getting personal loans much more difficult, but it is possible.
Getting a personal loan after bankruptcy requires finding specific lenders who specialize in offering high-risk loans. Here, we're going to cover how to get a loan after bankruptcy, the pros and cons of these loans and their alternatives.
How a bankruptcy affects your credit and ability to get a loan
Whether you file for Chapter 7 or Chapter 13 bankruptcy, the bankruptcy can stay on your credit report for anywhere from seven to 10 years. During this time, it can make it difficult to get a personal loan because lenders see you as high risk.
Typically, people turn to bankruptcy as an option to eliminate or manage their outstanding debts. Due to financial distress, some individuals may need to turn to bankruptcy loans to pay the court filing and attorney fees.
Chapter 7 bankruptcy: Also known as a liquidation bankruptcy, Chapter 7 allows individuals to eliminate debt after selling nonexempt assets to pay a portion of outstanding debts to creditors. Chapter 7 bankruptcy can stay on your credit report for 10 years.
Chapter 13 bankruptcy:  Chapter 13 bankruptcy is also known as a wage-earner plan because it's often the best or only option for those who make a steady income and don't meet the requirements of the Chapter 7 means test. Chapter 13 bankruptcy allows individuals to make monthly payments over the course of three to five years, and it can stay on credit reports for seven years.
Bankruptcies and other derogatory marks, like collection accounts or missed payments, can significantly hurt your credit. When a lender checks your credit and sees a bankruptcy, they're more likely to deny your personal loan application.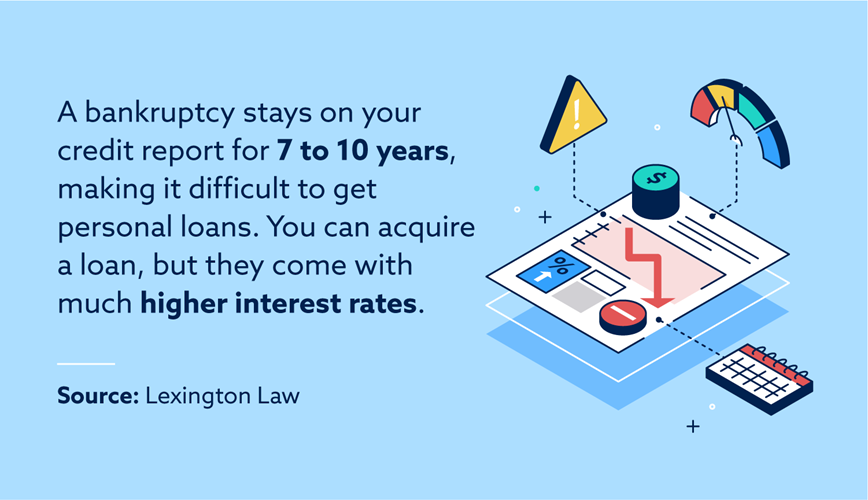 Can you get a personal loan with a bankruptcy on your credit report?
Lenders typically have a credit score minimum to approve loans, which makes it difficult to get a loan with a bankruptcy on your credit report, but it's still possible. Although you can get approved for a personal loan after filing for bankruptcy, lenders who approve these loans charge higher interest rates than normal.
Credit reports and scores indicate how risky it might be for a lender to provide a loan. Lenders usually charge higher interest rates to compensate for the perceived risk. If your bankruptcy is older and closer to dropping off of your credit report, you may be more likely to be offered lower interest rates.
Here are some ways to improve your credit to potentially secure lower interest rates:
Credit builder loans are designed for those trying to establish or rebuild credit.
Secured credit cards are similar to credit cards, but the line of credit is based on the amount of money you deposit. Essentially, you're borrowing from and repaying yourself.
Being an authorized user and piggybacking credit can help you benefit from someone else's good credit.
The downside of personal loans with a bankruptcy
Higher interest rates can affect your finances, and this is the primary downside of getting a personal loan with a bankruptcy on your credit report. Higher interest rates mean that you'll be paying more for the amount of money that you borrow.
For example, with a FICO® credit score of 700, which is in the good range of 670 to 739, your interest rate could be around 14 percent. With a poor credit score under 580, it would be around 30 percent. In the first scenario, paying off a $5,000 personal loan over the course of five years would cost an additional $1,980 in interest. In the second scenario, it would cost you $4,700 in interest.
High-risk lenders willing to provide these loans advertise and offer some of the following:
No credit checks
High-APR installment loans
High-APR credit lines
Payday loans
There are plenty of reputable high-risk lenders, but some predatory lenders or scams take advantage of people with low credit scores as well. They typically advertise:
Up-front fees or payments
Guaranteed approvals
Limited offers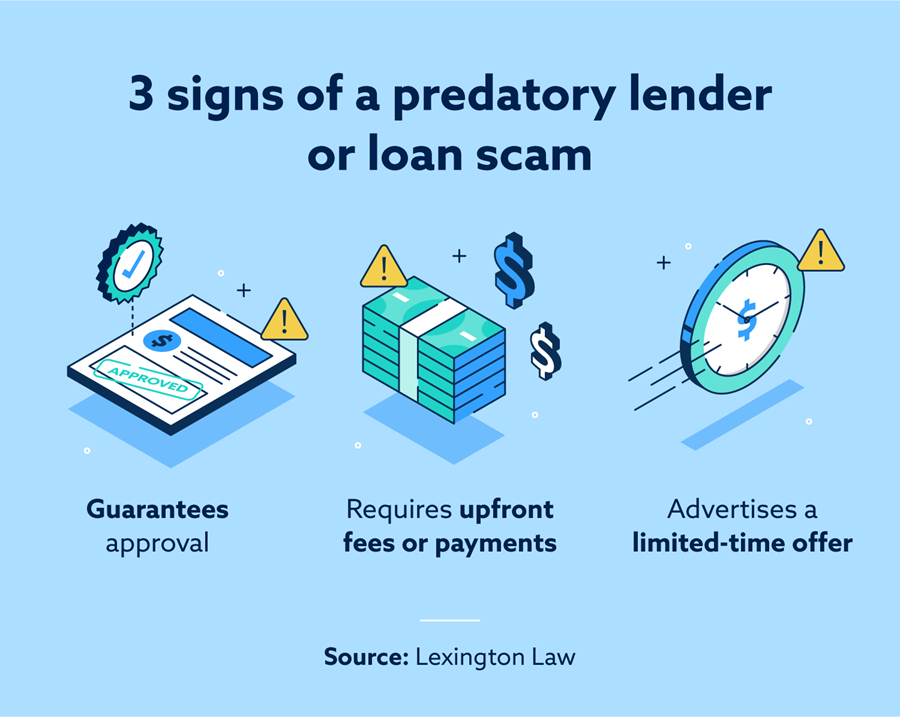 How to apply for a personal loan after bankruptcy
To apply and qualify for a personal loan, you'll need to follow certain steps, which can also help you compare and find the best rates for the personal loan:
Step 1: Prequalify for loans with multiple lenders to compare interest rates
Step 2: Know how much you need to borrow so you can calculate how much the loan will cost along with the interest
Step 3: After choosing a lender, you can apply in person or online, but be sure to check that you have the required documents the lender requests
Step 4: Sign the agreement and receive your funds
Step 5: Make your monthly payments on time to avoid further credit damage
It's always a good idea to see if the lender offers any discounts for using automatic payments. This will also help you avoid missing payments or making them late.
Alternatives to personal loans after bankruptcy
Before taking out a personal loan, it may be a good idea to consider some of these alternatives:
401(k) loan: A loan from your retirement account that may tax you if you don't pay the loan back on time.
Home equity loan: If your house has equity, you can borrow against it with this loan.
Home equity line of credit (HELOC): A HELOC is similar to a home equity loan, but it works more like a credit card, so you can borrow smaller amounts over a period of time.
Payday alternative loan: Your bank or credit union may offer these loans, which are usually up to $1,000 and have lower interest rates than regular payday loans.
Secured personal loan: These loans allow you to use collateral and often have lower interest rates than personal loans.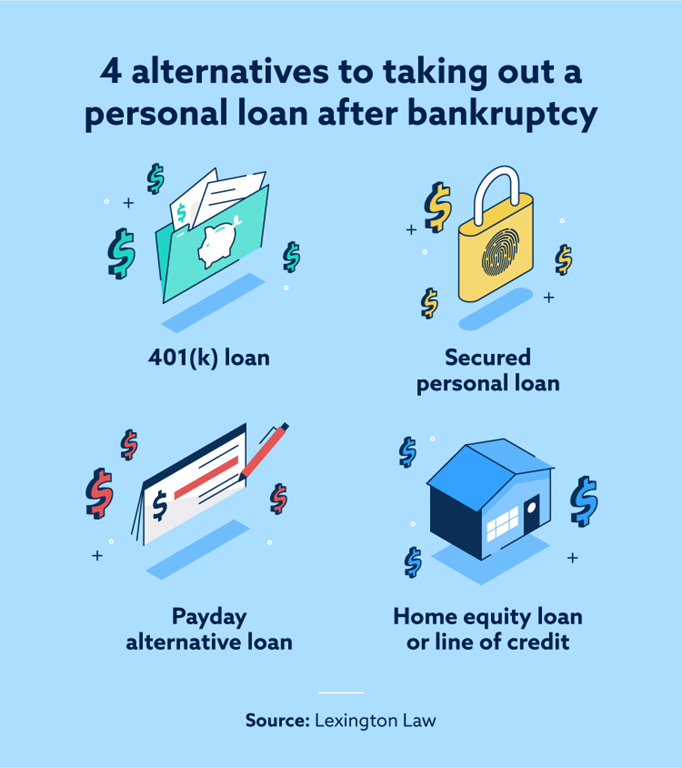 FAQ
Can you take out a personal loan after bankruptcy?
Yes. Some lenders provide personal loans after a bankruptcy, but they often come with higher-than-average interest rates.
When can you get a personal loan after Chapter 7 bankruptcy?
You can apply for a personal loan as soon as your bankruptcy is discharged by the court.
When can you get a personal loan after Chapter 13 bankruptcy?
Similar to Chapter 7, you can apply for a loan once your Chapter 13 bankruptcy is discharged.
Are there car loans for bankruptcies?
Yes. Some car dealerships advertise car loans for those with bad credit. They may have higher interest rates and require proof of regular income.
Are there home loans for bankruptcies?
Yes. Depending on which form of bankruptcy you filed, you can qualify within one to four years after the bankruptcy is discharged. With nonqualified mortgage loans, there's no waiting period.
How to fix your credit after a bankruptcy
Bankruptcy can damage your credit for up to 10 years, but by working with credit professionals, you can work to fix your credit after declaring bankruptcy. Lexington Law provides various services, and we're here to help you get back on the right track with your credit after bankruptcy. In addition to credit monitoring and education tools, we'll also review your credit reports for errors and challenge them on your behalf.
If you want to learn more about fixing your credit after a bankruptcy, contact Lexington Law today.
Note: Articles have only been reviewed by the indicated attorney, not written by them. The information provided on this website does not, and is not intended to, act as legal, financial or credit advice; instead, it is for general informational purposes only. Use of, and access to, this website or any of the links or resources contained within the site do not create an attorney-client or fiduciary relationship between the reader, user, or browser and website owner, authors, reviewers, contributors, contributing firms, or their respective agents or employers.