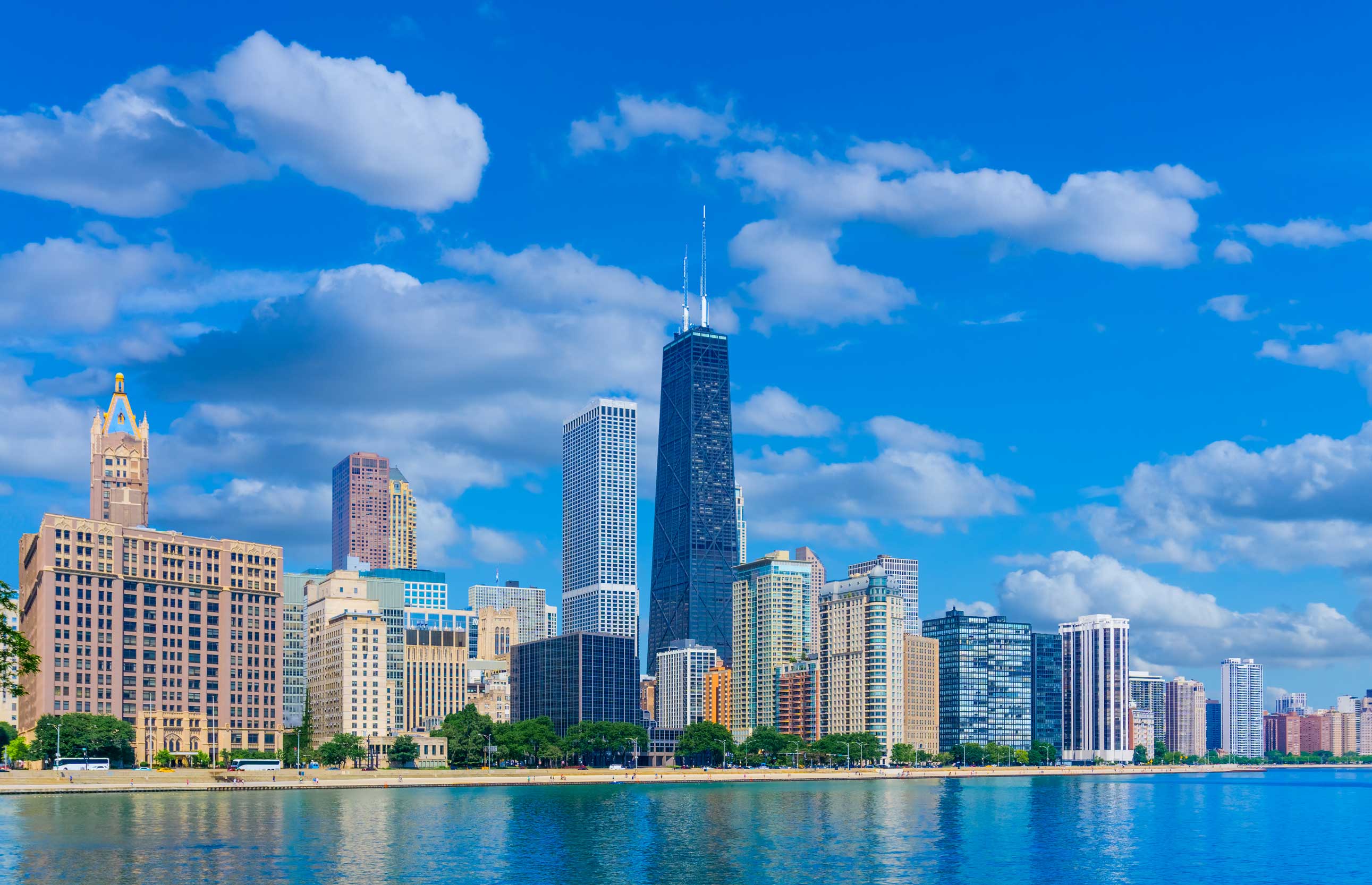 All too often, incurring debt seems to be a necessary evil of getting by in life. And in the city of Chicago, these residents are no exception as they continue to grow their debt balances year over year. Half of respondents to a recent survey conducted by Lexington Law found that the majority of resident's debt — 54.6 percent — comes from credit cards. Not surprising considering that the average Chicagoan carries a personal credit card balance of $6,649.
Chicago ranked higher in credit card debt than several other cities surveyed, including San Antonio, Houston, and Atlanta. But why are Chicago residents using their credit cards so much? Many said they rely on credit cards to get by, using them to cover daily living expenses, resulting in overspending. That's also not surprising considering the cost of living in the Windy City, and the fact that the median income tops out at around $35,329.
Why credit cards?
The survey also looked at the reasons why Chicagoans opened up credit card accounts in the first place. Respondents said the top five reasons for acquiring credit cards were for:
Monthly expenses
Shopping
Unexpected expenses
Vacation
Home improvement projects
With prices rising on everything from homes and utilities to the delicious food for which this city is known, consumers are opening credit card accounts for all sort of reasons. However, these cards carry high interest rates, and balances can quickly become insurmountable, setting the stage for late payments and default.
When it comes to missed credit card payments, Chicago residents have become some of the worst offenders. According to the S&P/Experian Consumer Credit Default Indices, Chicagoans are now more likely to miss a payment than residents of any other major city, including New York, Los Angeles, Dallas, or Miami. Chicago also has the highest combined default rates across car, home, and credit card loans, according to S&P and Experian.
Another factor at play is that lending restrictions have eased up in past years, making it easier for borrowers to open credit accounts, even with bad credit scores.
What can be done?
If Chicago residents hope to turn their credit card debt around and avoid payment delinquencies — or worse, bankruptcy — they'll need to take control sooner than later. There is a light at the end of the debt tunnel, according to the survey, which found that despite the high amount of credit card debt Chicagoans are carrying, the majority of respondents — 77.1 percent — have managed to avoid bankruptcy thus far. However, high debt balances and late payments can still negatively impact credit scores and make it impossible to get loans and other types of credit. And a poor credit score can have far-reaching negative effects, impacting many things, including the ability to rent an apartment or get a job.
In order for Chicagoans to stop the bleeding when it comes to racking up credit card debt, they must carefully manage these debts and avoid growing their balances. This can be difficult for the many residents who are living paycheck to paycheck and relying on cards to fill the gaps.
Here are a few ways Chicagoans can improve their financial situation when it comes to credit card debt:
Create a budget to stop overspending.

You have heard this one before, right? While it is easier said than done, coming up with a monthly budget is still the best way to avoid overspending. Many people don't even realize exactly how much they are spending — or what they are spending it on — until they create a budget. By doing so, you may be able to plan better and avoid hitting your credit cards for some expenses.

Review your credit report.

Many people are unaware of exactly what is on their credit report. Especially if you have been able to qualify for credit, you may just assume your credit report is fine. However, it is important to review your credit report at least once a year to ensure that there are no inaccuracies or any outdated or duplicate accounts that need to be corrected or removed. Looking at your credit report is also a good way to get an overall picture of your debts and monthly payment commitments.

Repair your credit.

If your credit score is low, you are going to pay higher interest on your credit cards and all types of loans. That means bigger payments and more financial burden to repay your debts. Repairing your credit may be simpler than you think, and it can help boost your credit score, making you eligible for lower interest rates and better loan terms. Look for a reputable credit repair company that will work with you to review your credit report and credit score for free, evaluate your situation, and help you take steps to boost your score.
While credit cards may be necessary to pay for extras or unexpected expenses from time to time, they should not be used to live on day to day. By evaluating your financial situation and taking some important steps to rein in your budget, Chicagoans can get their credit card debt under control and get back on the right financial track.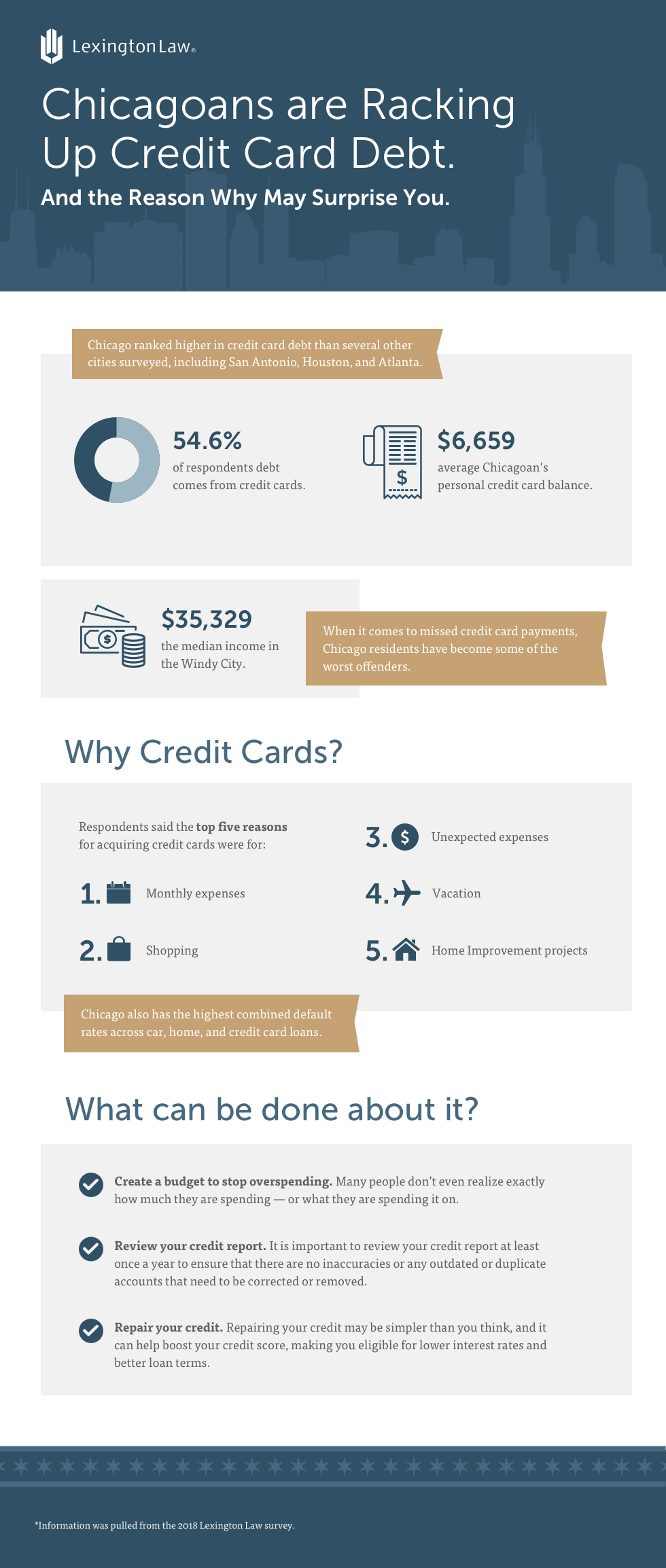 *Chicago residents were asked to take part in a 2018 Lexington Law Five-City Debt Ratio Comparison Survey. Cities included: Atlanta, Chicago, Houston, Philadelphia, and San Antonio.